Commentary: Forget the top four, Mikel Arteta's Arsenal are legitimate Premier League title contenders
Can the Gunners end their near two-decade wait for the EPL title and dethrone Manchester City? CNA's Matthew Mohan says that Arsenal are for real this season.
SINGAPORE: Speak to most Arsenal fans about a potential English Premier League title tilt today, and you're likely to hear something like this: Forget the championship crown, we're just happy with a Champions League spot.
Their sentiment is understandable. The Gunners have not featured in the top tier of European football since the 2016/17 season. Mikel Arteta's men looked like they had fourth spot in their grasp last season, only to falter in their final games and see bitter rivals Tottenham Hotspur overtake them.
But this Arsenal side are not the same team. Five points clear of second place Manchester City with almost half the season done and dusted, Arsenal have a shot at lifting their first Premier League trophy in almost 20 years.
And statistics are on their side. Of the 10 teams with the best starts in Premier League history after 12 matches, all but one have gone on to win the title. While fewer games have been played due to the 2022 Qatar World Cup break, seven of the last 10 sides that topped the table at Christmas have gone on to become champion.
STAYING CONSISTENT, OVERCOMING ADVERSITY
What has been impressive about Arsenal this season has been their consistency and ability to overcome adversity, leapfrogging hurdles which had previously downed them.
After a blistering start to the season, Arsenal fell to their first defeat against Manchester United at Old Trafford. Their heads did not drop and they went on an eight-match unbeaten streak before the World Cup break.
This is in stark contrast to the Arsenal of last season, which endured consecutive losses - the most notable coming against Spurs and Newcastle at the end of their campaign.
Their ability to overcome adversity was no better highlighted after striker Gabriel Jesus sustained an injury at the World Cup. The 25-year-old Brazilian had been a key part of Arsenal's success, scoring five goals and functioning as the focal point of their attack, with his strong hold-up play and excellent ability on the ball.
But the Gunners seemed to have coped, unbeaten (in the undoubtedly small sample size of three EPL matches) since the season resumed.
It helps that Arsenal's attack is multi-faceted, not reliant on a traditional 20-goal-a-season striker. Five players have five or more goals so far, with 14 players in total hitting the back of the net in all competitions.Youngster Eddie Nketiah has deputised the injured Jesus admirably, with his movement and pace causing problems for defences.
Going behind in league games has not fazed Arsenal either. They won two of the three games in which they have conceded first. On the four occasions where teams have pegged them back with an equaliser, they have gone on to win three.
Arteta's men beat Liverpool for the first time in more than two years. Against a tough Newcastle United side unbeaten since August 2022, Arsenal took the game to their opponents on Tuesday (Jan 3). While it ended in a feisty 0-0 stalemate, Arsenal avoided defeat and could have emerged with a victory.
MIDFIELD STARS AND NEW ARRIVALS
There have been strong performances all across Arsenal's midfield this season. In fact, it could be argued that all of their starting midfielders have had their best season for the club this campaign.
Take Martin Odegaard. Touted for great things from a young age, the Norwegian showed flashes during his time at Real Madrid but has blossomed into one of the EPL's best midfielders in only his second season with Arsenal.
The 24-year-old has netted seven goals in 15 Premier League appearances this season, the same number he had in 36 appearances last campaign. Instrumental in Arsenal's free-flowing football, he has been described by former Manchester United defender Rio Ferdinand as "Mozart".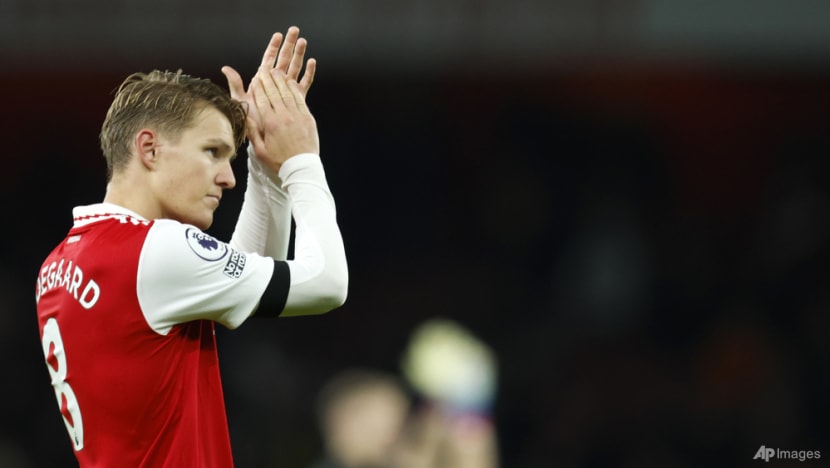 Brazilian Gabriel Martinelli has also been a revelation with his pace and trickery on the flank. The youngster is Arsenal's joint top-scorer in all competitions alongside Odegaard and Bukayo Saka and has defenders constantly on the back foot.
The duo of Granit Xhaka and Thomas Partey have also been rock solid, while Saka continues to improve week after week.
While Jesus has been key in bolstering Arsenal's attack, it is another arrival who has been integral to the cause. Defender William Saliba made his debut this season, starting every league game for Arsenal and is part of the league's second-best backline, with eight clean sheets.
The 21-year-old has been a rock in defence and has chipped in with a number of important goals as well. Saliba is good in the air but equally comfortable on the ball - a trait which is useful for the transition between defence and attack.
TITLE NO GUARANTEE
Despite all these positives, Arsenal are by no means guaranteed a title win. Should injuries strike, a lack of squad depth, particularly in midfield and defence, could prove problematic.
Mohamed Elneny and Albert Sambi Lokonga have not been particularly convincing in the midfield, while reinforcements for their attackers are lacking. Against Newcastle, 19-year-old Marquinhos and 20-year-old Nathan Butler-Oyedeji were the only attacking options.
Having the luxury of a deep squad however, is something that reigning champions Manchester City have.
It has not been vintage City this season, as they have struggled to turn several draws into victories. However, they have only lost one more game than Arsenal and have a massive ace in striker Erling Haaland, who has been in blockbuster form. The clinical Norwegian has a whopping 21 league goals in 16 matches and on his day is simply unplayable.
Guardiola can also call upon Haaland's backup Julian Alvarez, who is fresh off winning the World Cup, having played a key role in Argentina's triumph. 
They also have a man who is considered one of the best managers in the world. Guardiola is a proven winner and his team will continue to crank up the heat on Arsenal in the games to come.
Aside from personnel, Arsenal have an extremely tough run of fixtures coming up. They face Tottenham, Manchester City, Manchester United and potential bogey team Brentford in four of their next five league matches.
Should they successfully navigate this tough run, the title might be a bigger possibility. For now, Arsenal fans are happy to go along for the ride and won't get carried away even if others do.
But whisper it quietly - it could just be Arsenal's year.
Matthew Mohan is a senior journalist at CNA. He specialises in sports reporting, and has covered the Olympics, World Cup and a number of Southeast Asian Games.