AMKTC trial: Pair accused of corruption spent 'over S$4,000' on entertainment in one night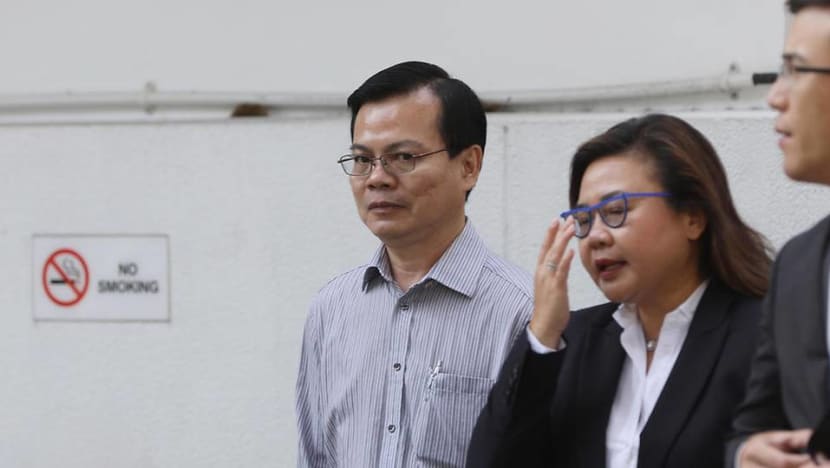 SINGAPORE: A former general manager of Ang Mo Kio Town Council (AMKTC) and a company director accused of bribing him for contracts spent more than S$4,000 in a single night on entertainment, a court heard on Thursday (Nov 8).
The S$4,280 bill, incurred on Oct 8 2015, include expenses made at karaoke lounges, a "hanging flower" ritual where they adorned hostesses with garlands, dinner and renting of rooms.
Mr Tay Eng Chuan, a business associate of the accused company director Chia Sin Lan, took the stand on Thursday, where he was grilled on entries he had made into the cash flow records of 19-NS2 Enterprise - one of two firms that belong to Chia.
Chia faces 54 corruption charges for allegedly offering S$107,000 in bribes to Victor Wong Chee Meng between December 2014 and September 2016. These were allegedly in the form of entertainment expenses at karaoke lounges and nightclubs, cash remitted to Wong's mistress in China and a discount on a car Wong bought, among other things.
The town council awarded millions of dollars in contracts to 19-ANC Enterprise and 19-NS2 Enterprise, two companies belonging to Chia that tendered for and performed repair and redecoration works for AMKTC.
Deputy Public Prosecutor Jiang Ke-Yue spent most of Thursday questioning Mr Tay, who is one of more than 20 witnesses for the prosecution, on the records he kept of the men's expenses.
Mr Tay's evidence on the S$4,280 bill differs from what Chia had told the Corrupt Practices Investigation Bureau (CPIB) - that it was for a few different instances of entertainment. The company director had claimed that he and Wong did not usually spend more than S$4,000 in one night, although he said he could not be sure.
Asked to explain how they could have spent so much, Mr Tay said that the pair could have opened up many bottles of alcohol that night, which they consumed at later dates when they returned. He said Chia had told him before that they did this sometimes.
Another receipt examined was one recorded as: "S$1,070, spa". According to the prosecutor, Chia told CPIB that this was for a spa package for 10 massage sessions in Geylang for him and Victor.
WORKERS AND PURPORTED WORKERS
The prosecution brought Mr Tay through several entries in the records relating to workers and purported workers of 19-NS2.
One name that recurred in the records belonged to a Mr Lee, who was Chia's friend, Mr Tay told the court. Mr Lee was listed as working for 19-NS2, but he was actually a taxi driver, Mr Tay said.
Mr Tay also explained figures of S$700 and S$750 paid by a foreign worker employed by 19-NS2. The worker's salary had been inflated to meet requirements for him to qualify for an S-Pass, so he paid the difference in cash back to the company, Mr Tay said.
The trial continues on Friday.