Beach Road Army Market sellers worry new Lazada SAF store could put them out of business
The Army Market has served as a rite of passage for generations of new recruits to the Singapore military. It now faces a new online challenger.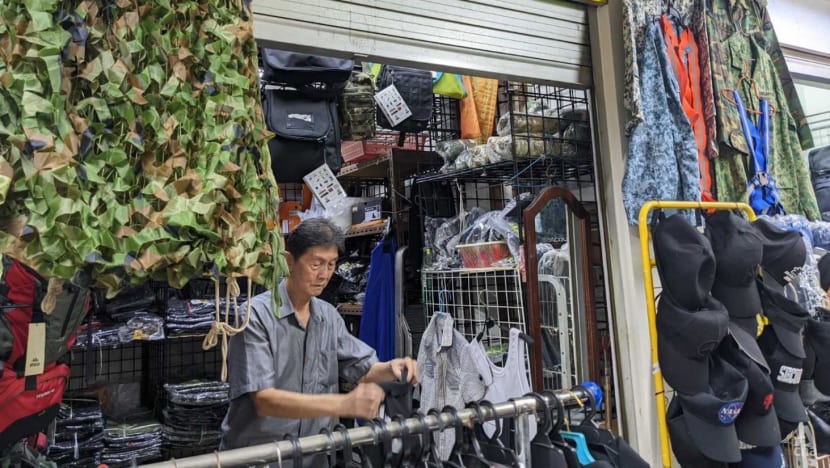 SINGAPORE: For anyone who has served National Service, making the trek to Beach Road Army Market to get military gear would have been a rite of passage.
But this may change for future generations after Tuesday's (Sep 6) launch of Lifestylemart, a new online store stocking selected Singapore Armed Forces (SAF) products on the Lazada platform.
Army Market stallholders who spoke to CNA on the same day as the launch expressed concern that this new e-commerce option would chip away at their business - which was already slowing before the COVID-19 pandemic.
When CNA visited the Market at lunchtime on a weekday, there were only a few customers milling about the shops. But stallholders said the marketplace was just as quiet on weekends.
Mr Jeffrey Yap has run Chop Chip Huat, a shop selling military attire and gear, for more than 30 years. The 70-year-old told CNA that business has been "so-so".
"We sell everything in order to survive. If you only sell army goods, you're dead," he said in Mandarin, adding that he was keeping the shop going to "pass the days".
Mr Yap mainly sells items to new recruits before their enlistment. He also caters to customers looking for items not available on SAF's eMart.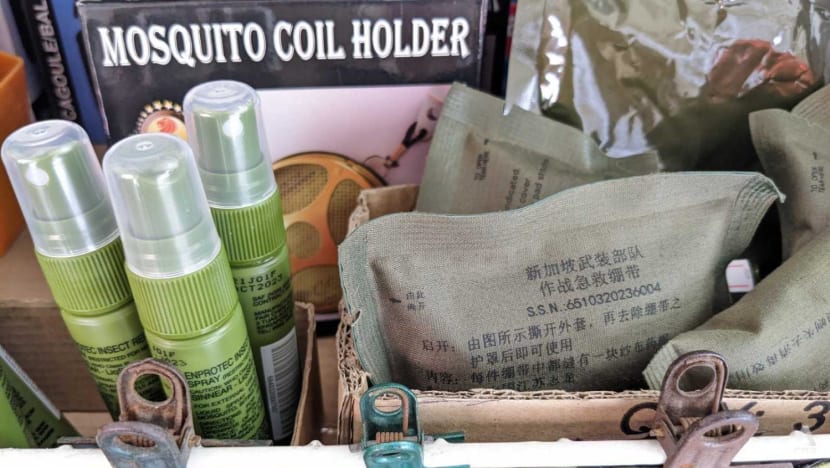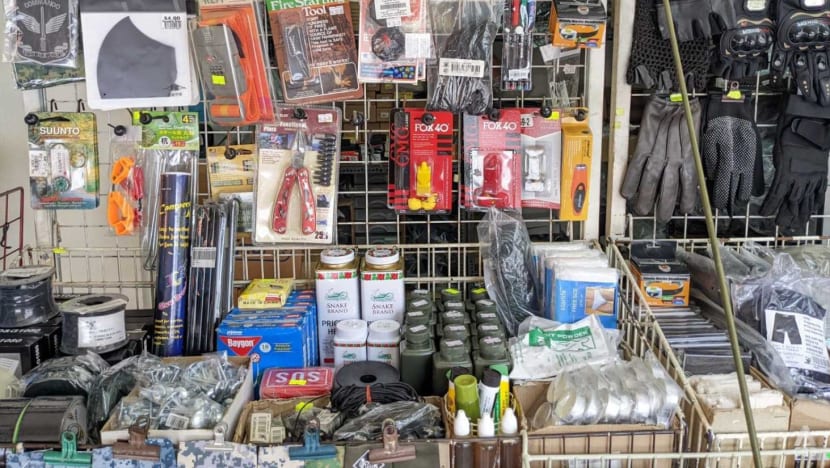 National servicemen receive credits which they can use to buy items from SAF's eMart, which has physical stores at various SAF camps as well as The Chevrons and SAFRA Punggol recreational clubs.
eMart credits cannot be used on the Lazada store, which currently stocks about 20 items including exercise attire, running shoes and camouflage face paint. More products will be added at a later stage.
Madam Lee, a stall assistant at the Army Market for almost 20 years, initially thought business had declined because of the COVID-19 pandemic. But she realised that the rise of e-commerce has also had an effect.
"See, as you walk around there are only a few customers. If Lazada sells (SAF products) online too we'll go out of business and have to close shop," she said in Mandarin.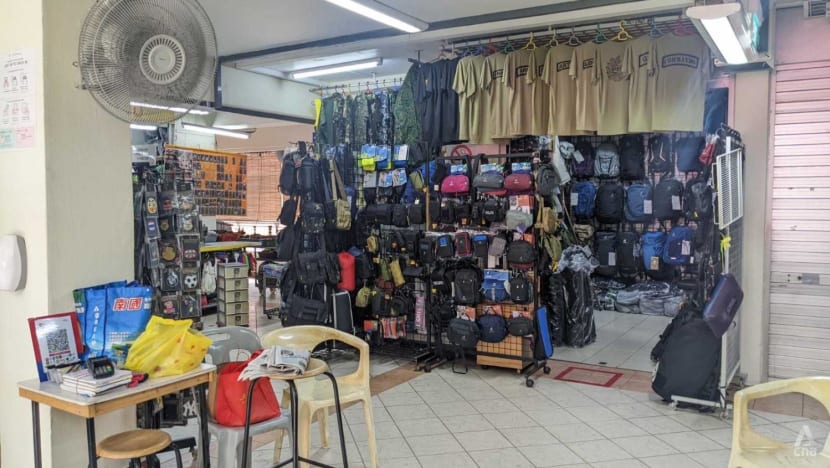 Aside from military, exercise and outdoor gear, the Army Market also houses stalls that provide services such as the embroidery of names and ranks on military fatigues.
Madam Lim, who is in her 60s, is actually in the business of embroidering logos for restaurants and other businesses but majority of her customers come to her to personalise their military gear.
While such embroidery can also be done in-camp, some national servicemen approach her because of the faster turnover, said Mdm Lim.
She attributed business slowing at the marketplace to a lack of facilities such as escalators, lifts and parking spaces, making it less attractive to visitors.
Other stallholders however were more sanguine about their prospects.
Mr Soh Yian Teck, 60, has operated his Hoe Seng Teck Kee shop for almost 40 years. He expects sales to be minimally affected by the new Lazada store.
"We are small businesses, the main thing is that our expenses are low so we can keep going, no problem," he said.
Mr Soh added that customers tend to visit the Army Market when they need to procure an item immediately, as opposed to waiting for an online delivery to come through.
"We do our business, and they do their business," he said, referring to online stores.
"The times are always changing, there's no choice. Because now it's the digital age, we have to move with the times for our country and society to improve."
While this reporter was speaking with Mr Soh, a customer approached with a photo of a pair of black boots on his phone screen.
The storeowner took one glance and said he did not stock the boots, but gave the customer the exact unit number of a shop that would have them.
Later, Mr Soh explained that the key thing was to provide convenience to customers, and to make sure that if they are looking for an item, they can find it at the Army Market.
Another customer, Mr Luven Ng, 23, told CNA he appreciated the environment at the market and the friendliness and honesty of stallholders.
He has been a regular at A.I.M. Spec, a shop selling imported tactical gear, for eight out of its nine years of operation.
The proprietor Sarah Quek, 44, said her aim was to differentiate her shop from others selling SAF wares.
Business for her was actually better during the pandemic and border closures, as customers could not go overseas to buy similar items.
Mr Ng, who is undergoing National Service in the Singapore Police Force, said he patronised the shop for reliable gear to use in his line of work, including equipment such as torchlights and gloves.
"I can find my things here," he said. "I can depend on this place."