In Braddell, construction is causing this building to vibrate. Residents might have to endure it for many more years
Residents at Block 10D of Braddell View are also affected by noise from the construction of the North-South Corridor and Mount Alvernia Hospital's new centre. 
SINGAPORE: The construction did not bother Madam Christina Fong, until the "terrible earthquake sensation" she experienced about a month ago changed her mind. 
"It feels like your building is going to collapse anytime. I feel my body moving. Even when I lie down, I can feel it. It does disrupt my sleep and even my work," the 65-year-old resident of Block 10D at Braddell View told CNA. 
"Initially I didn't feel it, until my daughter was in the room and she said: 'Mummy, why is something shaking?' Then I realised. When you're walking around, you don't feel it. Then one day when I was doing my work on the computer, I felt it." 
Braddell View is a former Housing and Urban Development Company (HUDC) estate, which is now privatised. At Block 10D, each floor comprises four units, two of which are in closer proximity to the construction at this stage. 
Construction for two major projects – the North-South Corridor and Mount Alvernia Hospital's new centre – fronts the block which faces Marymount Road. The former caused the recent vibrations felt by residents. 
The 21.5km-long North-South Corridor will be Singapore's first integrated transport corridor when it opens in 2027. With express bus lanes, pedestrian paths and cycling trunk routes, the corridor will connect towns in the northern region to the city centre.
With the North-South Corridor about five years to completion and construction for the hospital having begun about two to three years ago, residents in 10D Braddell View only got a period of respite during the COVID-19 pandemic when works had to be halted. 
Mdm Fong, whose 20th-floor unit happens to be closer to the construction, is not the only resident in distress. 
CNA spoke to other residents about the pains of living in a building subjected to the inconvenience caused by years of construction happening at one's doorstep. Those who spoke to CNA live on the 19th floor and above. Most requested to be anonymous for confidentiality. 
"PLAGUING US FOR 3 TO 4 YEARS" 
Tina, a domestic helper who has worked in her employer's home at Braddell View for 13 years, said she started to experience the vibrations a few months ago about once to twice a week. 
"It's like I can see something shaking. My table, my bed. I think the other month (it woke me up from my sleep). And also when I'm cooking, the glass (is shaking). And then I felt dizzy," the 53-year-old recalled. 
"When it first happened, I thought it was an earthquake. I'm alone at home, so I felt scared." 
On another floor, 30-year-old sisters Anita and Laura echoed their neighbours, saying the vibrations "feel like a mini earthquake". 
"It feels unnatural. Sometimes even when the vibration stops, you think about it ... and it's also a bit unnerving, because we're (around) the 20th floor," said Anita, adding that the vibrations have affected her sleep. 
"My neighbour told my mum that she gets headaches from the vibration. I don't really get that, but it's more like I can't sleep, then the next day I get a headache because I couldn't sleep." 
"I was taking an exam and I thought my chair was vibrating, because I'm so used to my chair vibrating," added Laura. 
But while the vibrations only started happening recently, Anita and Laura said the construction noise started before the COVID-19 pandemic.
In fact, the construction "has been plaguing us for three, four years", and it disrupts them several times a week, the sisters added. 
"We've woken up at Saturday 8am before to heavy pounding. The pounding stage is thankfully over. Now it's constant droning." 
To cope, Anita uses noise cancelling headphones when she's working from home, but come night time, "it's unbearable". 
"I don't know why they work throughout the night. I feel like they should, if they can, not do (it) at night. Because it's disruptive to sleep cycles," she said. 
RESIGNED TO REALITY  
Many residents who spoke to CNA said they had no choice but to live with it.
Mr Koh's wife said authorities had already preempted residents about the vibrations. She said she does not feel too distressed about it, "as long as it does not affect the whole building".
For 33-year-old Duane, who works from home occasionally, the vibrations used to cause things such as his computer monitor to wobble. And when he lay down, "it was like (you were on) a boat", he said. 
But he was not too bothered, as he said he hadn't felt the vibrations since almost a month ago. 
Living on the highest floor, another resident Ms He said the vibration was "definitely not just felt by one unit", although she believes the vibrations are "particularly strong" from her floor. 
Still, she expressed resignation about the disruption it has caused to her life. 
"The North-South Corridor still has a few more years to go before it's complete, so I feel like we have no choice. This is a huge project ... so we have to endure. Hopefully it'll get better soon," she told CNA in Mandarin.
"And I'm a foreigner, so I'm not sure where do I even go for assistance."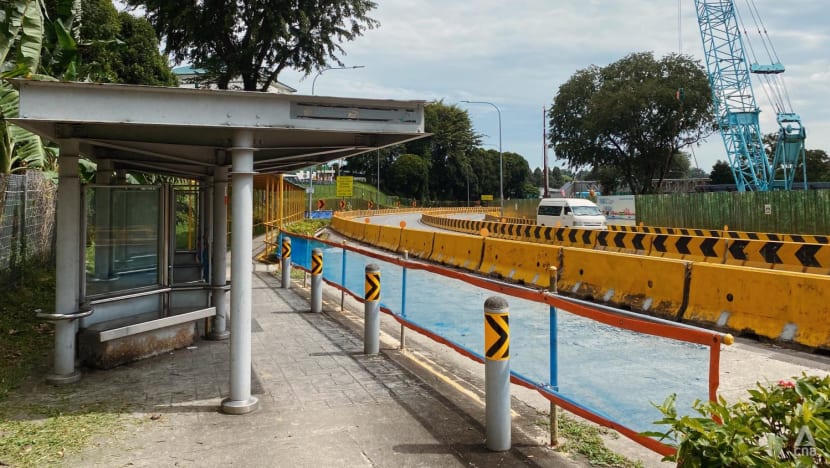 BUS STOP MOVED FURTHER AWAY 
Then there are also other consequences of the construction that have left residents upset.
Some residents were unhappy that the bus stop which used to be located right outside the side gate beside their block had been moved further down the road towards Marymount Convent School.
"That causes very much inconvenience to us especially during the rain. And also when my daughter comes back from work, around 10 to 11pm, she has to walk back. It's so quiet and dark, and there is no shelter," said Mdm Fong. 
Her neighbour one floor down shared the same sentiment. The 72-year-old retiree, Mr Koh, pointed out that the bus stop used to be "a few steps (from) our gate, and now it's 50 metres".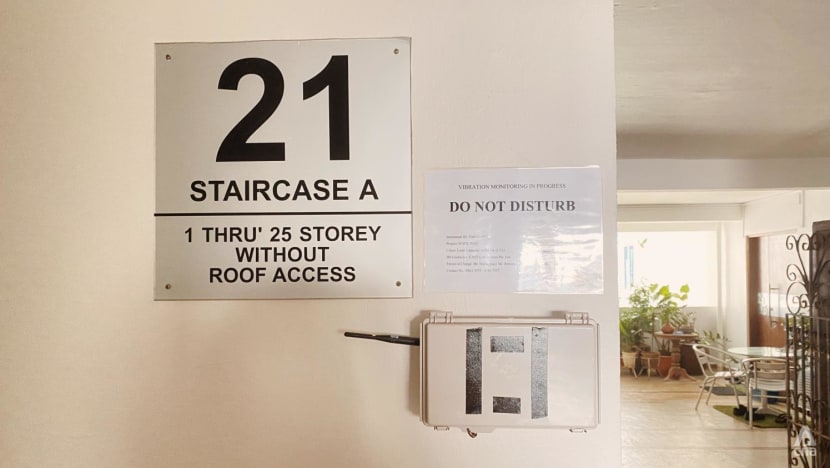 AUTHORITIES ASSISTING RESIDENTS
Samsung C&T, who is the contractor, has been communicating with several residents over WhatsApp.
Mr Tan, a 73-year-old retiree, told CNA that they explained to him over WhatsApp that "some of the works, they can't stop". 
While current vibrations and noise have not affected his family too much, he believes it will get worse next year, having been told that construction will move closer to his side of the building. 
When CNA caught Mr Samuel Wong as he was leaving home, the 64-year-old public relations consultant said he found the PR skills used to handle residents' complaints "very impressive". 
"They have done a very good PR job. I'm in PR so I should know. They've gotten people to come down to meet everyone. And every other day, I get a WhatsApp (message) from them, saying, 'Oh today we're going to be doing (this and that), it may cause a lot of noise,'" he said. 
"Every message has got my name, so they customise every individual text. That's a feat. Every few days I'm getting texts from them." 
Mr Wong also showed CNA the WhatsApp messages he was sent from a representative of Samsung C&T, most of which detailed upcoming construction works. 
While Mr Wong said he "usually sleeps quite soundly" and has even slept through actual earthquakes, his flatmate has felt the vibrations. And even though he has noticed the noise, he thought more noise came from the construction of Mount Alvernia Hospital's new centre than the North-South Corridor. 
"MITIGATION MEASURES" PRESENT, BUT SOME WORKS HAVE TO CARRY ON AFTER 10PM 
Responding to CNA's queries about the inconvenience to residents, the Land Transport Authority (LTA) said it has been engaging Braddell View MCST and residents regularly to update them on the progress of the North-South Corridor construction along Marymount Road fronting Braddell View. 
It will "continue to engage them and do more to improve the situation wherever possible". 
In a letter sent to residents on Jun 21, which was seen by CNA, LTA outlined an estimation of when major construction activities of the North-South Corridor in the vicinity of Braddell View would be complete, beginning with the tunnel diaphragm wall works in 2024.
Tunnel construction is estimated to be completed in 2026, while the reinstatement of the road and opening of the North-South Corridor is estimated to be done in 2027, the letter stated. 
To minimise inconvenience to residents, LTA said it plans construction activities such that "relatively noisier works are carried out in the day and works cease by 10pm on most days". 
"However, we seek the understanding of residents and stakeholders that works may occasionally have to go past 10pm for works which cannot be safely stopped and continued the next day," it added. 
"An example is the ongoing works for (the) diaphragm wall which provides critical support for underground structures. The works involve deep excavation and pouring large amounts of concrete, and must be constructed in one continuous operation for safety reasons." 
LTA noted that it typically implements a series of mitigation measures during the various stages of construction, including at this site, to minimise construction-related noise. 
"For example at this site, noise enclosures and mufflers have been fitted on machineries to reduce noise levels. We will also be installing noise barriers at this location by November this year," LTA said. 
Nonetheless, LTA's engineers are closely monitoring the vibrations caused to Braddell View, using data from monitoring equipment in the estate, said LTA. To date, the vibrations emitted from the site have been "within safe limits".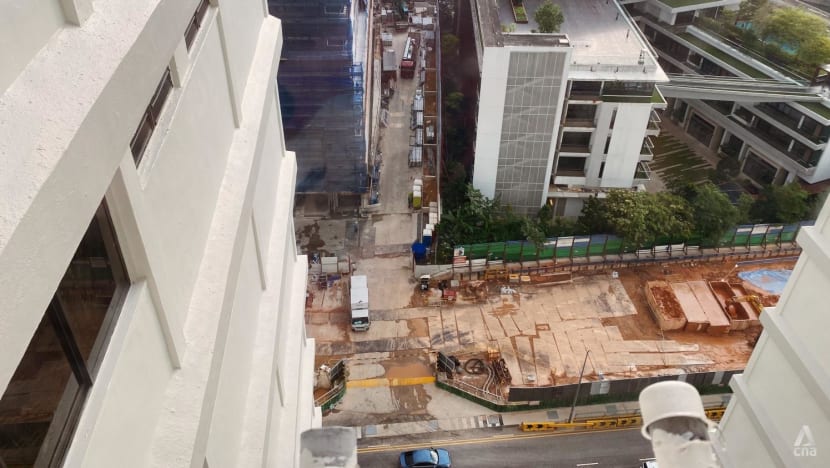 But "safe" is not good enough for sisters Anita and Laura, who did not feel like talking to authorities helped their situation. 
Their father engages with the authorities quite regularly, because he has woken up a few times at night, they said. 
"In the beginning when they worked through the night, it kind of shocked him. But I think now he's a bit more resigned. He doesn't have that 'we need to take action' (stance). It's more like he calls them then they come and have a chit chat," said Anita. 
The sisters have also called LTA themselves to complain, but "unfortunately when they came, the vibrations stopped", they said.
Authorities also checked the vibration monitoring equipment located on the 21st floor of their building, and assured them "it's completely safe". 
Added Laura: "They are always like, 'Yeah, we understand your concerns', but it still occurs over and over again."