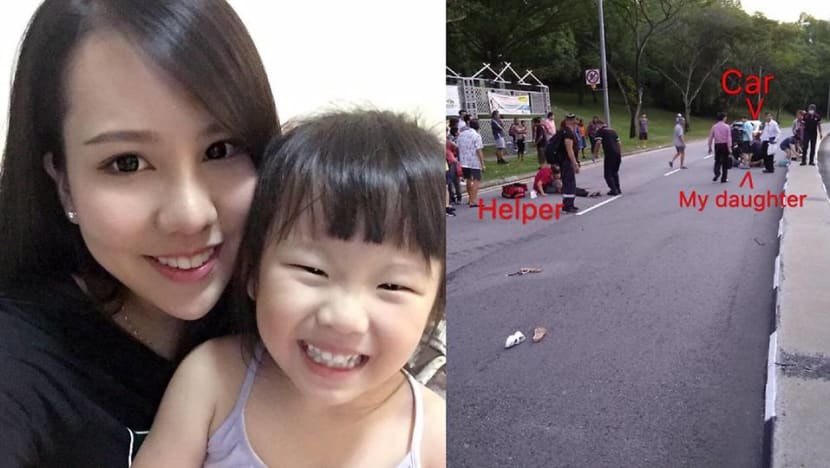 SINGAPORE: A driver in a fatal car accident that killed a four-year-old girl and seriously injured a domestic helper was on Thursday (Dec 6) sentenced to six weeks' jail and banned from driving for five years.
Sai Mee Chun, 54, pleaded guilty to one charge of causing the death of Eleanor Tan Si Xuan by a negligent act not amounting to culpable homicide.
A second charge of causing grievous hurt to the 38-year-old domestic helper from Myanmar was taken into consideration for sentencing.
Sai was driving his vehicle along Bukit Batok Central towards Bukit Batok West Avenue 2 on the way to meet his father on the evening of Oct 9 last year.
The former condominium manager drove at a speed of 60kmh along a stretch of road where the speed limit was 50kmh, the prosecution said.
Meanwhile, young Eleanor was heading home from kindergarten accompanied by her family's domestic helper, Ms Su Su Hlaing. They walked across the road instead of taking the nearby overhead bridge, the prosecution said.
Sai was driving on a straight road and did not keep a proper lookout, noticing the jaywalking pair only when they were less than half a car length away from him.
He collided into them, and they were flung forward onto the road. Both victims were taken to the hospital, where Eleanor was pronounced dead from multiple injuries.
Her domestic helper was warded for almost three weeks with multiple fractures.
Deputy Public Prosecutor Lee Zu Zhao asked for a jail sentence of at least six weeks and a driving ban of five years.
He said Sai was speeding on a straight, unobstructed road where a high volume of traffic was to be expected.
Sai's defence lawyer Choo Yean Lin asked instead for four weeks' jail, pointing out that her client was not sleepy or intoxicated at the time.
He had also given his full assistance to the police, she said, and "the loss of a young life will forever remain in his mind".
For causing the girl's death by a negligent act not amounting to culpable homicide, Sai could have been jailed for up to two years, fined, or both.