He meets terminally ill children daily, but seeing death up close taught this doctor about life
When death is part of your everyday, life takes on a whole new meaning. CNA meets a doctor who found his calling in helping families to live meaningfully, even as they grapple with their child's uncertain future. 
SINGAPORE: Dr Chong Poh Heng is often seen as the harbinger of death by parents. 
But this unfortunate association is something the 55-year-old child palliative care doctor is used to, since he found his life's calling working with terminally ill children.
Dr Chong recognises the link between palliative care and death is carried over from the adult palliative care sector, where most are cancer patients who have "nothing more to receive in terms of treatment or are incurable". 
Palliative care, then, is synonymous with end-of-life care. 
As a result, he is the last person that parents want to see. They simply don't want to believe their child is dying. 
"Some parents get very upset, angry and anxious, so therefore I need to work very hard to help them see the light," he told CNA.
Even fellow paediatricians hold such misconceptions. Some worry that if they transfer care of the child to Dr Chong, parents may think the paediatrician is abandoning them. 
"It's not a transfer; it's a co-sharing of care. It's about putting two brains together to solve a very difficult problem," he explained. 
In child palliative care, unlike many specialisations, this "problem" extends beyond the patient's sickness and the solution can't be found solely in medicine.
What you need to know about child palliative care
According to HCA Hospice Care:
It is a type of specialised care delivered by trained professionals, including medical as well as allied health practitioners such as counsellors and therapists.
The objective is to improve the quality of life for children who are suffering from life-threatening or life-limiting conditions.
Palliative care and hospice care are not the same thing.

Palliative care is best described as supportive care for a child whether they have a chance of cure or remission, whether on or off medical treatment. It starts with diagnosis of a serious condition and may extend to hospice care.

Hospice care traditionally refers to end-of-life care.
ILLNESS AFFECTS MORE THAN THE CHILD 
When Kenneth and Patricia Mah first learnt their daughter Chloe had Pompe disease, the couple had differing views on whether to treat her. They were unsure if doing so would only prolong her suffering. 
Individuals with the rare genetic disease lack the enzyme to break down glycogen in the body, resulting in excessive build-up affecting the heart and skeletal muscles.  
Chloe was not expected to survive past her first birthday. She is now 12, and according to Mrs Mah, a cheeky and confident girl. 
While the Mahs have extensive medical help at KK Women's and Children's Hospital, where Chloe receives treatment, Dr Chong has been more like "a mentor" to the couple, helping them with their mental and emotional needs too. 
Mr Mah discovered Star PALS (Paediatric Advanced Life Support) – a paediatric palliative care service founded by Dr Chong in 2012 under HCA Hospice Care and provided free-of-charge to all patients – about nine years ago and initiated contact.
Both Dr Chong and Mr Mah said this was a rare move, as many parents shun the thought of Dr Chong coming into the picture.
Since then, the 51-year-old father has felt "empowered" by Dr Chong, who usually refrains from giving him direct answers to the conundrums he faces. 
Mr Mah recalled the moment Chloe suffered a cardiac arrest three years ago when he decided to revive her. 
"Dr Chong helped me think about why my thinking process was like that and I shouldn't see myself as a person who's selfish or not a good dad. He told me I did what a dad should do, and I'm not wrong. But if I had chosen not to revive her, I also wouldn't be wrong. I would simply be a person who is more rational and didn't let my emotions take over," he said.
"So he'd throw this kind of thinking at you and ask you to look at it this way, look at it that way. I may not have a clear mind, so having someone walk the journey with me and sit down and talk about all this helps."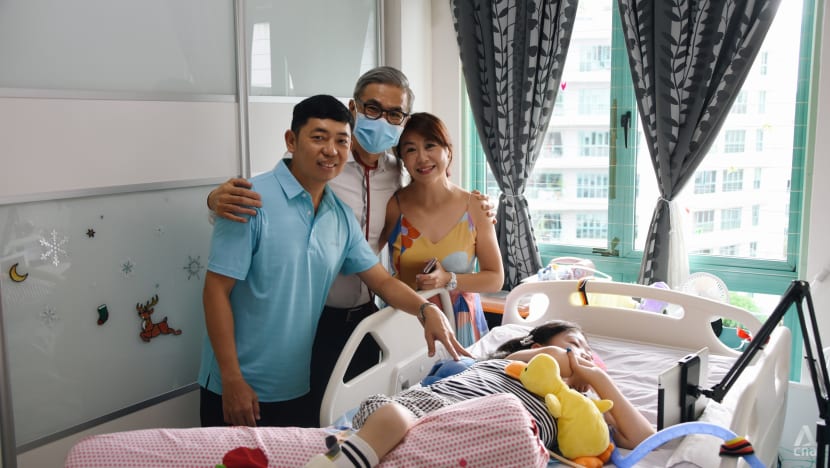 In child palliative care, a parent's pain can quickly become one of the cornerstones of Dr Chong's work with a family. Parents often reveal their darkest thoughts to him in private, including the desire to end their child's suffering while the child is asleep. 
When he hears such confessions, Dr Chong meets their grief with empathy, like he did with Mr Mah. 
"I tell them, 'Thank you so much for even trusting me with this thing.' (The point) is just to acknowledge that because they trust me, I am able to hear about this, and acknowledge where that (feeling) comes from," he said. 
"It is about mum seeing so much suffering and she cannot bear to witness her child going through this for long. It is about that (feeling), and I just want her to focus on that. I normalise it by telling the parent that I am not hearing this for the very first time, and I'm not lying." 
He would then remind the parent: "The next time you have that thought, remember what you just told me." 
With this validation, he said parents usually express relief after realising they're not alone. 
Some parents demonstrate their grief through other means, such as chasing every avenue or treatment to help their child live a little longer. 
"Parents get either helpless or consumed by grief … Sometimes I've questioned the motivation and their ability to see things in the best light. Sometimes, the chance of seeing any result is 1 to 5 per cent. We know it's not a cure; it's just living for a few more months. But at what price?" he said. 
"That's when I want to highlight: 'You're going to surrender or trade off this little bit of your child's life and happiness and time together with you as a family.' It's about having those conversations."
Children like Chloe, who don't have cancer, aren't "dying". But they have "a very long but tumultuous trajectory or journey" ahead, and they may "suddenly just die" along the way, added Dr Chong. 
"That's the kind of experience that not only the child but the whole family lives with. When you talk to them, you realise there is the sense that they can't think too far ahead."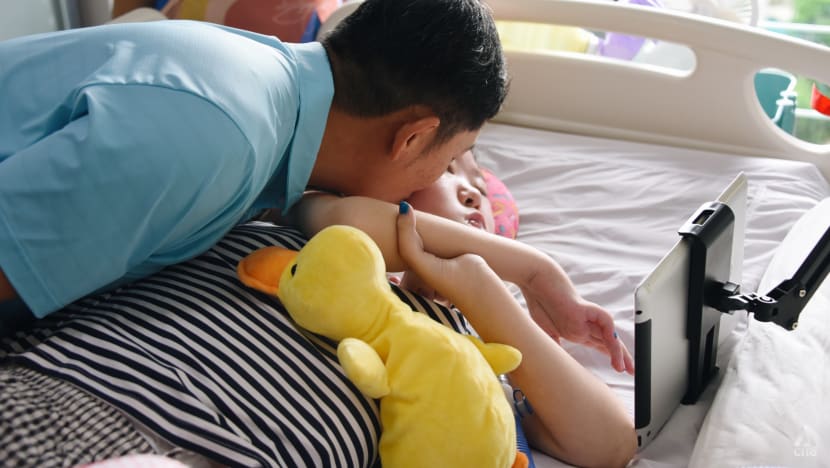 In some families like the Mahs, the sick child may also have a sibling, who has to cope with their emotions about their brother or sister's illness. 
When the Mahs got their nine-year-old son, Cayden, to see a school counsellor a few years ago, they were "shocked" that he could clearly express his thoughts about not wanting Chloe to die. 
"Over the last few years, after he spoke to the counsellor, he would talk to me about his sister: Mummy, do you think Jie Jie (older sister) is okay? How long do you think Jie Jie will live? Do you think Jie Jie will die? Is it very serious this time? How long is she going to be in the hospital? When is she coming home?" said Mrs Mah. 
Mr Mah added that his son, although nine, takes care of them in his own way. 
"You know, he told the counsellor, 'I will not cry. Unless my papa or mama cry, then I will cry. If they don't cry, I also will not cry. I don't want them to know I'm sad,'" he said. 
Because Cayden loves his sister so much and he is "more emotional" than Chloe, Mrs Mah said he doesn't like it when people stare at his sister in a wheelchair during their walks. 
To help her son cope with these feelings of self-consciousness, she reminds him to see the situation positively. For instance, people may be staring because they admire what a caring brother he is. 
Dr Chong, according to the Mahs, brings a "new meaning" to palliative care by addressing these needs of the whole family as well. 
"He and his team don't just take care of the medical side. They're also very understanding, sometimes becoming a counsellor or friend to us. Many times, they go beyond the call of duty, like guiding us how to manage our parents or in-laws. They help us manage the entire family nucleus. This is something you don't get from the hospital or your family doctor," said Mrs Mah. 
"It's about empowering caregivers, taking care of the caregivers and their families. It's a holistic approach making sure everyone at home is taken care of. They think of our well-being, not just the (sick) kid's," added Mr Mah.
IT TAKES A VILLAGE 
With the need to render in-depth psychosocial help to patients and their families, Dr Chong acknowledges that child palliative care "is not a one-man show". 
"Know that this work is not run by one person but by a team. And not just that, but there will be times for you to walk away, and not think you are omnipotent," he said. 
Despite his qualifications, experience and passion, there are times when he "doesn't want to speak to another child ever" because he's not ready. 
"I need to know when I'm not bringing my best to this conversation and therefore I need (someone else to take over and) carry on. Then we can have a conversation about (the child) when I get back my mojo," he said. 
In fact, self-compassion is extra important in child palliative care, as he still "cries buckets" over every child who dies. 
"You must treat yourself well. It's a lot about giving and there's nothing to give if your vessels are empty," he said. 
When he needs to take a "back seat" to recharge, his team at Star PALS steps in. Dr Chong works with a group of "medi-minders" that comprise a multidisciplinary team of volunteers and healthcare professionals, including counsellors, medical social workers and allied health specialists.
For his work over the last nine years, he received the Leaders of Good award at the President's Volunteerism and Philanthropy Awards in October.  
"(These medi-minders) may come and work with Chloe for like four hours, so that mum can go away, whether for medical appointments, to get a haircut or just take a nap. These people amaze me. I never knew they had that great potential to lean in and contribute," he said. 
"We've got junior college students learning the art of having a conversation with a teenage boy with, say, brain cancer who is dying and to be comfortable with that. Just to watch them play chess is just so amazing. And I'd like to think after this brush with humanity or death, it will make this person so special and grow in so many different ways." 
Dr Chong said one of Star PALS' medi-minders, who was in secondary school when he first volunteered, is now in Harvard Medical School. 
"Whether he does palliative care in the future is immaterial. His volunteer experience simply means there is this very human doctor who really understands what living and being is all about. And these experiences are something that we struggle to teach in medical school," he said. 
With his village rallying around him, Dr Chong is able to empower families to help themselves. At the moment, he looks after about 60 to 70 children.
"We want people to believe they can help themselves. We only come in when necessary, and not because their child has this 'label'. It's a message I send to them that they can look after themselves," he said. 
After all, child palliative care involves "dipping in and out" of a family's life. 
"Once you come out, it's a graduation. You're all by yourself, because your child has stabilised. How bad can that be?" he added. 
"It's something we don't do on the adult side of things, but with children, because of their very uncertain trajectory, there's a need to confine our care to a decent group that we can manage because it's very intensive." 
ON ACCEPTANCE AND LETTING GO 
Dealing with the thought of death all the time can feel suffocating, but Dr Chong's demeanour and presence in their lives have helped the Mah family breathe easier. 
"Usually doctors try not to be emotionally involved with you because they can't; it may interfere with their job. But for him, he manages to strike a balance, so that when he wants to put across a message, we find that it's more easily acceptable and digestible, and we're more open to how we truly feel about it," said Mrs Mah. 
As the Mahs have learnt, not thinking about Chloe's death at all is not helpful. This might result in feeling lost or unprepared if something were to happen suddenly. 
Instead, Dr Chong has taught them the importance of preparing for the future "to a sufficient extent" for them to function on a daily basis. 
"One important thing we gathered from speaking to him is that you cannot don't think at all. It doesn't mean you don't think at all that you are problem-free or stress-free … But also, don't think too far and too much that it stresses you out every day that you cannot function," added Mrs Mah.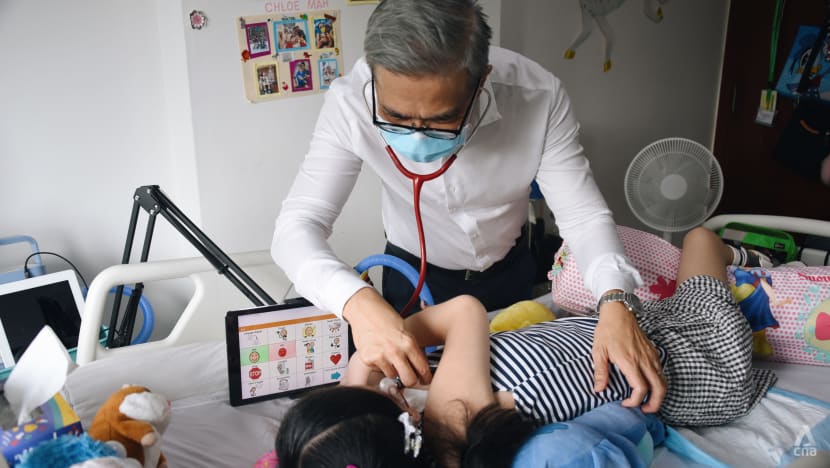 The doctor has also, over time, taught them the art of acceptance and letting go. 
"What Dr Chong taught me is to accept (Chloe's condition), like during this moment, you do what you can for your child. But if it's time, it's time. It's beyond him, beyond me," said Mr Mah. 
Once, Dr Chong asked him what he truly wanted, and he said he wanted a "proper closure". 
"Amazingly, he replied: 'Your child will tell you (when she's ready to go). You will feel it from your kids that it's about time. So that's the time when you arrange for a proper closure. And when the day comes, you just let go. But don't let this thing become a burden in your heart … because (death) is a natural thing. It will happen to anyone,'" added Mr Mah.  
On his part, Dr Chong also has to accept that doctors cannot fix everything. 
"We always like to make things perfect. It's part of our training in school. But in child palliative care in particular, when this is the situation, accept it and see what best you can make out of it. It's all about helping people to let go. But before you let go, make sure you give it a good try," he said. 
"And therefore one of those misconceptions is that palliative care is about giving up. It's not. It's about appraising something in the most realistic or appropriate way, and then if you decide it's not going to work, learning how to let go and embracing something else as an alternative, not as a second choice." 
Mindfulness is something Dr Chong constantly reminds himself and his staff to practise, as "what will happen, will happen". 
"(We give families) anticipatory guidance, like writing a will or doing an LPA (Lasting Power of Attorney) or ACP (Advance Care Planning), you know, just telling them to get that sorted. But once it's done, live. Because you don't know when it's going to end," he said.
And end it will. But palliative care in general has a lot to teach about how we talk about death especially amid the COVID-19 pandemic, noted Dr Chong. 
"Try to normalise it. Bring it into the schools, into the mainstream media ... When we talk more about death, it becomes less strange, less scary, and people become more comfortable over time. It's a paradigm that just needs to shift, a culture that needs to be built up," he said. 
"The spirit thrives. Our resolve, our spirit, trumps the ravages of illness and what fate can deal us. It's about shifting our focus from one thing to another."
Despite the seemingly many heartbreaking moments that come with child palliative care, his job gives him hope too. 
"I realise I take away more than I give … Having had the privilege to chat with so many people, I actually end up becoming stronger and even more confident in facing my own mortality. You question a lot of things about yourself, your life, your priorities as a result, and that makes me a much richer person," he said. 
"When you see how people lose so much, you start to treasure every single thing. Most of all, time, which is something that is so precious."
He added that a bulk of the work in palliative care involves "minimising regrets". 
"We cannot tell people what to do. They have to come to their senses. Sometimes a little regret is okay, as long as they can understand what it is all about, they can still have a life," he said.
"And that's why I feel, given my privilege to see that, to really see, then it becomes almost necessary for me to keep championing and helping other people see that if they don't yet."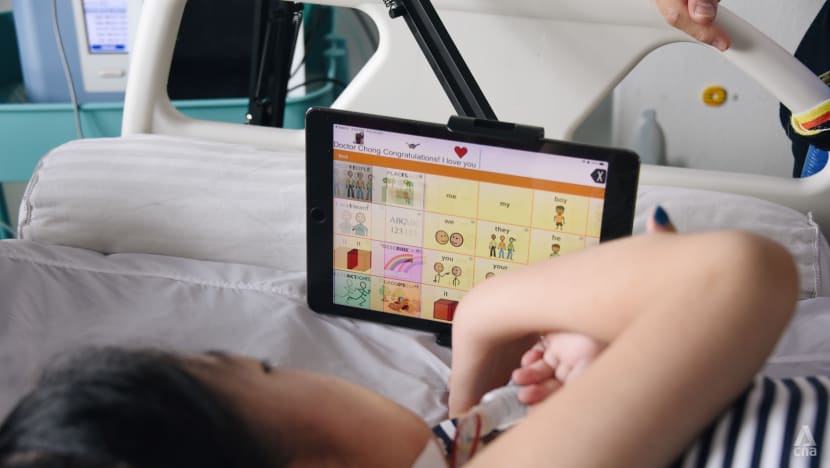 MEETING CHILDREN WHERE THEY'RE AT 
But while the children he looks after are alive, they remain the reason Dr Chong does what he does. 
"Even though you're a child, I might come down to your level and speak with you, and ascertain what your wishes might be. With paediatric work, there's a need to understand how different kids think and feel, and how they communicate," he said. 
"We mustn't go in there (thinking) we're a doctor, they're a care recipient, they're a mum. We are dealing with matters of life between two mortals, so come down from your moral high horse and meet them where they are, including children." 
He added: "I can morph into a child if I wanted to, and have a very childish conversation."
And at all of 55 with a head of salt and pepper hair, Dr Chong does just that when he enters Chloe's bedroom with this CNA journalist.
Thrilled to see her "Ah Gong" (her name for him because of his grey hair), she pulls up a xylophone app on her iPad to perform a mini-concert with the songs Amazing Grace and Noel. In response to her significant progress, Dr Chong gives her a round of applause and a peck on her cheek. 
He chuckles as he spots her sapphire nails, which were freshly painted before his visit. 
Then Chloe taps away on the TouchChat app that she uses to communicate. The app allows her to string together a sentence by selecting pictograms of common words she uses. Her index finger hovers over a photo of Dr Chong.
Seconds later, a mechanical voice echoes from her iPad to reveal what she typed: "Doctor Chong, congratulations! I love you." 
The feeling, as evident from his beaming smile behind his mask, is mutual.