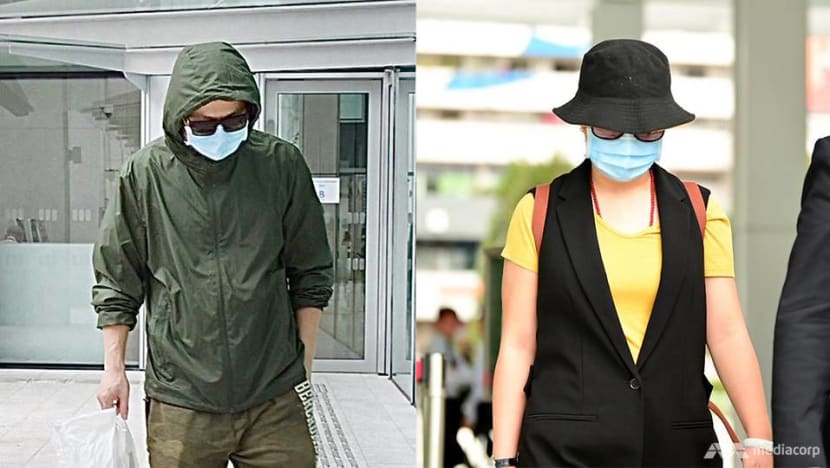 SINGAPORE: Almost two years after testing positive for COVID-19 after arriving in Singapore and not informing contact tracers about his full situation, a man from Wuhan has been given a jail term.
China national Hu Jun, 40, was sentenced on Wednesday (Nov 24) to five months' jail, while his wife Shi Sha, 38, was given six months.
The couple had contested their respective charges but were convicted at the close of the trial last month.
The prosecution sought five months' jail for Hu and eight months for Shi, while the defence asked for a S$10,000 fine for Hu and a S$20,000 fine for Shi.
Hu was found guilty of one count under the Infectious Diseases Act of deliberately withholding information from contact tracers about his whereabouts and activities.
His wife was convicted of four charges for withholding information, giving false information and failing to respond fully and truthfully to a health officer.
Hu had tested positive for COVID-19 in January last year, nine days after arriving in Singapore from Wuhan to spend Chinese New Year with his family. The Chinese city was then the epicentre of the coronavirus outbreak.
Hu did not tell a health officer that he had travelled to various places while infectious, including hotels, a restaurant and the Chinese embassy.
The couple, who hired three different sets of defence lawyers throughout their court hearings, argued that it was a matter of miscommunication and that they did not deliberately lie or omit information.
In his defence, Hu said he did not give certain information to health officials as he was either unaware they wanted that information, could not recall the names of the places he visited or did not have enough time to respond.
Hu testified that he felt "unusually cold" and used multiple blankets in the ward, but later told the prosecutor upon cross-examination that it was likely he only had the flu.
"Until today I'm not too sure if I'm a confirmed case (of COVID-19)," he said, claiming that no one told him so while he was in hospital.
His wife Shi testified about her ordeal and worry when she began suspecting that her husband had COVID-19. 
She described how she broke down in hospital and felt like no one could understand her requests, and said she found it difficult to communicate with the contact tracer.
She said she could almost confirm that Mandarin was not the woman's mother tongue, and compared it to a chicken talking to a duck.
In her testimony, she also said that people around the world have been reprimanding her and her husband after seeing the news, and lamented that they could not see their relatives for almost two years.
In response, the prosecutor pointed to a statement that he said "evinces collusion between the accused persons", and states clearly that they discussed what to tell the Ministry of Health, in order to protect their privacy.
Deputy Public Prosecutor Timotheus Koh sought five months' jail for Hu and eight months for Shi, while defence lawyer Steven John Lam asked for a fine of S$10,000 for Hu and S$20,000 for Shi.
The prosecutor labelled the case as one with high culpability and high severity.
However, the defence said it was low culpability and low severity. This was mainly because the couple gave information to the authorities, Hu voluntarily sought treatment and they took precautions to reduce the risk of infection to others.
THE COUPLE CONTINUES TO BLAME CIRCUMSTANCES, AUTHORITIES: PROSECUTOR
In response, Mr Koh said the couple has "clearly not accepted responsibility for their actions", continuing to "blame the circumstances and the authorities for the charges they face".
"At no point in the written mitigation is the word remorse mentioned," said Mr Koh. "They have also demonstrated that they are determined to be dishonest, even in the fact of conviction."
He said the fact that Hu sought treatment and that the couple isolated themselves cannot be taken "seriously as a mitigating factor", as the natural response when a person contracts a highly infectious and deadly disease would be to treat it.
"This is self preservation. As for self-isolation, it can be viewed in the same vein. They were trying to protect their children and ... parents. This is consistent with their self-interested mentality," said Mr Koh.
"If they were really concerned as they so claimed about others getting infected, they should have been forthright with the contact tracers when asked about their movements and activities."
Responding to the defence's claim that the couple has suffered "mental torture" from being separated from their family for so long, the prosecutor said this should not feature as a sentencing consideration.
"This would mean offenders who are foreigners with aged parents or children would receive favourable treatment," he said.
There was no undue delay in the court proceedings and it was the accused persons themselves who decided to change counsels twice, said Mr Koh.
He said many in Singapore including frontline workers have sacrificed to contribute to the controlling of the pandemic, whereas Hu and Shi have shown the opposite - that they are "willing to sell the public interest cheaply for their own".
THEY DID NOT DELIBERATELY MISLEAD OR WITHHOLD INFO: DEFENCE
Defence lawyer Mr Lam said his clients did not deliberately withhold information from or mislead the MOH officers.
They have no prior convictions, and Shi had maintained a clear record despite being in Singapore for some time before the offences.
A long jail term would serve "no purpose", he said, adding that the couple would be blacklisted and their dreams of having their children have a good education in Singapore "would be dashed".
"That in itself would be a deterrent to foreigners as well," he said.
The judge meted out the sentences after questioning the prosecutor about the total of eight months' jail he was seeking for Shi, highlighting that this may be excessive in light of the maximum of six months' imprisonment per charge.
The couple intends to appeal.
For each charge under the Infectious Diseases Act, Hu and Shi could have been jailed up to six months, fined up to S$10,000, or both.