Hit by streaming services and COVID-19, cinemas may see further consolidation, analysts say
SINGAPORE: Singapore's cinema industry may see further consolidation amid a "perfect storm" of stiff competition from online streaming services and profitability challenges due to the COVID-19 pandemic, experts said.
Last week, Filmgarde Cineplexes announced that it will shut two of its three cinemas by March, as part of a business transformation plan to cope with "changing trends" in the industry.
Plans for its remaining cinema at Leisure Park Kallang will be made known "in due course", said the homegrown firm.
With the likes of Netflix rapidly amassing more subscribers and COVID-19 rules putting a lid on box office sales, "the current number of (cinema) screens and seats is unsustainably high", said PwC Singapore's entertainment and media leader Oliver Wilkinson.
"Therefore, there is indeed likely going to be further consolidation, and it will likely be the smaller players who find it the most tough," he told CNA.
IS NETFLIX KILLING THE CINEMA?
Singaporeans loved going to the movies. Based on official data dating back to 1998, cinema attendance rose steadily to hit a peak of 22.1 million in 2011 when there were 180 cinema screens and 35,000 seats.
The number of cinema-goers fell to around 19 million in 2019 despite the number of screens and seats operated by a mix of big and small exhibitors here growing to all-time highs of 281 and 42,000.
In 2020, amid the coronavirus disruptions to cinema operations and releases, the number of cinema-goers plunged to 4.7 million – a record low based on data compiled by the Singapore Film Commission and made available on the website of the Singapore Department of Statistics. Figures for 2021 are not yet available.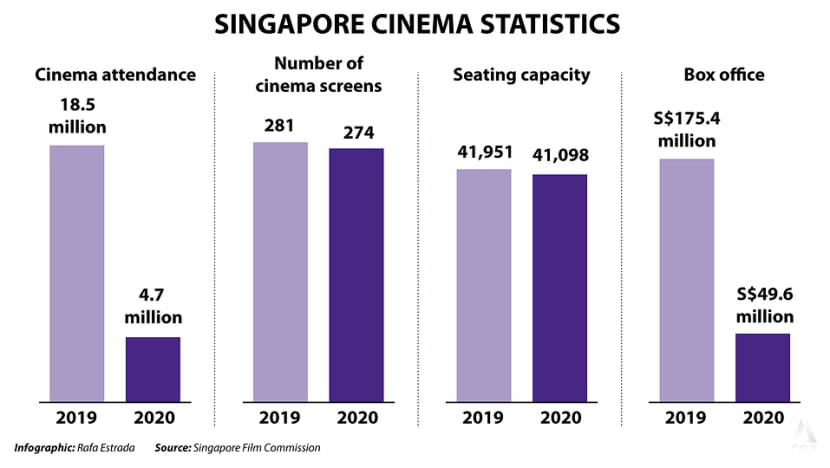 The arrival of online streaming services was "a major factor" that contributed to the decline in cinema attendance even prior to the pandemic, said Filmgarde's director Han Minli.
"It fundamentally altered consumers' viewing habits and behaviour," she said. "Many people are now able to get access to cinema-quality films, on demand and at times, even earlier than the theatrical release date, without even stepping into the cinema."
Experts agreed that on-demand streaming sites, with their wide variety of content at a relatively cheaper monthly subscription price, has overhauled the way people consume entertainment content.
"If I go to the cinema, there are maybe 10 films I can watch and if I return next week, maybe there will be two to three more new films," said Associate Professor Christoph Hahnheiser from the Nanyang Technological University's (NTU) School Of Art, Design and Media.
"But it's a pre-selected environment, curated by cinemas and the distribution companies, compared to the thousands of different titles I can get online and watch at home at any time."
The pandemic, which kept people at home for an extended period of time, only served to quicken the change in people's viewing habits.
"What we face now would have been realised in maybe five years, and not today if without the pandemic," said Assoc Prof Hahnheiser, adding that there is "no doubt" Singapore needs fewer theatres.
It is not just consumers who have picked up new habits. Hollywood film studios have also been adapting.
"Many of the Hollywood studios themselves now have their own streaming platforms and you can see blockbusters being available on such sites not too long after cinematic release," said Drew & Napier's head of telecommunications, media and technology Lim Chong Kin.
"The studios are pushing out content aggressively through their streaming sites for revenue because of the pandemic, and this in turn becomes a vicious cycle for the cinema operators."
A drop in the number of Hollywood and overseas films being produced for theatrical release is a big problem for Singapore's cinema operators, which have traditionally relied on such content to drive revenue.
"With Hollywood films driving the bulk of our national box office revenue, a reduced output inevitably affects the variety of films that cinemas can offer audiences, potentially making cinemas a less attractive choice for content with consumers," said Ms Han.
Like all businesses, temporary shutdowns and capacity cuts due to COVID-19 safety protocols have also weighed on the financials of an industry that thrives on ticket sales and food and beverage revenue.
SMALLER PLAYERS, BIGGER HIT?
Smaller market players may also be hit harder.
"The attractiveness of a smaller cinema is primarily its hip and chic location, the facilities and the genre of movies played. However, COVID-19 has had a larger impact on those," KPMG's partner and head of digital trust Bradley Styles said.
With just three cinemas, Filmgarde is one of the smaller operators in the local market which is largely dominated by bigger cinema chains such as Golden Village, Shaw Theatres and Cathay Cineplexes. 
Golden Village is Singapore's largest cinema chain with 14 outlets, followed by Shaw Theatres with nine and Cathay Cineplexes having eight cinemas.
There are certainly advantages that come with size, noted Mr Wilkinson, citing the pull of having a bigger brand, the ability to invest in technology and in some cases, better access to finance that can help tide through a difficult period.
Multi-site cinema businesses also have the option to "consolidate some of their locations to better concentrate customers" into top-performing outlets, while smaller players are unable to do so, the PwC expert added.
Achieving economies of scale was one of the reasons Golden Village and Cathay were seeking to merge, according to statements from both companies back in end-2020. The proposed deal appears to be off the cards now after the agreement lapsed on Dec 31, 2021.
Cathay's Singapore owner, media company mm2 Asia, also had plans to sell at least 80 per cent of the cinema business to local investment firm Kingsmead Properties.
That was called off last week, with the investor citing uncertainty over the Omicron variant.
Given the "perfect storm" surrounding the cinema industry, Mr Lim from Drew & Napier said: "I think it would be hard to find new investors wanting to enter this market given the current situation."
NTU's Assoc Prof Hahnheiser echoed that, noting profit-seeking investors would not want to place a bet on an industry whose trajectory may be hard to project in the near term.
"Cinemas, at the moment, may just be a real estate deal and nothing more. If operators own the buildings, then it might be interesting to acquire them," he explained. 
"But if it's simply only the cinema (exhibition business), investors will hold back and wait to see for the next two to three years."
WILL CINEMAS DISAPPEAR? 
That said, experts believe cinemas will likely survive the rise of at-home streaming, as many people are not ready to forsake the big screen and the unique communal experience it offers.
"There is still a role for cinemas in the overall media and entertainment mix in the Singapore market," said Mr Wilkinson.
But the industry needs to change.
"People still enjoy going to the cinemas but operators will have to be innovative in offering superior experiences to continue to pull the crowd in, beyond the appeal of blockbusters," Mr Lim said.
"Scale is also important, which is why you may see consolidations in the industry. At some point in time, with exits and possible consolidations, there will be an equilibrium reached and when we finally move to endemic living, the industry ought to improve," he added.
To cope with the competition, KPMG's Mr Styles suggested cinema operators consider their supply chain of movies.
He pointed to how over-the-top services such as Netflix have been investing in making their own original content, including "exclusively made" movies.
"Cinema operators will need to rethink if such strategies should be part of their long-term plans, on top of digital transformation to capitalise on behavioural trends in the new normal," said Mr Styles.
NTU's Assoc Prof Hahnheiser noted that with consumers becoming more sophisticated and having diverse tastes for content, cinema operators have to be more flexible with their choice of movies.
The Projector – a local independent cinema known to screen films that are more unusual and niche than the mainstream releases offered elsewhere – is one example that has done well in this area, hence creating a unique positioning and loyal following, he added.
Cinemas can also set themselves apart with more premium offerings.
"The cinemas in Europe that continue to do well are the prime ones," the associate professor told CNA. "They serve food like sushi, not just snacks, and drinks like champagne. There are tables and very comfortable seats. It's like being on an airplane's business class or first class. It costs more but people love that."
Another thriving example to consider is American indie cinema theatre Metrograph, which also has a Michelin-rated restaurant, a cafe and a cinema-dedicated bookshop all under one roof. Since opening in New York in 2016, Metrograph has been a hit.
"Smart cinema owners understand the need to offer a new experience," said Assoc Prof Hahnheiser.
"There is still some trial and error to be done because you have to see what your customers like, but there are opportunities now to give cinemas a refreshed start."
Asked for Filmgarde's assessment of the cinema exhibition industry and whether it might be mulling a complete exit, Ms Han would only say: "We can only speak for ourselves and with what is happening at the moment, it is really like looking into a crystal ball as we are still in the midst of the pandemic and the situation remains very fluid with circumstances changing constantly."
The company, which started in 2007 with the aim of offering cinema-goers a different experience and to support local film-makers, said it does "not believe that cinemas will disappear and it could be … that cinemas will thrive once again when the pandemic is over".
"But we have to take into account that consumers now have many more options to watch films than ever before," she added.
"On our end, we remain open to new opportunities in the industry as when the situation changes, and when we feel the conditions are right. So never say never."