commentary Singapore
Commentary: How should Singapore teachers manage issues of race in the classroom?
Jul 21 each year marks Racial Harmony Day. Ho Li-Ching explores whether students should be encouraged to discuss controversial issues related to race in the classroom and what's stopping teachers from doing so.
SINGAPORE: "Is there really racial harmony in Singapore?" a secondary student once posed this question to me during a research study.
Using a tried-and-tested teaching technique, I turned the question around: "What do you think?"
Her response was an emphatic "no".
My curiosity piqued, I asked if she had discussed this issue in any of her lessons. I wasn't surprised when she told me she hadn't, because research in many countries indicates that students rarely discuss controversial issues in their classrooms. 
DEVELOPING INFORMED CITIZENS
Harmony, racial discrimination, racial integration in schools - why should Singapore teachers encourage students to discuss such controversial public issues?
Research conducted in various countries indicates that there are two main reasons: First, doing so aids in developing informed and engaged democratic citizens and second, a robust discussion of such issues improves learning outcomes.
Well-structured discussions of controversial issues help young people learn how to deliberate public policy issues and evaluate the validity and effectiveness of different courses of action.
These skills are crucial in preparing our young people to participate in a diverse and plural society, where they will have to critically evaluate issues of the day and come to their own judgments. These skills become all the more important when they turn 21 and have to vote.
Such discussions also contribute to greater civic agency, giving young people the belief that citizens have the power to make a difference. This in turn results in an increased willingness to participate in the civic or political life of a society.

Authentic discussions also help empower young Singaporeans by fostering in them a belief that they have a stake in Singapore's future.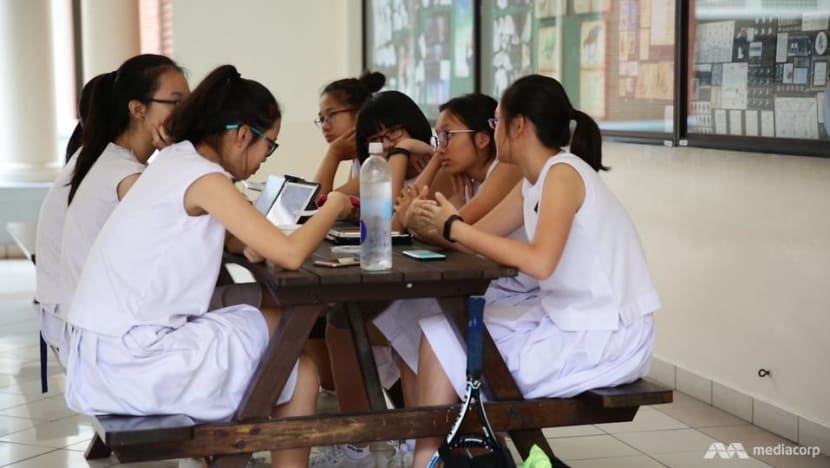 ENLIGHTENED POLITICAL ENGAGEMENT
Discussing meaningful and contemporary issues also leads to what Walter Parker from the University of Washington calls "enlightened political engagement": The knowledge and skills to make wise and informed decisions, grounded in democratic values.

Young people should have numerous opportunities to practise this kind of decision-making.  
Discussing controversial issues also provides numerous academic benefits. Through discussion, students develop critical thinking and reasoning skills, because they are required to develop strong arguments and provide supporting evidence for their claims.
Importantly, discussing controversial issues also contributes to a willingness to work with classmates who hold diverse viewpoints that may be different from their own. Such discussions also teach students how to listen respectfully to their classmates and to carefully analyse their classmates' arguments, giving them a sense of perspective. 
Students exposed to such discussions reported feeling more engaged in their lessons and indicated that they understood course content better.   
DIFFICULT AND CHALLENGING
If there are so many societal and educational benefits to discussing controversial issues in the classroom, why then are so few teachers - in Singapore and in other countries - willing to do it?
Singapore teachers who wish to address controversial public issues in their classrooms face constraints. My own research has shown that they are particularly concerned about the impact of breaking laws, breaching norms especially important OB markers, and faced with the pressures of national examinations, many do not want to deviate from the prescribed official curriculum. Teachers also face pressures such as the threat of external challenges or sanctions, and censure from superiors or peers.
But this is not a straightforward link. Teacher uncertainty, as well as these pressures, play a significant role in limiting teachers' willingness and ability to address controversial issues on race and religion in their classroom. The absence of explicit support from school leaders and the government for them to do can also contribute to high levels of uncertainty, insecurity and self-censorship on the part of teachers. 
Fundamentally, teaching controversial issues and facilitating high-quality discussions in classrooms is difficult and challenging. Teachers need to have a deep understanding of the subject matter, be familiar with different pedagogical strategies and approaches, know their students well, and be willing to empower their students by ceding some control of their classroom.
TEACHERS NEED HIGH LEVELS OF SUPPORT
What can we do to address the constraints faced by teachers? If we truly believe in the democratic and educative value of discussing controversial issues, we need to ensure that Singapore teachers receive high levels of explicit support from school administrators and the Ministry of Education, even though some of the topics they address may be unpalatable or difficult to discuss.
Teachers should also be provided with more curricular resources and professional development opportunities so that they can create thoughtful and meaningful lessons for their students, and learn to manage the overtones of such difficult discussions.    
In the era of fake news, political and religious extremism, and the proliferation of multiple sources of information, it is abundantly clear that we need to move away from top-down conceptions of education.
Research shows that one of the most effective ways of doing this is providing students the chance to discuss controversial public issues in-depth.
Ho Li-Ching is president of the Singapore Association for Social Studies Education and associate professor of social studies education at University of Wisconsin-Madison.
This commentary is part of Channel NewsAsia's series on learning and education.
Read the first commentary on whether Singapore schools should adopt digital textbooks here.