State Court cases adjourned or handled manually due to issues with computer system for more than 2 days
The Integrated Case Management System was undergoing "emergency recovery" as of the afternoon of Feb 8.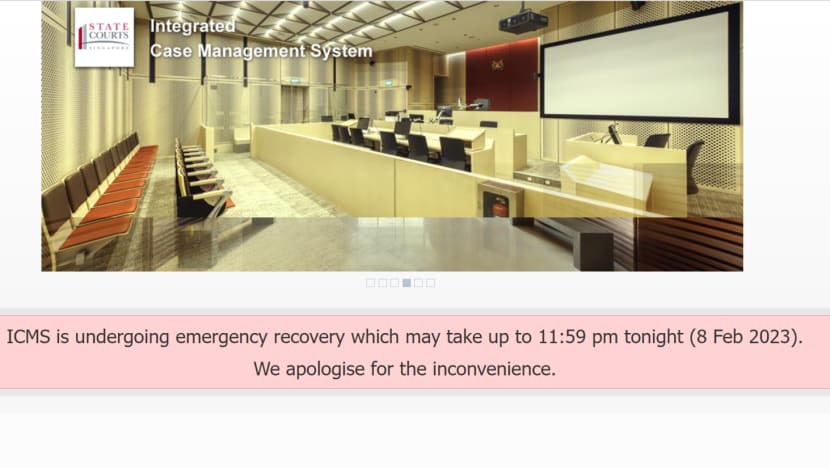 SINGAPORE: A hardware failure caused the State Courts' computer system to be down for more than two days, causing cases to be adjourned or handled manually.
The Integrated Case Management System (ICMS), an online platform launched in 2015 for criminal cases at the State and Youth Courts, first showed an error message on Tuesday (Feb 7) that said it was undergoing urgent maintenance from midnight to 11.59pm on Feb 7.
On Wednesday afternoon, the system was still inaccessible and a note on the website read: "ICMS is undergoing emergency recovery which may take up to 11.59pm tonight (8 Feb 2023). We apologise for the inconvenience."
Several cases on Tuesday were adjourned as a result of the technical issues. The ICMS is used by judges, lawyers and prosecutors to keep electronic records of the case, upload documents and arrange for future mentions of the case, among other things. 
The system was back up on Thursday morning. 
A spokesperson from the courts' communications division told CNA on Thursday morning that ICMS and its data were not affected by any security incident and that the platform had resumed full operations.
He said the vast majority of criminal cases were not affected, as hearings proceeded on a manual basis.
"Various hardware and software enhancements have been implemented for ICMS in the past three years. A further technology refresh is also planned," he said.
He added that a full investigation will be conducted to identify the root cause of the hardware failure and to implement the necessary remedial measures.
"We are committed to work towards further improving the reliability and usability of ICMS," said the spokesperson.
Lawyers told CNA that it is not uncommon for ICMS to be down. Criminal defence lawyer Ashwin Ganapathy of IRB Law said the system is down for maintenance issues "every other week".
While he said the system itself is "OK", he said it was "very slow" and he gets logged out after a short while. It also undergoes maintenance very often and it is difficult to upload larger documents, even though they are within prescribed size limits.
However, he said the system was not overly complicated to use.
Lawyer Johannes Hadi of Eugene Thuraisingam's law firm said ICMS has two or three downtimes a month.
He said the current issue means that he cannot file a mitigation plea for a client.
"ICMS was designed during a different technological time and it shows," he said. "Besides frequent service outages, the platform is clunky and no longer fit for today's litigation needs. An overhaul is long overdue."
He said a bigger issue was how the system lags and a lot of time is spent trying to upload documents because it "always shows 'error'".
Lawyer Azri Imran Tan of IRB Law said it can be "extremely frustrating at times" and rated the system four out of 10. 
He said full-blown issues like this are not the norm, but ICMS tends to have to undergo maintenance "very often".
"Also, there are a host of issues ranging from being unable to download documents, to difficulties uploading documents," he said.
"As a criminal lawyer, I have not been able to do any work on my matters the past two days without ICMS access as all essential documents are stored there," said Mr Tan.
Lawyer Cory Wong of Invictus Law said that ICMS itself is a "tremendous technological improvement in case management since its inception".
"I recall a time whereby case documents were difficult to access and visibility into the latest status or documents of a case was quite unheard of," he said. 
"Lawyers would sometimes receive amended hard copy case documents at the eleventh hour or even at the very hearing itself, and it would cause undue delays down the road and oftentimes anguish to the client."
He said that with ICMS, the latest information about a case file can be readily obtained even on the go, like when on a mobile device.
"Subject to the rules of evidence and disclosure of course, ICMS supports a particular tenet of natural justice by facilitating an accused person to know the allegations mounted against them and the underlying disclosable supporting case documents," he said.
Mr Wong said substantial service issues are infrequent. Instead, it is a norm for ICMS to undergo regular maintenance or updates. These are typically pre-scheduled for off-peak evening times, when court has already adjourned for the day. 
Notice is also given in advance, he said.
"Despite the slight inconvenience caused when working late into the evening, such regular maintenance helps to assure users that no effort is spared by the authorities when it comes to data security and case privacy; these are matters taken very seriously by the authorities," he said.
Lawyer Ramesh Tiwary said the current issue is indeed inconvenient for all concerned, but said "we ought to be patient", considering the volume of cases that ICMS deals with.