Court grants divorce to woman who claimed husband was controlling, dictated family activities
The man dictated meal times, treated his teenage sons like "toddlers" and was oblivious to the feelings that had been festering within his family, the judge said.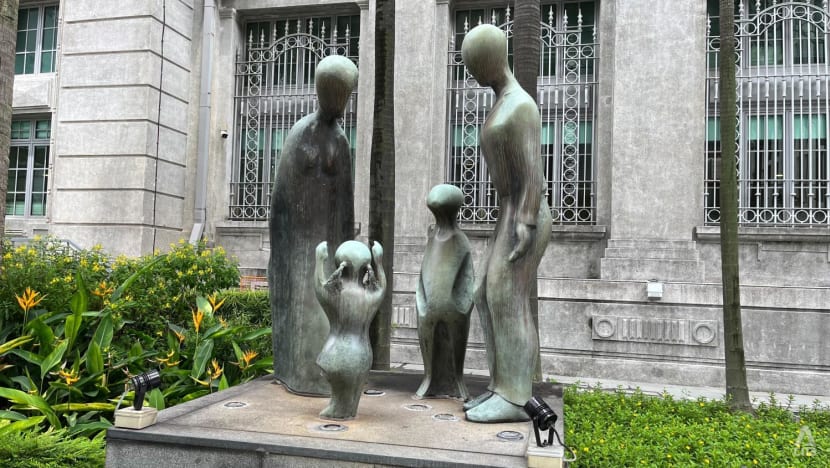 SINGAPORE: A family court has granted a divorce to a woman who claimed her healthy relationship had deteriorated due to her husband's controlling conduct.
The man, on the other hand, said the marriage had not broken down and that his conduct, cited as unreasonable, was part and parcel of married life, especially over a long marriage.
What his wife called authoritative and dictative ways in fixing activities for the family, to him was nothing more than a desire for family bonding and unity.
In a judgment published on Wednesday (Feb 22), the court heard that the couple married in September 1996 and have two sons, now aged 18 and 20.
District Judge Geraldine Kang granted a divorce to the woman, saying that one person's desire for reconciliation was not sufficient in this case.
They had a fairly good relationship at the start of their marriage, with family time that was "well spent" with their sons.
However, the wife said that her husband's fixation on family routine over the years became "imposing, uncompromising and controlling".
It was also unreasonable, as he had no regard for her or their children's wishes.
She said her husband would insist and dictate fixed activities for the family, despite them expressing the desire to have some flexibility.
As a result of his persistently authoritative and dictative ways, the family relations became strained, with the couple ceasing conjugal relations since 2010.
THE YOUNGER SON'S TESTIMONY
The wife called on her youngest son to support her case. He testified that over the years, his father would insist on family activities such as having meals with him - at timings he determined.
The 18-year-old boy said he felt obliged to comply, as his father would not take no for an answer.
His father also would not acknowledge or accept that as growing teenagers, his sons might have other interests or commitments.
The boy said his father failed to respect boundaries and felt there was a lack of privacy. He testified that his father had no regard for their wishes to have time to themselves, and said his mother was unhappy in her marriage.
The man had a view of his marriage and family life that was "diametrically opposed to his wife's", noted the judge.
THE MAN'S CASE
He maintained that his conduct fell short of unreasonable, and said it was part and parcel of married life, especially over a long marriage. He defended his actions as nothing more than a desire for family bonding and unity.
He also "vehemently denied" that he was unreasonable, or that the marriage had broken down irretrievably.
He said he remained dedicated and committed to his family, and asked for reconciliation instead.
The woman had sought divorce on the basis that the marriage had broken down irretrievably, due to her husband behaving in such a way that she could not reasonably be expected to live with him.
Judge Kang cited past judgments which said the analysis should be on whether the union has become impossible, rather than any consideration of blameworthiness.
"What is crucial is also that the behaviour of the defendant must have affected the plaintiff such that it is unreasonable to expect the plaintiff to continue to cohabit with the defendant," she said.
Judge Kang said the husband in this case was not abusive as in another case, but pointed to his cumulative behaviour of being controlling and dictating to his wife and family, as well as the effect it had on his wife.
She noted that the couple had not only ceased conjugal relations but were estranged, with the woman having no desire to share family time with her husband.
"It was unreasonable to expect her to continue to cohabit with him objectively," said the judge.
COURT'S CONSIDERATIONS
Judge Kang said that a divorce could not be withheld just because one spouse wants to make a further attempt at reconciliation.
This is unless there is some hope that the other party reciprocates this desire. 
The court is also directed to consider the interest of any child, and in exceptional cases, a court may refuse to grant a divorce because of evidence that a child may respond particularly badly to the marriage ending.
In such a case, the court could delay the judgment until the child is prepared well enough to handle the trauma.
However, Judge Kang said the converse is also true. After hearing the evidence of the younger son, she said it was unhealthy for the two youths to be treated "like toddlers who were given instructions to comply rigidly to meal times and fixed routines".
She said that even if the husband's desire to spend time together was with the best intentions, he had clearly misplayed his hand or miscalculated his plans and intentions.
It drove a wedge between him and his family members without his realisation, and the judge said it was poignant to hear that he was oblivious to the feelings that had been festering.
"The reality was that it was such an environment of tension and unhappiness (and) was not one that this family was prepared to endure," said Judge Kang.
She cited an incident in November 2021, where the man demanded a handphone and laptop that he had previously gifted to his wife.
After a disagreement, he demanded the items back. His wife tried to reason with him and asked him to give her time to buy replacement devices, but he flatly refused and insisted on the return.
"The defendant failed to consider how his actions would have an effect on her and their already strained relationship – it showed a lack of insight of his actions on his family, which was a consistent theme on which the plaintiff was seeking a dissolution of their marriage," said the judge.
"Marriage is not and never will be smooth sailing," she said. "It comes with expectations, disappointments, conflicts and much more, especially if there are children."
She said every marriage is different, and what happens behind closed doors in family life and a marriage will never be fully known or experienced by anyone else except the parties themselves.
"The defendant's behaviour may have been a desperate attempt to hold on to his family, and keep the family intact and close to him, for which the court does empathise and sympathise with him; however because he was unwilling to listen to them, his conduct may have unwittingly pushed his family away further," said the judge.
She ordered the man to pay costs of S$4,000 to the woman.
The man has appealed against the decision.