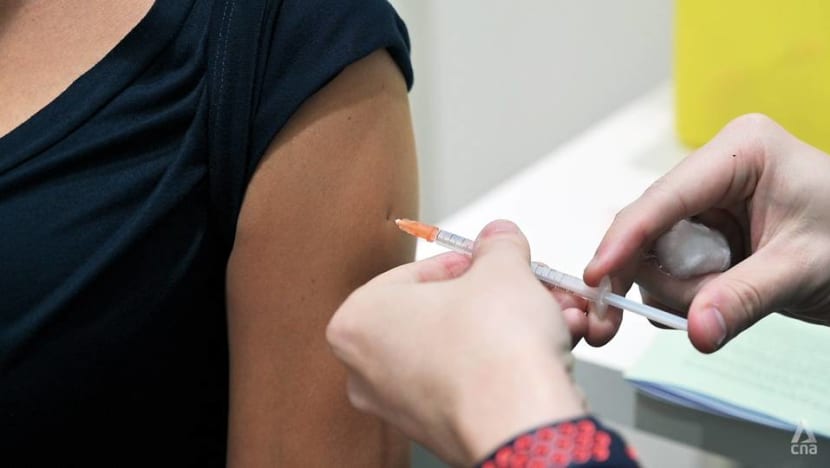 SINGAPORE: Arrangements are in place to secure COVID-19 booster vaccines for the Omicron variant should they be recommended for use, said the Ministry of Health (MOH) on Sunday (Jul 10).
"MOH, the Health Sciences Authority and (Expert Committee on COVID-19 Vaccination) EC19V are reviewing the safety and effectiveness of COVID-19 booster vaccines that will also target the Omicron variant," said the ministry in response to CNA's queries.
"Arrangements are in place to secure supplies should these be recommended for use," it added.
Both Pfizer and Moderna have been testing retooled versions of their vaccines to include the Omicron variant.
Earlier this month, the European Medicines Agency (EMA) and other global health regulators said that COVID-19 vaccines tweaked to include the Omicron variant strain could improve protection when used as a booster.
With vaccine effectiveness taking a hit as the virus evolves, an Omicron-specific booster could "increase and extend" protection, the EMA said.
In Singapore, about 50 per cent of COVID-19 infections were from the BA.4 and BA.5 subvariants, Health Minister Ong Ye Kung said in Parliament on Jul 5.
He added that the percentage of infections caused by the subvariants "has been doubling every week" and that it is expected to be 70 to 80 per cent this coming week.
However, Mr Ong said that the current COVID-19 wave will not be as severe as the Omicron wave earlier this year.
On Sunday, MOH also said the ministry and expert committee "strongly recommend" that all persons due to receive their boosters do so "without delay".
"This is especially so that they can stay protected against COVID-19, particularly in light of the recent increase in cases," said MOH.
Singapore reported 6,423 new COVID-19 infections on Sunday, of which 6,200 were local cases.
There have been 1,530,304 COVID-19 cases in Singapore since the start of the pandemic.