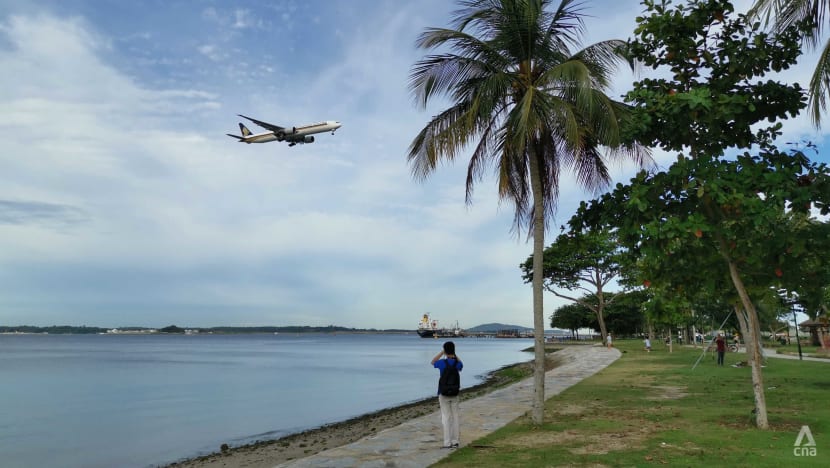 SINGAPORE: Travel insurers have revised their coverage for COVID-19-related incidents, as measures ease and borders open up in Singapore and overseas. 
Insurers here told CNA they have observed that customers' travel needs are changing amid the pandemic, and there are many considerations when planning for an overseas trip. 
"There is still a lot of hesitation when it comes to travelling overseas because the COVID-19 situation in many countries is still volatile," said vice-president and head of personal lines at Income Annie Chua. 
Hotels and airlines have also revised cancellation and refund policies so that customers have recourse if they have to cancel their trips, she said.
Singapore launched its first two vaccinated travel lanes with Germany and Brunei on Sep 8. The first two designated flights returning from Frankfurt and Munich arrived on Sep 8 and 9 respectively. 
Travellers who return on the designated vaccinated travel lane flights do not have to serve a stay-home notice, and only need to do routine tests for COVID-19. Germany also does not have restrictions based on vaccination status or quarantine requirements for visitors from Singapore.
Income said it has offered COVID-19 coverage for overseas medical expenses under its travel insurance plans since November last year. This includes coverage of up to US$100,000 for COVID-19-related hospitalisation expenses overseas and costs incurred for medical evacuation of up to US$100,000. 
The COVID-19 benefits are excluded from travel insurance plans bought for trips to countries that the World Health Organization has deemed "high-risk" for COVID-19 at the time they are purchased. 
"We are currently looking into adding suitable coverage for trip disruptions which are the result of having to serve a quarantine order or stay-home notice, or if a family member of the insured party is diagnosed with COVID-19," said Ms Chua. 
"We understand that customer needs are changing as a result of COVID-19. There are many considerations one has to make when planning for a trip or even deciding whether or not to travel," said managing director of retail and health at AXA Insurance Julien Callard. 
AXA has enhanced two of its travel insurance plans – the AXA SmartTraveller and AXA Wanderlust – since December 2020 and July respectively. 
The enhancements provide coverage for pandemic-related scenarios that have "generally been excluded" from travel insurance plans since COVID-19 was declared a pandemic, said Mr Callard. 
For example, the plans cover scenarios like having to cancel the trip after failing the temperature screening at the departure gate at the airport, and later testing positive for COVID-19. 
Some other possible scenarios include having to cancel or postpone the trip when a family member or sole travelling companion tests positive for COVID-19, if a family member who is to host the traveller overseas during the trip tests positive, or if the traveller tests positive during the trip and needs to be hospitalised or quarantined. 
The plans also cover situations where a traveller has to curtail or rearrange their trip due to an outbreak while overseas, "unavoidably incurring" additional accommodation costs to extend their stay in the country, or where they have to rearrange their itinerary while overseas if there are no flights due to the pandemic. 
Some countries also require inbound visitors to have travel insurance that covers COVID-19-related medical expenses with a minimum amount, Mr Callard noted. 
AXA also has a 24/7 hotline for travellers to provide assistance on policy coverage and where they can get information on the nearest hospitals or clinics, as well as receive medical consultations over the phone, he added. 
AIG Asia Pacific Insurance revised its Travel Guard insurance plan in June to cover overseas COVID-19-related medical and evacuation costs incurred if travellers test positive on their trip, its head of auto and travel Teo Ser Foong told CNA. 
For return trips, the enhanced plan covers trip cancellations or postponements if the traveller or their relatives are diagnosed with COVID-19 before the date of departure, subject to terms and conditions, he said. 
"You are also covered for travel curtailment if you or your relative are diagnosed with COVID-19 whilst travelling and need to return to Singapore earlier than planned," Mr Teo added. 
The plan also includes quarantine allowance if individuals test positive for COVID-19 and are unexpectedly placed in mandatory quarantine outside of Singapore, he noted. 
However, insurers CNA spoke to said their travel insurance plans do not cover incidents where a traveller discovers that they have caught the virus upon their return to Singapore. 
The policies also do not cover trip cancellations or postponements due to changing regulations in the country the individual is travelling to, they said. 
"Even though there continues to be some COVID-19 exclusions with our travel insurance plans, we are working to keep our offerings relevant to meet our customers' evolving needs," said Income's Ms Chua.
"On top of that, travel insurance also remains important to cover other losses that are not related to COVID-19 while travelling, such as damage to personal belongings, personal accident or travel delays."