Beyond cargo clearance: ICA officers to be first responders for security incidents at land checkpoints
From Jan 3 next year, the police will hand over its first responder duties to the Immigration and Checkpoints Authority at Tuas and Woodlands Checkpoints.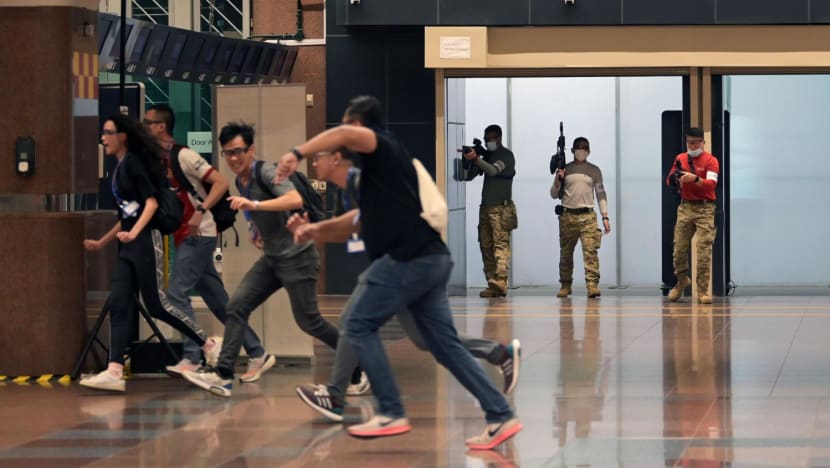 SINGAPORE: All is calm at Tuas Checkpoint on a typical weekday evening.
Heavy vehicles coming from Malaysia stream into the arrival zones, breaking the relative peace with the occasional blare of their horns. Travellers alight from buses to clear immigration.
Then, chaos erupts. Four gunmen armed with rifles and clad in camouflage pants descend upon the arrival bus hall, prompting civilians to flee towards the immigration counters.
The attackers advance in a methodical fashion and shoot indiscriminately, wounding several people.
This time, instead of Singapore Police Force (SPF) officers, Immigration and Checkpoint Authority (ICA) officers are the first to respond to the attack. They return fire and manage to subdue the gunmen in a matter of minutes, aided by a second wave of forces comprising SPF officers and those from the elite Gurkha contingent.
Once the area is secured, Singapore Civil Defence Force (SCDF) personnel move in to give medical aid and evacuate the injured.
This was the scene of a simulated ground deployment exercise that members of the media witnessed at Tuas Checkpoint in the wee hours of Wednesday (Nov 16).
The exercise, codenamed Genesis, was held to show how ICA will take over protective security functions at Woodlands and Tuas Checkpoints from Jan 3 next year.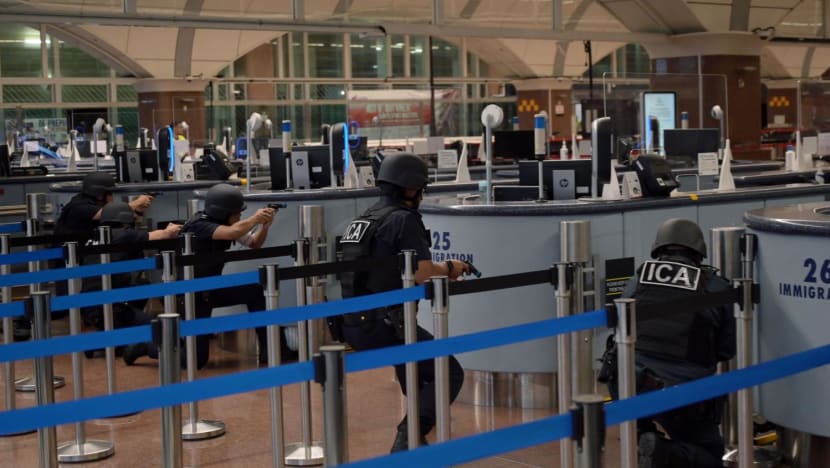 With this move that has been several years in the making, SPF officers will no longer be the first responders to security incidents at the two land checkpoints.
More than 300 ICA officers have undergone training in tactical movement, as well as interview and search techniques, in preparation for the switch. They also undergo on-the-job training with their SPF counterparts and ensure their skills remain current through refresher scenario-based training.
ICA officers are already the first responders to security incidents at sea checkpoints, while SPF remains the first line of border security at air checkpoints including Changi Airport.
More than 200 personnel from ICA, SCDF and the police participated in the multi-agency exercise on Wednesday, with Home Affairs and Law Minister K Shanmugam and key Home Team appointment holders there to observe.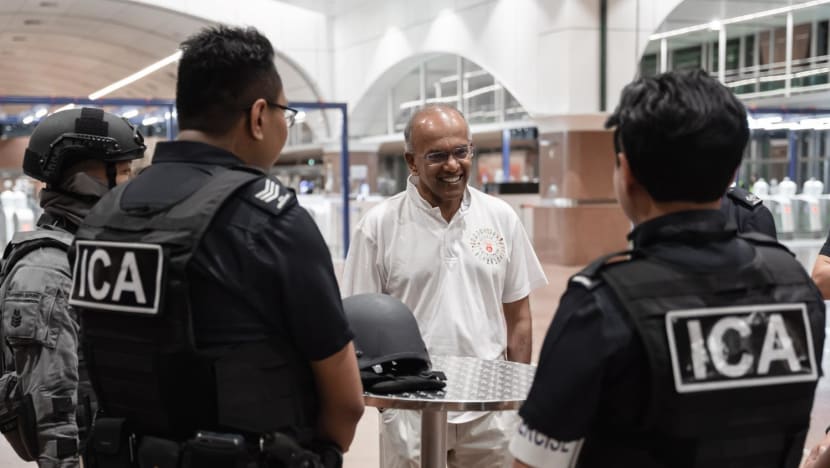 TECHNOLOGICAL ADVANCES
ICA officers on the ground are backed by those in the land checkpoints' integrated operations centres, which became operational in February this year.
Data that officers used to have to pull from various systems and sensors are now integrated into a single platform. Wall-to-wall screens show live video footage from the first responders' body-worn cameras as well as nearby closed-circuit television cameras.
This gives commanders in the operations room a bird's eye view of what is happening on the ground, allowing them to deploy the nearest officers to the incident site.
When a panic alarm button goes off, the four closest and best camera views automatically come up on the screens. A text alert also flashes on one of the screens, an example being "Handling unattended baggage at departure bus hall".
Through their mobile devices and body-worn cameras, ICA officers are able to provide instant situational updates through text messages, images and videos.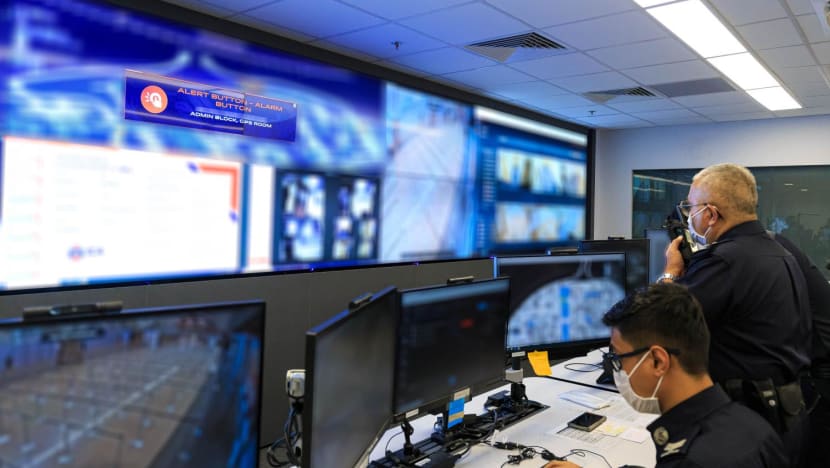 Previously, ground commanders could only rely on voice communications for updates and to ascertain where their officers were. They also had to manually retrieve data and video feeds from more than 3,000 surveillance cameras at both land checkpoints.
These cameras have since been equipped with video analytics capabilities to flag anomalies, such as unattended baggage or intrusion attempts, to officers in the operations centres. In the past, officers could only discover these anomalies by manually monitoring CCTVs and patrolling checkpoint premises.
Such technological tools came from ICA's collaboration with the Defence, Science and Technology Agency (DSTA) and the Home Team Science and Technology Agency (HTX).
They were put to the test in another scenario that played out at Tuas Checkpoint's arrival car zone on Wednesday.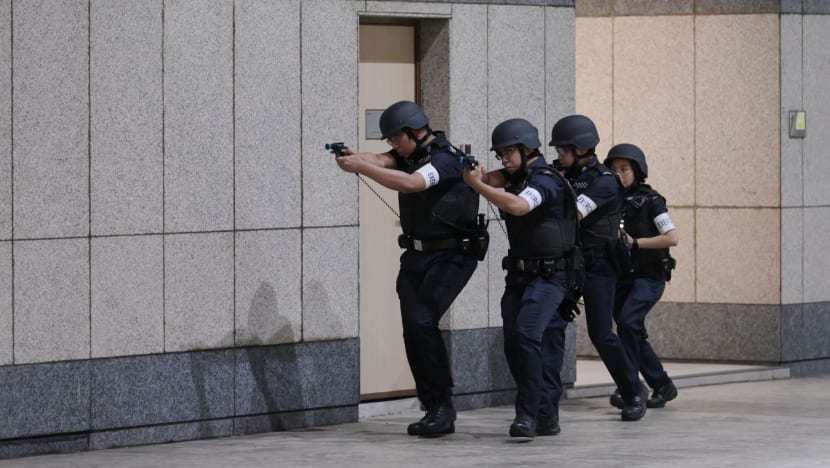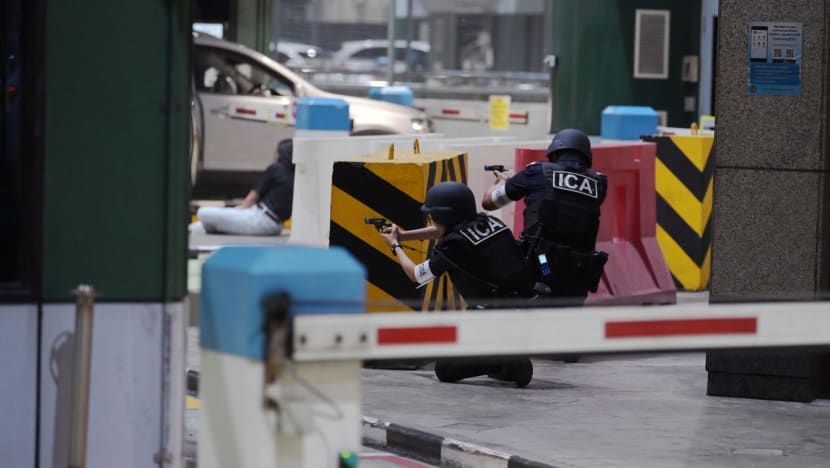 A black car stops for ICA officers to conduct a routine check of the boot and interior. When the driver steps out to open the vehicle boot, he fires his weapon at the officers, wounding some of them before another gunman emerges to join the firefight.
More officers from ICA's first response team then engage the two men in a volley of gunfire.
Eventually, both shooters collapse to the ground at the car clearance lanes after being hit.
Following the exercise, Mr Chua Tuan Meng, ICA's land domain commander, told reporters that it was "a testament to the capability and readiness of ICA officers and Home Team agencies in responding to security incidents".
In April 2018, the Immigration Act was amended to give ICA officers the power to intervene more decisively during a security incident and contain the situation without needing to wait for supporting forces.
After these legislative changes, they could also conduct searches and arrest suspicious people within and in the vicinity of the two checkpoints.
Previously, ICA officers were only allowed to conduct searches within authorised areas. They also had to wait for police officers to deal with security incidents, such as if people are in possession of arms or explosives.
In a press release, ICA said its imminent takeover of protective functions from SPF is the "culmination of the transformation of ICA's role in border security at the land checkpoints".
Mr Chua said that the border control agency will no longer merely focus on immigration and cargo clearance duties.
He added: "ICA will continue to train more officers in protective security functions and refine our capabilities to keep Singapore borders safe and secure."