Food waste left outside rubbish bins attracting wild boars to Bukit Panjang, says animal group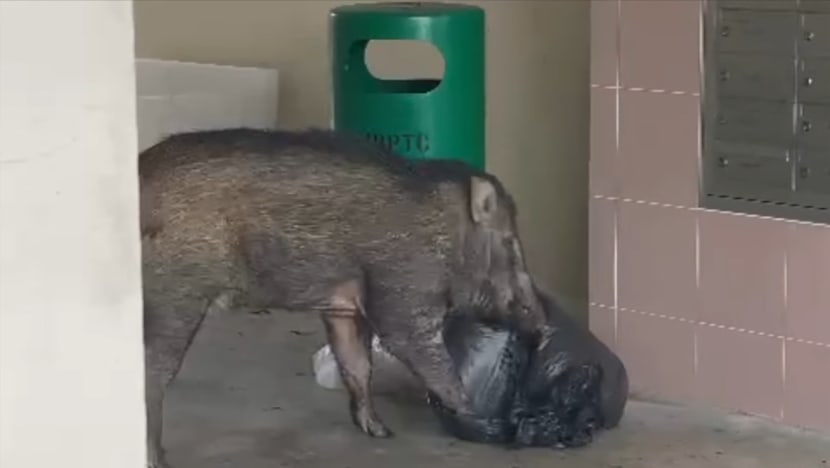 SINGAPORE: Food waste left outside rubbish bins has been attracting wild boars to Housing Board (HDB) estates in Bukit Panjang, said the Animal Concerns Research and Education Society (ACRES).
ACRES co-chief executive Anbarasi Boopal told CNA that since Jan 9, the animal conservation group has received nine calls from members of the public who saw a pig rummaging through food waste left outside bins at Petir Road, Segar Road and Pending Road. 
"We noticed from videos that there was always waste outside the bins, which can attract both stray and wildlife out of their habitats into human areas," she said, noting the presence of wild animals in green areas connecting to the nearby Chestnut and Dairy Farm nature parks.
On Monday (Feb 14) ACRES posted a video on its social media accounts of a wild boar foraging through rubbish at the void decks of HDB blocks. 
It said then that it had been alerted to the sightings at Petir Road, which was "growing accustomed to the food waste from bins that are not wildlife proof".
Ms Anbarasi said ACRES was not aware of humans feeding wild boars at Petir Road. However, she noted there had been suspected instances of people feeding the animals at an unconfirmed location in Bukit Panjang, pointing CNA to a video shared on Facebook group Complaint Singapore in October last year. 
In its social media post, ACRES described managing food waste as the "first step to coexistence" between animals and humans. 
"To minimise access to wild animals, we have observed some properties securing the bin to the wall (so the wild pig cannot push it down to get the food), or making the bin a macaque proof one, where the flaps are not easily openable by macaques," said Ms Anbarasi. 
She noted that those in landed estates can choose to use bungee cords to secure their own bins. 
Ultimately, Ms Anbarasi said the public need to cooperate and bin their food waste and trash, adding that ACRES will be meeting the Holland-Bukit Timah Town Council next week to conduct a site visit and resolve the issue. 
In its social media post on Monday, ACRES said a similar situation in Choa Chu Kang - where the animals had been attracted by overflowing food waste as well as food provided by people - led to two wild boars being captured and culled by the authorities after complaints from residents and the town council over safety concerns.
Ms Anbarasi said ACRES had received 23 calls from members of the public regarding wild boars feeding at the location's rubbish disposal area.
She said: "We worked with the town council, who increased the frequency of clearing of trash. The Singapore Police Force, ACRES and NParks have attended to quite a few alerts to herd the pig off the road.
"However, some residents still disposed of trash improperly which continued to attract the pigs. These sightings happened between Dec 2020 to October 2021." 
Responding to queries from CNA, NParks said it had received feedback on the two wild boars that had ventured into the housing estate at Choa Chu Kang.
"On many occasions, when the two wild boars appeared, the police and NParks responded by herding them back into adjacent forests," said NParks wildlife management group director Adrian Loo.
Dr Loo noted, however, that the two boars continued to regularly appear at the estate, possibly having become "habituated to human presence and food availability".
"In the interest of public safety, the two boars were eventually darted and humanely euthanised," he said. 
Tackling the feeding of wildlife is a "key aspect of living with nature", he added.
"Illegal feeding, intentional or otherwise, alters the natural foraging behaviour of wild boars and habituates them to human presence, and leads them to rely on humans for an easy source of food. This may result in them venturing into urban areas in search of human sources of food," Dr Loo explained. 
"Human feeding also leads to unnatural population growth that can affect the natural carrying capacity in our forests for wild boars, regardless of habitat loss," he added.
This may lead to wild boars posing a safety hazard to the public and they may thus need to be relocated or culled humanely, he noted. 
Ms Anbarasi advised the public to keep a safe distance of several metres if they spot a wild boar, and to avoid making sudden movements that may spook the animal. 
"Slowly walking away is the best response when encountering wild pigs in open areas," she said, urging members not to approach the animals to take a photo or use flash photography.
"As prey animals with poor vision, wild pigs can get easily scared, triggering a defensive response of fleeing/running or charging towards what they perceive as threat - whether it is a dustbin, or a human being," she added. 
While the capture and relocation of such wildlife is one alternative to culling, this can be a "very stressful process" for the wild boars, said Ms Anbarasi. 
Increasing habitat fragmentation means an increasing likelihood of encounters with wild animals in parks and park connectors near residential estates, she said. 
"So, a holistic long-term approach focusing on sustained proper waste management measures and an intensive education approach for the residents is the key," she added.