exclusive Singapore
'We don't always get it right': Grab Singapore's managing director on meeting consumer expectations
Ahead of Grab's 10th anniversary, Yee Wee Tang spoke to CNA in an exclusive interview about the company's plans for Singapore, how he sees high expectations from users, and why he stands by the decision to reduce the waiting time grace period to three minutes.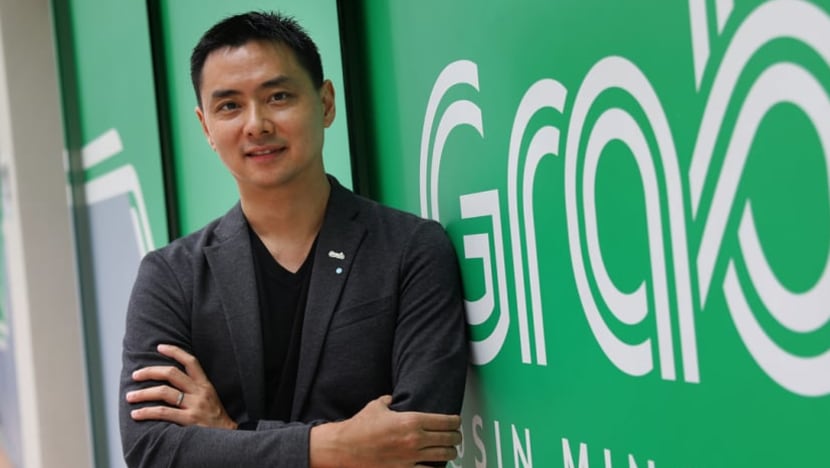 SINGAPORE: When Mr Yee Wee Tang went for a discussion with Grab in 2015 – then located in a tiny shophouse in Sin Ming – he didn't expect to land a job and stay for more than seven years.
Now, the 46-year-old managing director of Grab Singapore has worked in five Southeast Asian markets where the tech giant operates: Philippines, Thailand, Indonesia, Cambodia, and currently, Singapore. 
Seven years and one pandemic later, the challenges Mr Yee faces on the job have changed as much as the different cultures and economies he's had to adapt to. But one thing remains the same: He knows his company won't always please everyone. 
"Sometimes we get backlash. We don't always get it right. We try to understand where we got it wrong and how to make it right again," he told CNA on Wednesday (Aug 10) ahead of the official opening of the Grab headquarters and its 10th anniversary celebrations on Thursday. 
"All these decisions we don't take lightly. It's really about going through a lot of iteration and analysis." 
Still, Mr Yee considers high expectations from customers in Singapore "a good challenge". 
"It's a good problem to have. It means that if we can do it well in Singapore, we probably can do well in other countries. A lot of the new product features actually get tested out in Singapore first. Fix all the bugs before we roll it out in other countries," he said. 
3-MIN WAITING TIME MEANT TO "SHIFT BEHAVIOUR"
One of Grab's recent decisions that received near immediate backlash was to shorten the waiting time grace period and cancellation period for rides booked on the platform from five to three minutes. 
From Jul 18, users were automatically charged a waiting fee of S$3 if they kept the driver waiting for longer than three minutes. Passengers who cancelled bookings more than three minutes after accepting them were charged a S$4 fee.
The change affected all rides, except for those booked under GrabExec, Grab Exec6, GrabAssist and GrabAssist Plus. 
Even though many drivers cheered the move, just as many users took to social media to air their grievances about errant drivers who indicate they have arrived at their pick-up location when they have not. And Mr Yee stands by the seemingly unpopular decision. 
"For this one, we clearly listened to our drivers. This has been a long-running feedback from them. They face a lot of challenges, especially in the CBD area. You stop there for, like, two seconds and the security guard tells them to go. They just can't wait at certain places," he said.
While Mr Yee acknowledges that some consumers will be affected, Grab looks at the issue "holistically". 
"When we looked at the data before we implemented the change, 6 per cent of consumers (come down to their pick-up point) after three minutes, so we know that they will be affected. But at the same time, we know there will be an increase in productivity and efficiency in our network. We feel, ultimately, the consumers will also benefit a little bit, because there are more drivers on the road. The productive hours increase," he added.
"There will be consumers who are unhappy. But what we're trying to do is really shift the behaviour."
In fact, Mr Yee shared that since the change was implemented, the number of passengers who were more than three minutes late has shrunk from 6 to 4 per cent.   
"(But) there are certain passengers, such as older people or wheelchair users … we said no such penalty. And we're trying to do more; we're trying to get a list of passengers who are in wheelchairs and (see whether) we can whitelist them, so they'll never get charged," he added. 
"We're trying to do more and make sure that it's fair to the right consumers."
BALANCING NEEDS OF CONSUMERS AND PARTNERS
Change seems to be a constant at Grab. The COVID-19 pandemic threw "a lot of curveballs", requiring the company to transform from a transport app to a food delivery platform overnight. 
"Just over the last two years, the number of merchants that came on board our platform has increased tremendously. A lot of the merchants see the value of online platform deliveries," said Mr Yee. 
When Grab first started as a transport app, it was a "two-sided marketplace", he recalled. 
"And now with food, it's a three-sided marketplace. It gets a lot more complicated. … There's always the biggest challenge, which is to balance out. Whatever we do here on one side impacts the other side and the other side may be unhappy, and so it's always a challenge to try and balance that," he added. 
"Even with our app, we used to have two apps: Consumer and driver. Now (there is a) consumer, driver and merchant app." 
But Mr Yee sees data as a way to continue creating affordability and value for consumers, while rewarding their partners enough so they can join the platform.
"That is the hardest question. We listen to both sides. We do a lot of data analysis and try to calculate what's the right amount when certain prices go up, what's the right amount for the driver fee, what would we require for our drivers to have a take-home and what is the additional amount we need to put in so that their take-home is not affected," he said. 
"For drivers, I think it's easier to estimate or calculate because their earnings are their take-home. We know the cost, the COE going up and rental rates. So we have very good data."
Where consumers are concerned, "you just need to know at what point they would just drop off the app and just walk out and buy food themselves", added Mr Yee. 
"As a consumer, it's about convenience. You're paying for convenience. If a restaurant is very nearby and you are willing to wait, go and queue up, there must be a value to that. And how do we put that value to the consumer side? But there's no easy answer."
Mr Yee highlighted GrabUnlimited, a newly launched subscription package for food delivery, which allows regular users to get a discount on their delivery fee. 
And there is good news for merchants too. The GrabMerchant Centre will expand its merchant support for the Singapore market, announced the company on Thursday.
This support will include "bespoke, one-on-one consultation" for merchants; direct operating assistance, such as how to run their business more efficiently and reduce downtime; and upskilling workshops and networking events for them to mingle and meet other business owners", shared Mr Yee.  
In light of the small- and medium-size enterprises coming online for the first time during the pandemic, many are now "ready to scale (up) from the deliveries online platform", he added. 
PROTECTION FOR WORKERS 
With rising costs of living, Grab is also looking for ways to ensure their platform workers have enough for their retirement, noted Mr Yee. 
In April, Senior Minister of State for Manpower Koh Poh Koon raised the issue of mandatory Central Provident Fund (CPF) contributions for platform workers in Parliament. 
The Advisory Committee on Platform Workers actively engaged stakeholders through dialogues as well as a public consultation paper, reaching out to more than 20,000 platform workers and receiving about 1,200 submissions from them. 
"More than half of these submissions touched on CPF contributions, and of which, 55 per cent indicated support for the idea of mandatory CPF contributions to platform workers. Housing was the most commonly cited reason for wanting CPF contributions, followed by retirement," Dr Koh had said. 
"This is not surprising, as platform workers today only make CPF contributions to their Medisave accounts for their healthcare needs."
Mr Yee pointed out that Grab's concern is to ensure many of their platform workers have savings when they retire, so they are "supportive of the Government's review to look at this holistically". 
"What we ask for is basically two things: One is that whatever changes we need to do, which will likely increase costs, you can spread out (the change) as much as possible," he said. 
"A lot of these costs will likely be passed on to the consumer. What we don't want is that as we pass on these costs to consumers, the demand drops and our partners will suffer from it."
The second thing the company hopes for is that "whatever Grab has to do, it should be fair to the rest of the industry, and it should be applied to all", he added.
At the same time, Mr Yee understands that workers might feel the need to rush to fulfil orders to meet targets or gain incentives. The safety of food delivery riders was highlighted in Parliament in July by Dr Koh, who revealed that five food delivery riders died on the job in the past 18 months. 
But Mr Yee reiterated that safety is a "core belief" of the company. "Every accident, even one fatality, is one too many," he said. 
"First of all, we make sure we don't rush our riders. We don't stipulate they must deliver within X minutes or else. When it's raining, when there's high demand, we always remind our consumers that it's raining, be patient, be prepared that your delivery might take a longer time. Please don't rush our riders," he added. 
"Even if (the food delivery riders) wait too long at the merchant, please don't go and fight. You can call us and we will compensate. So again, (it's about) giving (food delivery riders) the assurance that they don't have to deal with a lot of these issues." 
The company also partners with institutions like Ngee Ann Polytechnic and ComfortDelgro Driving Centre to teach their delivery partners how to watch out for cars and remain safe on the road. 
"We want to protect our riders. We don't penalise or punish or ask the (rider) to pay for the food. So these are in our policy to make sure that they're comfortable," added Mr Yee. 
Grab also told CNA that the app's tipping feature, which allows consumers to tip their drivers or delivery riders, has been well-received both before and after the "circuit breaker" period, suggesting an appreciation for platform workers. 
About 74 per cent more tips were left by customers for their drivers and delivery riders, with the average tip amount increasing by 42 per cent, said the company in its 2019/2020 Social Impact Report issued in the first half of 2020. 
EMPOWERING WIDER COMMUNITY 
In the meantime, Grab has plans to empower the wider community, beginning with its US$1 million GrabScholar programme announced on Thursday. 
The programme comes under the GrabForGood Fund, which was unveiled in April 2021. 
With this US$1 million GrabScholar programme, the company will "disburse scholarships and bursaries to students across Southeast Asia". These recipients do not have to be children of Grab partners.   
"We have seen how good education is important for transforming life and uplifting the family," said Mr Yee. 
"It's always been about the mission and our vision. It's always been the same; to serve Southeast Asians, (see) how we can solve problems using our technology, and how we can help our partners. And I think we've stayed true to the mission for the longest time until today."