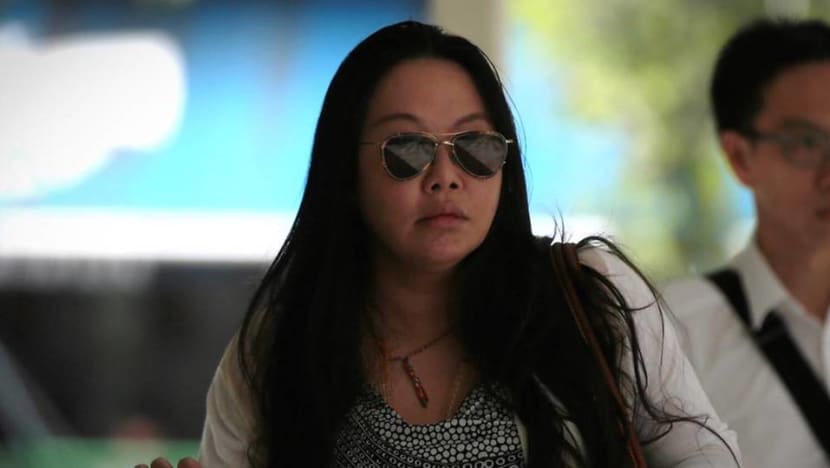 SINGAPORE: The daughter of the founders of a luxury watch group pleaded guilty on Monday (Aug 27) to taking drugs, as well as to causing a car crash that uprooted a divider in 2015.
Audrey Tay May Li, the 45-year-old daughter of the founders of The Hour Glass, admitted to three drug charges and one charge of driving without due care or attention. Five other charges will be taken into consideration for sentencing.
She had earlier claimed trial, but pleaded guilty on Monday afternoon after discussions in chambers with the judge, prosecutors and Tay's defence counsel Eugene Thuraisingam.
The traffic accident occurred at Newton Road in the wee hours of Aug 28, 2015. The night before, Tay had gone to a Thai restaurant at Orchard Towers, where a transsexual named Jeri offered her "something to relax" in the female toilet, court documents said.
Tay then used a straw that Jeri offered her to snort powder that Jeri had laid on the toilet seat cover. Tay was aware that the powder was "K" or ketamine, which is a Class A controlled drug, investigations revealed.
She left Orchard Towers after this and drove to meet a friend. While driving along a three-lane road, her car mounted a kerb, colliding into the central divider of Newton Road, and crashing into a traffic light.
The impact of the crash caused the entire traffic light pole to topple, obstructing all three lanes of the road on the opposite side, and also uprooted the central divider.
The total cost of repairing both fixtures was about S$3,000, according to the Land Transport Authority.
Tay injured her wrist, and admitted to the police officer at the scene that she had consumed ketamine and a glass of wine before driving.
She was arrested and an analysis of her blood sample showed that there was about 0.5 micrograms of ketamine per millilitre of blood. Ketamine was also found in her urine sample.
SHE TURNED UP INTOXICATED AT IMH, ARRESTED BY CNB
While on bail for these offences, Tay agreed to undergo a psychiatric assessment at the expense of the Central Narcotics Bureau (CNB) at the Institute of Mental Health (IMH) on Oct 10, 2017.
However, she went to IMH in an intoxicated state on the day of her appointment. As her urine tested positive for ketamine and benzodiazepines, her psychiatrist reported this to the CNB.
She was arrested by CNB officers outside IMH and taken back to CNB headquarters for investigations, where she was searched. Several items were seized from her, including a black pouch with a powdery substance, stained straws and packets of powdery substances which were found to be ketamine.
Her urine samples were found to contain norketamine, a metabolite of ketamine, which meant she had consumed ketamine. Tay admitted that she had relapsed into consuming drugs two months before and took them twice a week.
She admitted to consuming ketamine on Oct 9, 2017, in the toilet of a petrol kiosk along Bukit Timah road by herself, when her chauffeur had stopped to refuel petrol.
On Monday, Tay listened to the charges, stopping to clarify with her defence counsel at some points.
When District Judge Shaiffudin Saruwan addressed her, Tay said: "I'm on medication, judge."
The judge then asked her to listen to what he had to say first, and she said she admitted to all the charges "absolutely, with great remorse".
The case was adjourned to October for mitigation and sentencing.
She can be jailed for up to 10 years and fined up to S$20,000 for consuming ketamine, while her driving offence could cost her a maximum S$1,000 fine and up to six months' jail.
She is out on bail of S$50,000. 
The Hour Glass, an international watch retailer, was founded in 1979 by Ms Jannie Chan, 73, and Dr Henry Tay, 74.