'I'd do it again at the drop of a hat': Pioneer fighter pilot looks back on 50 years of the RSAF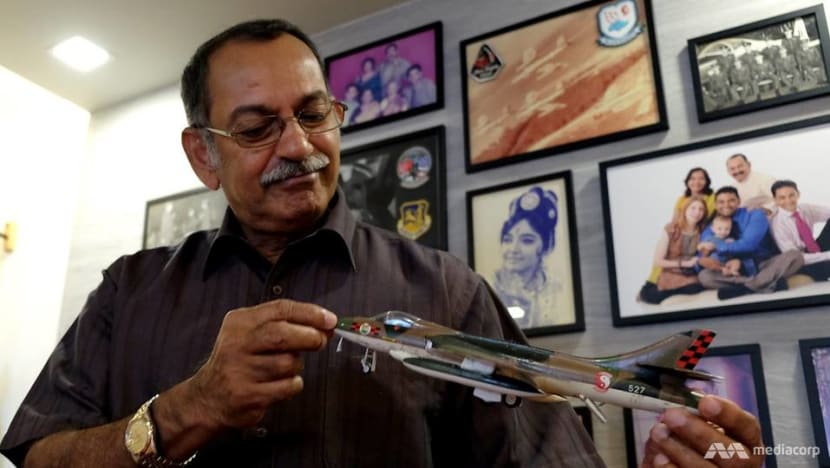 SINGAPORE: Happily married for 43 years, Colonel (COL) (Ret) Frank Singam is a man who knows a thing or two about falling in love.
In fact, the father of two has never forgotten his first crush. The 67-year-old speaks about her with a twinkle in his eye. He has painstakingly kept yellowed pictures of her in a weathered folder, and even entrusted her with his life.
"The Hawker Hunter (the Singapore Air Force's first fighter jet) is my first love. Your first girlfriend will always stay in your heart," he explains to Channel NewsAsia with a hearty chuckle. "I tell my wife that too."
Mr Singam's meticulously maintained Pasir Ris flat pays homage not just to his favorite aircraft but also to the Republic of Singapore Air Force (RSAF), which celebrated its 50th anniversary this weekend.
Nine commemorative plaques hang on the wall, mementos to a career which spanned over three decades and saw Mr Singam become one of Singapore's pioneer fighter pilots as well as a founding member of the Black Knights, the RSAF's official aerobatics team.
An extensive career also saw Mr Singam become base commander at the Paya Lebar and Tengah Airbases and participate in numerous overseas exercises, before leaving the RSAF in 2001.
HAD TO DO IT 
Mr Singam's fascination with flying began as a fresh-faced student at Raffles Institution when he responded to a recruitment advertisement.
"I don't think I really wanted to be a fighter pilot per se, it was (about being) a teacher or a doctor during those times," he recalled. "But when the air force started to recruit in 1968, some of these advertisements appeared in the newspapers ... so I said, 'Why don't I try something new?'" 

The enthusiastic 16-year-old had to get through an interview as well a series of physical and psychomotor tests.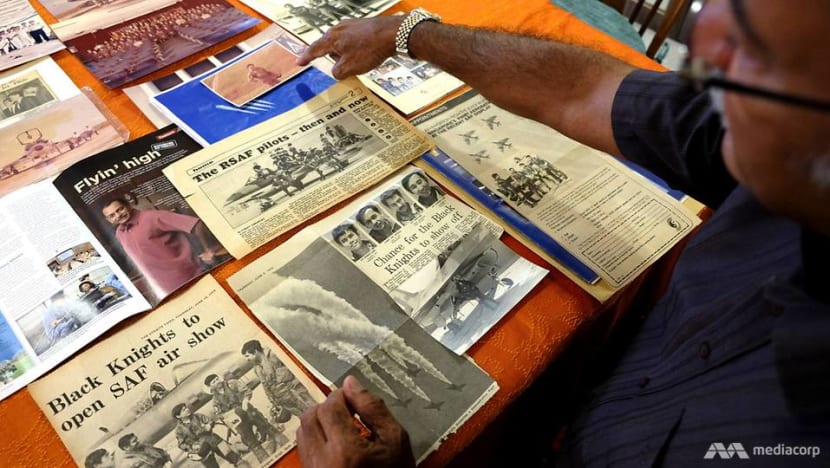 "It was daunting - there were senior guys in the interview panel, they asked some tough questions and of course, you are also sitting there with the other guys who are also competing," recalled Mr Singam. 
Having passed with flying colors, Mr Singam would become part of an elite group of men. He later found out that out of the 3,000 that applied, only 30 were selected to form the first batch of fighter pilots.
But first, the teenager was told that he had to wait a year before he could begin training.   
"They said: 'You're too young and we'll call you next year'," Mr Singam recalled. "So I just held my breath for one year, went back to studies and didn't do very well because of the excitement of it all.
"And then exactly one year later, they called me in. They knocked on the door on a Saturday and told me to come in on a Monday. I looked at my dad and he said: 'You go and I'll sort out the principal!'"
FLYING THE COOP
First up for Mr Singam was a local month-long "crash course" flying a Cessna plane.

"It was mentally demanding, there was a lot of anxiety on whether you could do it and then if you pass through every hurdle, your confidence grew," he said. 
He was then posted to Britain for further training with their Royal Air Force (RAF) in 1969.

"The culture shock took me about six months to get used to," he said. "One of my biggest challenges was that being raised a Hindu, I can't eat beef. But when you go there, three to four meals in a week are beef. The British don't just serve vegetarian meals. I had to look up there (to the heavens) and say sorry but I have to survive! 
"It was all about adjustment, adapting and accommodating."
Mr Singam also had to come to terms with the sudden death of his father, who suffered a heart attack just one month after he'd departed to the UK.
But rather than returning to Singapore, Mr Singam decided to stay the course. "I talked to my mum and my uncle, they said this was what my father wanted so (I should) stay there. I never saw my family until one and a half years later - when I finished my basic flying," he said.
As part of his training in the UK, Mr Singam flew different aircraft, such as the Jet Provost and the Hawker Hunter.
"I hadn't even driven a car and here I was flying an airplane. I just took it on a day-to-day basis, this funny feeling of being airborne," explained Mr Singam. 
The British-made Hawker Hunter is a favourite among many former pilots, and Mr Singam shares this love for the jet.
"You had to climb out at a particular speed but because you had to go so fast, you couldn't control the speed. We were like aiming for the skies, like a rocket taking off. That was how scary it was. It was so fast, no simulator training could have prepared you for this except what the trainers were telling you," he recalled.
"The aircraft was just running away from us, we left our brains behind. So you slowly catch up with it and bring it under control. After this first flight, it was all okay." 
AIMING FOR THE SKIES
Returning to Singapore in 1971 after the completion of his training, Mr Singam had to prove himself in an operational environment for six months.

"The work was not done yet, you come back as an 'unoperational' pilot," he said. "The demands on you now become higher, it's not academic anymore. It's not just aircraft application but mission application."

A 20-year-old Mr Singam became part of the RSAF's pioneer batch of fighter pilots and he made history again two years later, when he volunteered to become its first aerobatics team -  the Black Knights, which were formed in 1973.

"They went around and asked everybody (who would like to join) - but formation aerobatics is not everybody's cup of tea," recalled Mr Singam. "Some people would just like to fly solo aerobatics, but formation, when you have to depend entirely on the leader and your other wing men, is a different kettle of fish."

Inspired by the Red Arrows, the RAF's aerobatics team, Mr Singam signed up without a second thought.

"I was the only one (in my squadron that volunteered) ... I always wanted to grow as a pilot and I never looked back after I said yes," he added.

BLACK KNIGHTS IN SHINING ARMOUR 
Mr Singam had done formation flying in the past, but becoming one of the Black Knights' first four members was an eye-opener.

"When you finish a training session with the Black Knight team, you're mentally exhausted," he explained. "Because the focus and the concentration (needed) is absolutely high. When you are doing formation acrobatics, as soon as you let your concentration off, you will lose the line - your position and you will make it very difficult for the other guy.

"Your hands get very tired, because you're holding (the stick and throttle) so tight. You think the harder you hold, the better the control. But just the opposite, you should just relax," added Mr Singam.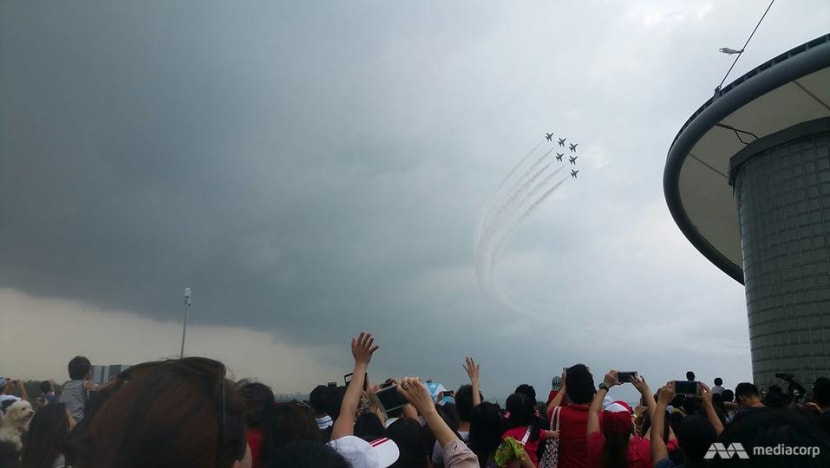 Sessions were usually limited to one a day, with breaks of four to five hours between practices - should there be the need for more than one session. 

"This was on top of our normal flying (duties). So you need to have a senior pilot to be able to absorb that load," added Mr Singam. "But it was fun, anytime you fly it is fun - no matter how tired you are."

Mr Singam went on to serve five tours with the Black Knights, leading two of them in 1977 and 1978. The Black Knights would execute flypasts at events such as SAF Day and National Day Parades. Performing at these showcases was taken very seriously.

"You cannot afford to get sick. If you don't turn up it can be only because of a technical malfunction. So you have to look after yourself, if the wife has a flu, you tell her to sleep in another room," he added with a laugh.

"We are the ambassadors of the Air Force... It's not just to show your own people that you have an Air Force that's professional and can do this kind of stuff. For all those who could be looking at us and could be a potential threat, they also know that you don't mess around with this Air Force."

The Black Knights would go on to use the F-5 and A-4SU Skyhawk planes, and Mr Singam went on to contribute to these teams later in his flying career.

FLYING THE FLAG

Despite clocking more than 3,000 hours of flights throughout his career, detailed in a meticulously pristine logbook, the completion of every successful flight was significant, said Mr Singam.

"Every time you land, there's relief. Because you never know what's going to happen when you go airborne. Anything can happen," he said.

Now a counsellor, Mr Singam looks back on his storied career with fond memories. He may have left the force - but his love for flying does not seem to have diminished.

Flying memorabilia take a place of pride in Mr Singam's home. Throughout the interview, he illustrates some of his points on a miniature replica of the Hawker Hunter, even serving drinks to visitors on glassware adorned with aircraft such as Spitfires.  

"It was a duty bestowed on us. We were very honoured to take it on and we were privileged to work there so that the Air Force, the community and ultimately, the country benefited from it," he reflected. 

"I would do it again at the drop of a hat. It was absolutely awesome."