Instant meals: A hindrance to healthy eating?
Fancy a salted egg yolk pasta or seafood hor fun fresh out of a vending machine? More Singaporeans are turning to these increasingly sophisticated meal options to fulfil their hunger pangs, but over-consumption may be a stumbling block to eating healthy.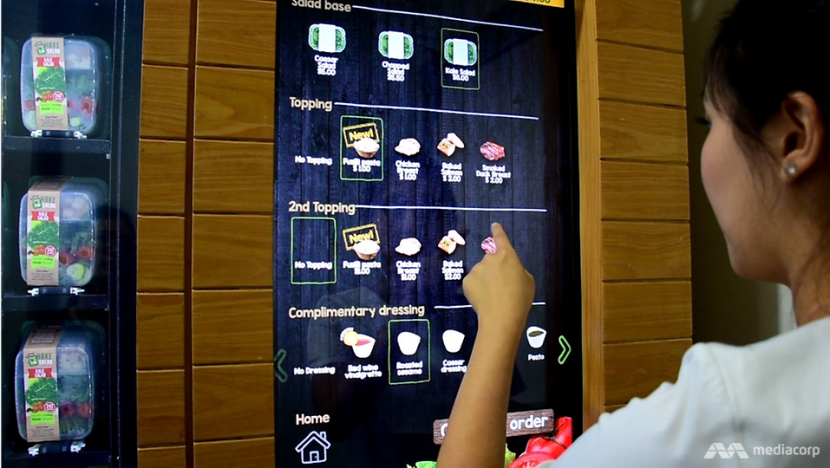 SINGAPORE: When polytechnic student Micheal Foo ordered a spaghetti carbonara out of a vending machine earlier this year, he was blown away by the taste and quality of the meal.
"Most of the time when you think of vending machines, you think of snacks or food that's completely covered in preservatives, but when it came out, it surprised me," he said. "I got the novelty of eating from a vending machine, but also the gratitude of a full meal.
"I felt like I gained something from the meal instead of losing something."
INCREASING POPULARITY
More people like Micheal are turning to vending machines and ready-to-eat meals sold at convenience stores to satisfy their hunger pangs. Singapore's first all-vending machine cafe, VendCafe, was an instant hit when it opened in August last year, with long queues forming to try its hot meals. A second and third VendCafe outlet opened at Ang Mo Kio MRT station and Lakeside station this month.
Convenience store chain Cheers told Channel NewsAsia that sales in the ready-to-eat sector has been rising over the past few years. In terms of demand, it has also seen about 10 per cent year-on-year growth in sales of its ready-to-eat meals.
"Due to the lifestyles of students and busy professionals, many seek quick fixes and meals while on-the-go," said Cheers general manager Victor Cheong. "They also have less time for cooking, and find convenience in obtaining pre-cooked products in local supermarkets and convenience stores."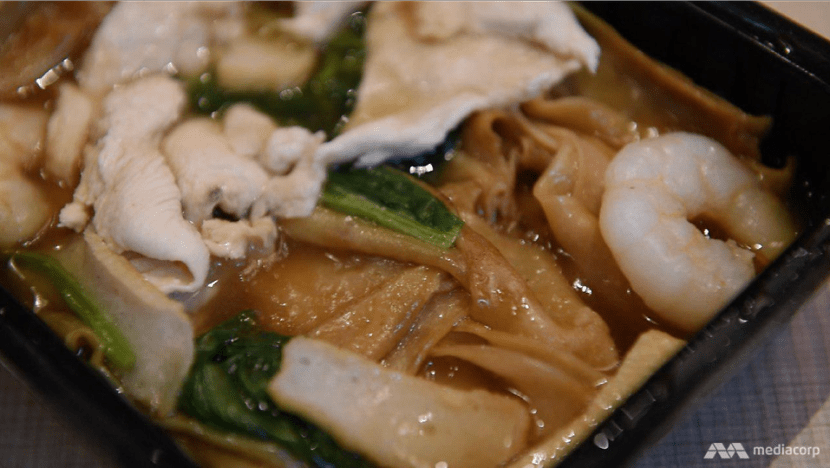 And the offerings are becoming increasingly sophisticated: You can now get items like seafood hor fun, salted egg yolk pasta and even popiah from a vending machine. Cheers also recently teamed up with consortium The Common Good Company to provide a new line of ready-to-eat meals from prominent local brands like Pastamania and The Soup Spoon.
These meals also feature a special vacuum skin packaging which Cheers said will ensure preserved flavour and colour, keep portions fresh and unmixed on the tray, and extend shelf life with no compromise on nutrition.
Vending machines are an example of how the F&B sector can leverage technology, particularly in helping them deal with their manpower challenges. And the Government has also come on board to support these efforts. Companies that are keen to incorporate vending machines in their businesses can apply for the Government's Capability Development Grant which covers up to 70 per cent of costs.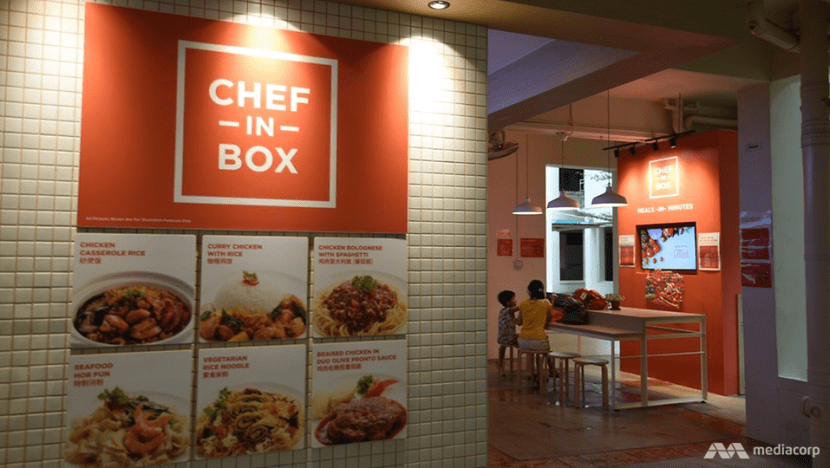 But the increased availability of these new and improved meals might result in over-consumption, which may not do one's health any favours.
HOW MUCH IS TOO MUCH?
Dietitian Louis Yap from Parkway East Hospital cautioned against consuming ready-to-eat meals on a regular basis, pointing to the higher salt content these meals tend to have.
"It is quite consistent in most processed food or ready-to-eat meals," he said. "That's because it not only adds to the flavour of the food, but also acts as a preservative to prevent bacteria growth and extend the shelf life of the product."
This could put people at risk of hypertension or cardiovascular diseases, he said. Due to the perishability of vegetables, these meals also tend to have fewer greens, which affects the nutritional value, he added.
He also noted that the cooking and storage processes involved in preparing these meals may also reduce the nutrients in the food, particularly vitamins like Vitamin D and E, which are temperature-sensitive.
With all this in mind, Mr Yap's recommendation is that these meals should not be eaten more than once or twice a week. Home cooking is still the healthiest option, he said, though he noted that consumers strapped for time can also opt for healthier choices at food courts or hawker centres.
There are vending machine food ventures that could cater to the health-conscious consumer. One of those options is Shake Salad.
The man behind it - former national sailor Heng Ri-Liang - recalled how was doing his doctorate degree in Los Angeles in 2012 and developed a taste for fast food and tacos. "I got really chubby to the point where I couldn't fit into all of my clothes. My friends came to visit and started making fun of me … and I decided to do something about it."
The answer came in the form of salads. He realised that when he started making an effort to eat healthily, he lost weight and started having more energy. And by the time he returned to Singapore two years ago, the idea for his salad vending machine business was born.
"Since I had all these eating habits, I tried to continue them in Singapore, but I realised local food is very carb-heavy," he explained. "I started doing my own research and realised salad stores are all mostly concentrated in the CBD areas, are pretty expensive, and tend to have long lines.
"So I put myself into the shoes of a CBD worker, where I want to eat healthy, but I can't, because it's either too expensive or too inconvenient. 
"That's where I came up with the idea of selling using vending machines."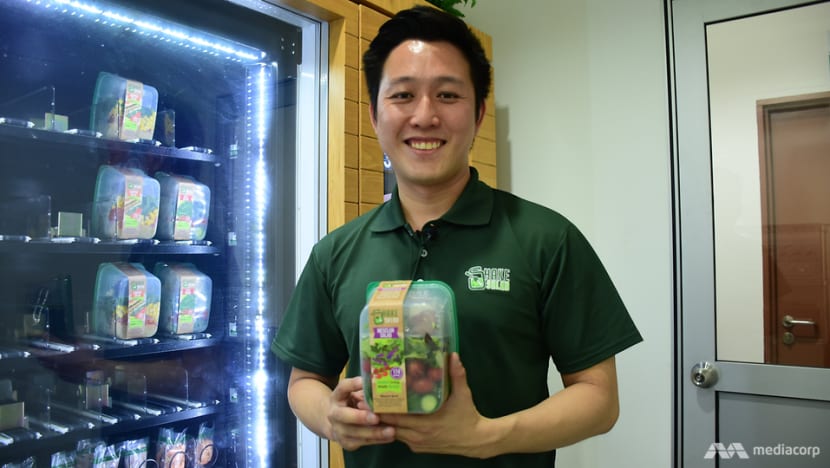 The salads are prepared in a central kitchen and restocked at the various vending machines daily. Customers can choose different options like a kale or quinoa base with smoked duck breast and baked salmon as toppings, and options like pesto or roasted sesame sauces.
The idea of fresh vegetables coming out of a vending machine may seem incongruous, but Dr Heng made good use of his background in mechanical engineering and together with his business partners, developed software to help ensure the salads in the vending machine are never past the expiry date.
"We're dealing with fresh perishables which have a very short shelf life, so our software keeps track of the expiry dates of all our products. We also have an optimisation algorithm that determines how often we should restock each machine, so we don't really have much food left over," he added.
The salads are also packed straight into air tight containers and are refrigerated all the way from the central kitchens to the vending machine.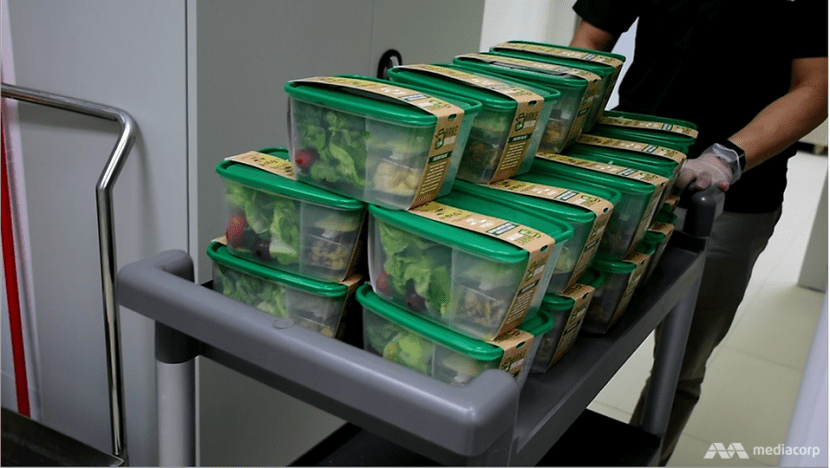 Demand has been "quite good" since they launched their first machine in September last year, he said. Since then, the company has rolled out 18 machines in places like AXA Tower and OUE Downtown Gallery. Shake Salad plans to deploy 30 more machines this year, and possibly increase the variety of food options available.
Nonetheless, Dr Heng acknowledged that some people are sceptical of vending machine food.
"Fresh food vending is a concept that is completely unknown to them," he said. "They're not really sure if it's something that's fresh or left there for weeks.
"But we're confident in our product, and we're sure that when they try it, they will certainly come back as customers," he added. "They just need to taste it to believe it."