A doctor said he wouldn't live past two, but he just graduated as valedictorian
Diagnosed with a rare genetic disorder as an infant, this 24-year-old tells CNA about navigating a world built for able-bodied people – and why society's definitions of success must change.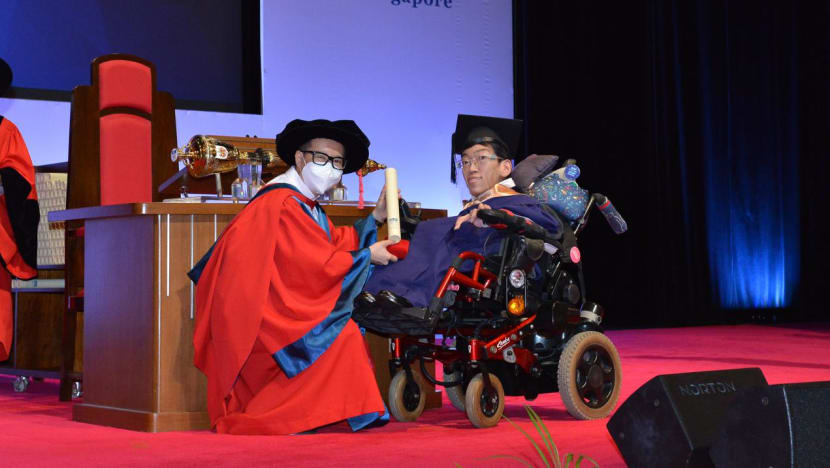 SINGAPORE: When Jonathan Tiong was an infant, a neurologist told his parents that he wouldn't live past the age of two.
He was diagnosed with type two spinal muscular atrophy, a rare genetic condition that causes muscles to become weak and break down. It is also a progressive disease, meaning he has become, and will likely get, weaker with time.
But in October, the same day he turned 24 years old, he was crowned valedictorian for the National University of Singapore's (NUS) Class of 2021, with the equivalent of a first class honours.
He has also landed a prestigious job at sovereign wealth fund GIC, where he currently works full-time as an editorial writer.
Yet these were things that he had not expected, said the Communications and New Media graduate.
"I think that's a recurring theme ... I'm always being caught by surprise about good things," said Mr Tiong with a slight smile.
Speaking to CNA in his home, Mr Tiong candidly described himself as "a very plain and average student" throughout university.
In his spare time, he immerses himself in the online game Runescape and watches Twitch streams.

He regularly pens columns and blogposts, owing to a love of writing sparked in recent years.
"I didn't think I'd be valedictorian for the simple reason that I was not a typical valedictorian. I didn't lead a (co-curricular activity), I wasn't the captain of some sports team, that kind of thing.
"I studied a lot, got good grades, but so did a lot of other people. So I didn't really feel outstanding."
This is despite the extra challenges he had to grapple with throughout school – namely, fatigue and accessibility in a world mostly built for able-bodied people.
Poking fun at NUS' infamously hilly terrain, Mr Tiong joked that the university is also known as the "National University of Stairs". Studying in some of the oldest buildings on campus at the Faculty of Arts and Social Sciences was even worse, he said.
"Sometimes able-bodied people can take a short cut, walk up a grassy slope. But I can't do that," said Mr Tiong, describing a daily maze of corridors, lift connections and long walkways in between classes.
Mr Tiong requires a full-time caregiver, a role taken on by his father, who had to load him and his motorised wheelchair into the car, drive, unload them and accompany him to his destination each day.
To make matters trickier, he could only attend classes that did not require him to stretch his day out too long. Otherwise, parts of his body in contact with the wheelchair would ache. Tasks such as keeping his balance or turning his head also required much effort.
PANDEMIC TOOK DISABILITY OUT OF THE EQUATION
Mr Tiong attended classes in this "juggling act" for three years before the pandemic hit, and remote learning became a gamechanger.
"It takes away a lot of our limitations from the equation. When I'm at home, I don't have to travel anywhere so that takes away the accessibility and the logistics issue," he said.
"I don't have to involve other people who have to bring me physically around, so I'm a lot more independent in that sense."
Overall, one thing that would have made the experience easier for him, and others like him, is flexibility. "A lot of the time we are told by administrators that: 'Oh we can't do this because – rules.' Or 'because we cannot lor.'
"But a lot of accommodations are actually a mindset thing," he said. "People seem to have this concept that if you want to accommodate the disabled, we need billions of dollars. I don't think that's true."
For instance, being allowed to work remotely at his present job has not cost his employer anything, he said. "It's a matter of will and decision-making."
GETTING A JOB WAS "A FANTASY"
Working at GIC full-time was a possibility that Mr Tiong had written off "as a dream or as a fantasy", when he interned at the wealth fund in 2019 during his studies.
"I'm fully aware of the dire state of disability employment in Singapore. The reality is most disabled Singaporeans end up jobless or you will be looking for months, if not years. I wasn't looking forward to that."
So when he was handed a conversion offer a full 18 months before he was due to graduate, it brought a huge rush of surprise and relief.
"It wasn't something I expected to ever happen. I had wished for it, but wishes don't come true – not in my life. ... So I said: 'Great'," said Mr Tiong, his face lighting up.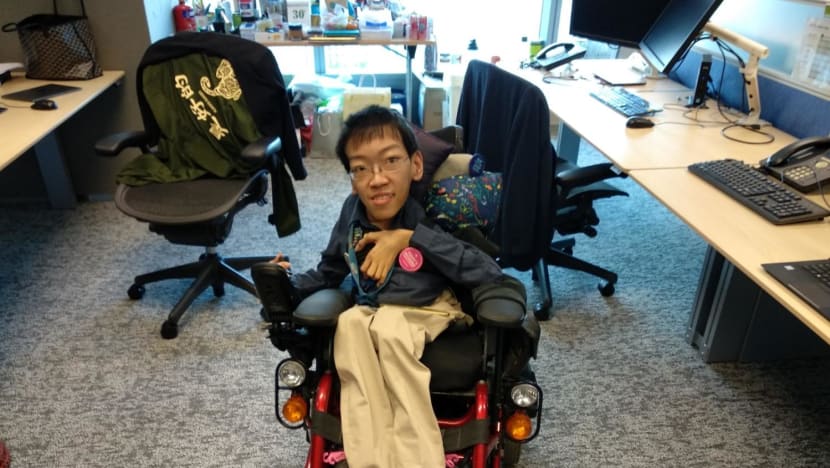 Mr Tiong's first boss at GIC, Ms Mah Lay Choon, said he impressed her with his quick thinking, "clear strength in writing" and stellar academic results.
He also displayed a strong "can-do" spirit and initiative, such as in organising a series of activities within the company as part of The Purple Parade movement to raise awareness of people with disabilities.
Importantly, during his internship, Ms Mah saw the value in having someone within GIC focused on editorial content – a role that tapped on Mr Tiong's strengths.
"We acknowledge that there would be types of work that Jonathan would do less well in, but this would be the same for anyone since there will always be areas where one would be stronger in than others," said Ms Mah, who is GIC's senior vice-president for communications.
While he initially second-guessed the offer, he took it after realising he "had no reason to say no".
For starters, his colleagues treated him well – and crucially, without wearing "kid gloves". This is when people try to be nice to a person with disabilities, but end up being patronising or condescending, he explained.
"They end up doing everything for the disabled person, or they might talk to the disabled person like we don't understand anything. You know, the worst is those who use a squeaky voice. Why would you do that?" quipped Mr Tiong.
WANTING TO BELONG
Entering the professional world amid a remote working revolution also meant his disability is no longer as big an issue as before.
Having everyone work online "feels really great", said Mr Tiong. "Because when everyone is together online, I don't feel like there's actually much of a difference."
He has never met his teammates and has only met his new manager a handful of times in person. But that hasn't affected the bond between them – "we share jokes, we send each other treats", he said.
His arrival at GIC injected "a fresh new energy" into the team, said his manager and senior vice-president of corporate affairs and communications Yasmin Ramle, adding that he has a way of making people feel at ease.
In a moment of introspection, Mr Tiong admits that there will always be a trade-off between his physical comfort and "wanting to belong".
"When everyone goes back to being face-to-face, being together, and I'm the only one online with a screen separating me from everyone else … When that day comes, I will have to make that decision to say the trade-off has to be made and let go of this online thing."
Not one to mince his words, Mr Tiong has also said before that he is under no illusions about his health – and that he is "fully aware that I might die at any moment".
This has shaped his outlook on life: He takes it one day at a time.
"A lot of people are conditioned to think long term, they have very grand 20-year-plans …  I literally, every morning, make it my one goal to make it to the end of the day with as little damage as possible."
Careful with how he spends his energy, he is slow to anger and does not hold grudges. "It's one of the things I'm quite proud of. People have come to value my easy-going nature … Life's too short."
RECALIBRATING "SUCCESS" WITH DISABILITIES
Over the years, he has been invited as a panellist on disability-related issues. On LinkedIn, Mr Tiong's latest post about his graduation has racked up more than 7,500 likes and more than 400 comments.
Despite the laurels he has received, he is still pushing for people to change their concept of success.
"I think the only reason why I've gotten the attention that I have when I post something online or when the media writes about me … is because I've met the traditional markers of success: Good degree, good job, prestigious company … despite being disabled."
Instead, he argues: "We need to acknowledge the fact that living with a disability is hard in itself. And every day, the people with disabilities out there who don't get recognised, don't get covered, are winning their own battles every single day."
By no means is it about lowering expectations for people with disabilities, he said, but rather, a recalibration of the concept.
"If we recalibrate our definition of what it means to succeed, you'll find that everyone out there who is disabled, toiling away, day in day out quietly, no fanfare – I would say they are succeeding too. We all are."