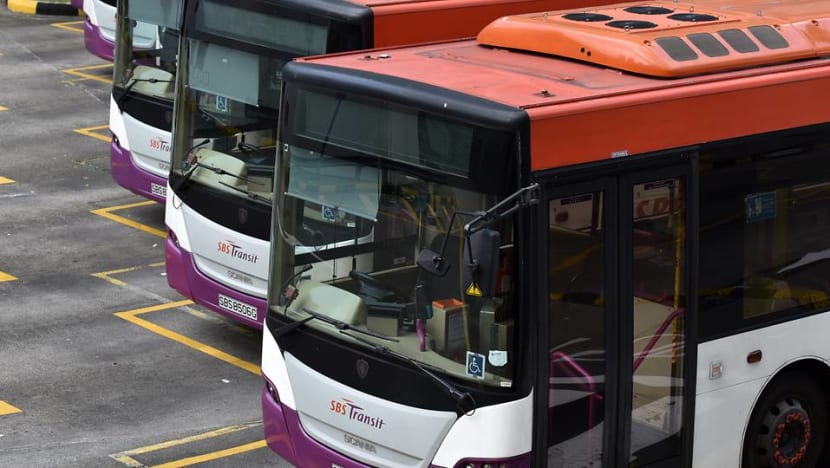 SINGAPORE: A man who punched a bus driver he claims did not stop for him was sentenced to four weeks' jail and fined S$2,000 on Tuesday (Dec 4).
Chan Yong Hui, 37, pleaded guilty to one charge of voluntarily causing hurt to SBS Transit bus captain Eng Mok Siang, and one charge of using abusive words on him.
At about 9am on Nov 21 last year, the bus driver was on bus service route 111 and stopped his vehicle at a bus stop near Block 43, Commonwealth Avenue.
Passengers alighted and Mr Eng, 44, waited at the bus stop for about 15 seconds before beginning to drive off.
Chan, a condominium manager, was waiting at the bus stop for bus 111, but did not notice his bus as he was using his mobile phone.
Just as Mr Eng began to drive the bus off, Chan looked up and flagged the bus, but the vehicle was already in motion.
Chan ran after the bus for about 13 seconds, Deputy Public Prosecutor Tang Shangjun told the court.
Mr Eng saw Chan running and stopped the bus before opening the doors for him.
However, when Chan boarded the bus, he unloaded a string of vulgarities at the bus driver.
Mr Eng responded with some vulgarities of his own.
At this, Chan punched the bus driver on the face, causing his spectacles to fly off.
He stepped out of the bus and challenged Mr Eng to "clarify the matter" outside, but Mr Eng parked the bus, told the passengers to alight, and remained in his seat.
Police officers arrived soon after, and the victim went to a polyclinic.
MY HAND ACT FASTER THAN MY BRAIN: ACCUSED
Chan, who was unrepresented, told the court that he was having "a rough patch" at the time, as he had marital problems and was "stressing about how to raise my two kids".
"When I confronted him, he also scolded me," he said. "My hand act faster than my brain."
Chan, who said he deeply regretted what he did, claimed that it was not the first time the bus driver saw him and drove off.
"It's the third time," he said. "It's not like I want to bully the bus driver or act gangster. Nobody in the right mind will want to find trouble in the morning."
He said he was wondering why "he treat me transparent", or why the bus driver supposedly acted as if Chan were invisible.
In response, the prosecutor said that the bus driver actually stopped the second time for him.
District Judge Mathew Joseph said there was no excuse whatsoever for the driver to face obscenities.
"Can you imagine if everybody who has a problem boards a bus and lets fly?" He asked Chan. "Even if the driver had driven off one or two times before, he stopped here and opened the door."
He took Chan's plea of guilt into consideration for sentencing, noting that he was "one of the honest accused persons in my court".