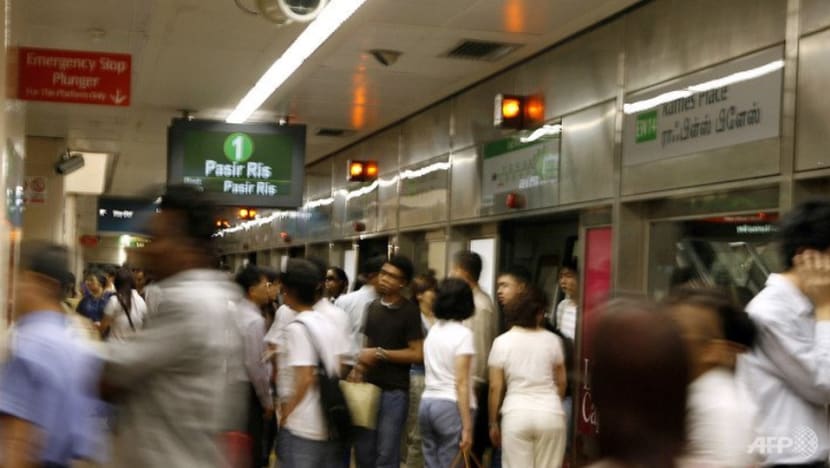 SINGAPORE: A man who slapped a 69-year-old SMRT employee at a train station was sentenced to three weeks' jail on Friday (Nov 30).
Shafuan Juraimi, 22, pleaded guilty to one charge of voluntarily causing hurt to Mr Gian Cheng Kuan, a service ambassador for the transport operator.
The court heard that Shafuan, who was working as a mover, was at Raffles Place on Jun 25 to pack items at a client's office.
Together with two other colleagues, Shafuan went to Raffles Place MRT Station to take the train.
The group bought some sandwiches and drinks before entering the station.
While they were waiting for the train heading to Pasir Ris to arrive, the group opened the sandwich packages they had and began eating.
This was against SMRT regulations which prohibit the consumption of food and drink within the station premises, Deputy Public Prosecutor Tang Shangjun said.
Mr Gian approached them and said: "Excuse me, no eating."
The group kept their food and remained silent, the court heard, but Shafuan opened a bottled drink and wanted to drink from it.
Mr Gian then told him that he was not allowed to drink as well.
SLAP ON LEFT CHEEK
At hearing this, Shafuan swung his right hand with the intention to hit the victim, and slapped him on the left cheek.
He said: "I am really thirsty. Why I cannot drink? If I die, how?"
Mr Gian felt pain in his cheek and complained of swelling and giddiness, while the group boarded the train that had arrived.
The victim was given two days' outpatient medical leave, while Shafuan was later arrested.
The prosecutor on Friday asked for three weeks' jail, pointing out that Shafuan has previous convictions for violent offences.
On top of this, the victim was elderly and it was an unprovoked assault, he said. 
There was also public disquiet as the victim had been performing a public service when he was slapped, and "allowing violence to go unchecked will diminish" the authority of such workers, said Mr Tang.
Shafuan, who was unrepresented, told the court through a Malay interpreter that he was sorry for the offence and would like to apologise to the victim.
"I also promise the court that I will not re-offend. I promise to amend my ways," he said.
VICTIM OLD ENOUGH TO BE ACCUSED'S GRANDFATHER, SAYS JUDGE
District Judge Mathew Joseph asked him if he had been drunk, to which Shafuan replied no.
"I'm rather puzzled as to your actions," said the judge. "Seems as though a mist of anger descended upon you?"
"Yes," Shafuan replied. "I admit I have a problem with my anger."
The judge continued: "For a young man of 22 years old, it's quite astonishing. Disgraceful, I must say."
He added that the victim was old enough to be not just Shafuan's father, but his grandfather.
"And you have no respect for him? Is that how you were brought up by your parents?" asked the judge. "This gentleman was just doing his job."
"Your actions took place on the MRT. In full view of everyone, during the rush for traffic. You were quite audacious in your actions, weren't you?" he added.
The judge gave Shafuan the sentence proposed by the prosecutor, saying that he wanted to make it very clear that the court would not condone anyone taking advantage of public service officers.