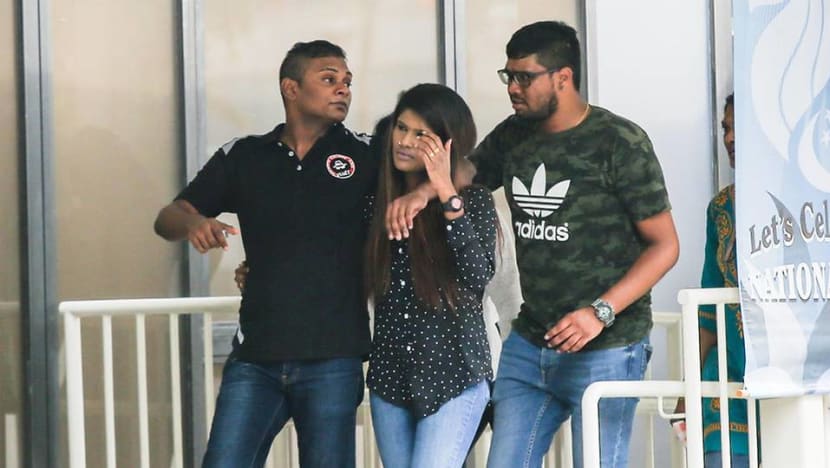 SINGAPORE: A man who turned up drunk in court last week and had his bail revoked was sentenced to jail and caning for extortion and theft on Monday (Jul 23).
Naveenthiran Thevathas, 21, had arrived intoxicated on Thursday and was scolded sharply by the judge, who put him in remand.
On Monday, Naveenthiran stood sober in the dock as the judge sentenced him to four years and two months in jail and three strokes of the cane.
He had extorted S$2,000 from a 17-year-old boy by threatening to disseminate a video of the teenager having sex with an 18-year-old girl. 
Naveenthiran, along with two other accomplices, had asked the teenager to deliver S$50,000 in cash, but the boy gave them only S$2,000 on Feb 15 this year.
Naveenthiran was also sentenced for one charge of stealing a POSB Passion Debit Card at an ATM machine at Woodlands MRT.
On Monday, the defence said Naveenthiran "realises his mistake" and "has the ability to change".
"Though he turned up drunk, we submit that he did turn up to court," said the defence, asking for a sentence that was "not crushing".
Addressing the charges, District Judge Kenneth Yap said: "Well, if he has the courage to commit an offence of this nature, then he should have the courage to face the consequences. He's lucky that I didn't forfeit the (S$20,000) bail."
The judge then spoke to Naveenthiran: "From your record, you have been in juvenile home since you were 14, and reformative training since you were 18. All this obviously has not had an impact on you. You have not learnt your lesson."
He agreed with the prosecution's recommended sentence, saying that the heavier sentence was justified, as there was "clearly premeditation" and the extortion plan was "quite sophisticated".
The defence asked for the jail term to be backdated to when Naveenthiran was placed in remand, but the judge declined to do so, saying that "that is the price you pay for coming to court intoxicated".
Addressing Naveenthiran further, the judge said he had read a letter his mother had written, in which she explained the circumstances that his family faces.
"While I sympathise, it does not justify the crime," said the judge. "Just because you have difficulties in your life, that does not justify (the crime). In the end, the victim here is yourself and your family." 
"If you commit this kind of offences again, it will be an even heavier sentence," he warned.
Naveenthiran could have been jailed for between two years and seven years and caned for extortion.
For committing theft, he could have been jailed for up to three years and fined.