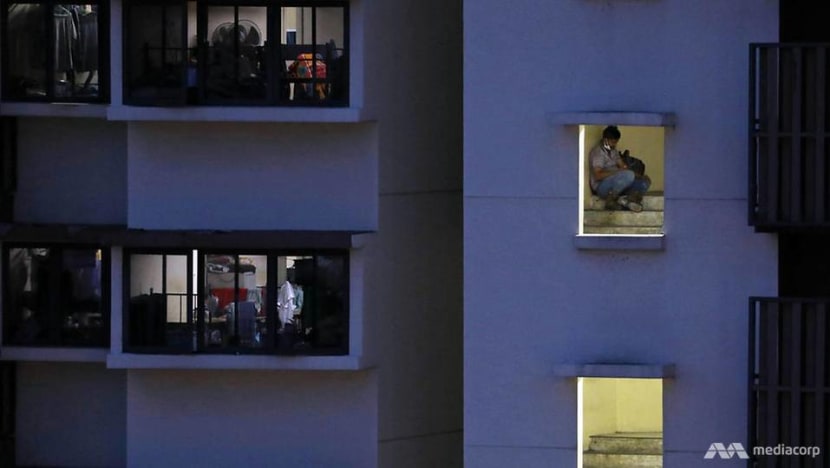 SINGAPORE: A total of 98 work permit holders were admitted to the Institute of Mental Health (IMH) between January and September this year, said Minister for Manpower Tan See Leng in Parliament on Tuesday (Nov 2). 
This is lower than the number in the same period in 2020, but higher compared to that of 2019, he added. 
Dr Tan was responding to a question from Member of Parliament Edward Chia (PAP-Holland-Bukit Timah), who asked about the number of migrant workers in dormitories who sought mental health care, whether surveys have been done to find out about their mental well-being and the efforts made to support their mental health given that many are unable to leave their dormitories amid COVID-19 restrictions.
The minister noted a study by Yale-NUS from June to October 2020, which showed "no notable difference" in stress, anxiety and depression levels among locals and migrant workers.
However, there were indications of higher stress levels among migrant workers with movement restrictions, said Dr Tan. 
"Nonetheless, any easing of movement restrictions will need to be done in a careful and calibrated manner, so as not to trade one stress for another - in particular the stress of overwhelming our healthcare system," he added. 
Since August, the Ministry of Manpower (MOM) has allowed some dormitory residents to visit recreation centres, and recently increased the frequency of these visits from once to three times a week.
"We also removed pre-visit testing requirements for vaccinated migrant workers, which benefits more than 98 per cent of the dormitory population. Concurrently, we are working with RC (recreation centre) operators and community partners, to introduce programmes and new offerings to make RC visits more engaging," Dr Tan said.
COMMUNITY VISITS PROGRAMME
Apart from visits to recreation centres, there is also the community visit programme for vaccinated migrant workers, which was recently expanded from an initial 500 workers to 3,000 workers per week, Dr Tan noted. 
Beyond Little India, the programme was expanded to include areas like Geylang Serai and Joo Chiat, and the visit duration was increased to eight hours, he added. 
In a supplementary question, Workers' Party chief and Leader of the Opposition Pritam Singh asked what were the considerations in determining the number of workers allowed to take part in the programme. 
Dr Tan said migrant workers were asked what would be important for them when they were allowed visits to the community, and many of them wanted to go to places of worship.
MOM's Assurance, Care and Engagement group (ACE) team approached these sites as well as other shopkeepers to work with them to accommodate the workers and fulfil these needs. 
"At some point we were also concerned about that given the space that they are living in, to ensure that infection, if it comes into the dorms, doesn't spread," said the Manpower Minister. 
"So we took all the necessary precautions in terms of pre-event testing before they left, and after coming back, we also tested them." 
MOM ascertained that the "entire visit" was safe, and was able to "adequately address" their physical, mental and social needs on top of keeping the workers "medically well-protected", leading to the expansion of the scheme. 
"At each step of the way, there was quite a fair bit of logistic arrangements that we had to make, including arranging for the buses to bring them there. Also making sure that the itinerary the programmes planned for them, (that) they were adequate," said Dr Tan. 
At the start of the pilot, MOM also had to get employers on board, he added. 
"Because even though we opened up 500 a week, we found that for a while we were only getting about 50, 60 per cent of them coming on board," he said, adding that there were also workers who signed up and cancelled at the last minute. 
After planning for all these "logistic issues", MOM increased the number of workers in the scheme to 3,000. 
"Now the plan, hopefully in the ensuing weeks and months ahead, is that as we move to this new normal, the plan is not to restrict but to open up even more," said Dr Tan. 
"But at this particular point in time because we just started the 3,000, I think last weekend just about three days ago, we will maintain and watch it for a while."
SUPPORT ECOSYSTEM FOR MIGRANT WORKERS
Since November 2020, the Project DAWN task force has worked with non-government organisations, healthcare partners, employers and dormitory operators to develop a "support ecosystem approach".
This means looking out for migrant workers, listening to their concerns, identifying those that need more support and linking them up with the appropriate care channels, said Dr Tan. 
"MOM is committed to support the mental well-being of our migrant workers and is sparing no efforts to strengthen the mental health support ecosystem for them," he added.
The Manpower Ministry is raising awareness of mental health issues and broadening its training outreach for basic mental health and psychological first aid, he said.
The ministry is also working with non-government organisation partners to make counselling and paracounselling more accessible, said Dr Tan. 
Adding that mental healthcare has been made "even more" accessible, he noted that any migrant workers identified to benefit from mental healthcare will be linked up with "appropriate services" including counselling hotlines.
"In particular, an escalation pathway with IMH has also been developed to ensure timely care for more severe cases, when necessary."