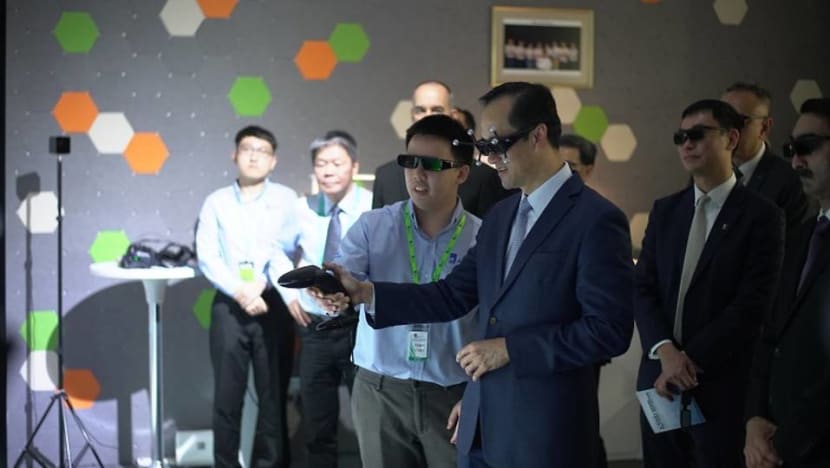 SINGAPORE: A new facility launched by the Agency for Science, Technology and Research (A*STAR) on Thursday (Aug 23), is set to provide manufacturing companies greater access to technology to grow their business.
The new Model Factory at the Advanced Remanufacturing and Technology Centre (ARTC) located at Clean Tech Loop - spanning 15,000 sq ft - lets companies test more than 10 types of advanced manufacturing technologies.
They include virtual labs and simulation equipment for firms to test new production lines and improve resource planning even before implementing them. 
The first of the two model factories was launched at Singapore Institute of Manufacturing Technology (SIMTech) in October last year and is primarily aimed at companies on their first mile of technology adoption.
Different from the one at SIMTech, the model factory at ARTC is targeted at companies in more advanced stages of technology adoption, with a more comprehensive suite of solutions.
Firms can also tap on ARTC's pool of engineers and researchers to come up with solutions for their business. 
Other types of technologies on offer include robotics and the Internet of Things (IoT).
Speaking at the launch, Senior Minister of State for Trade and Industry Koh Poh Koon said he hopes the facility will help support homegrown companies, especially the small- and medium-sized ones, to innovate, grow and scale up. 
This is to ensure that the manufacturing sector is able to reap the benefits of digital technologies, Dr Koh added.
"Under the Research, Innovation and Enterprise 2020 (RIE2020) plan, the government has committed S$3.2 billion from 2016 to 2020, to develop research and technological capabilities in the Advanced Manufacturing and Engineering (AME) domain.

"Disruptive technologies such as additive manufacturing, robotics ... are ushering a new era of manufacturing ... these technologies will fundamentally change the way businesses operate, produce and interact with their customers and supply chain, leading to enhanced business models," he said. 
Local metal and machine servicing firm Abrasive Engineering, which is one of the first to come on board the initiative, said the facility has helped with the test-bedding of a new type of digital process to monitor machine health. 
The company is now in the process of integrating the technology in its machines, and expects to increase its sales by 20 per cent this year, revealed Mr Tan Ser Hean, Abrasive Engineering's managing director.