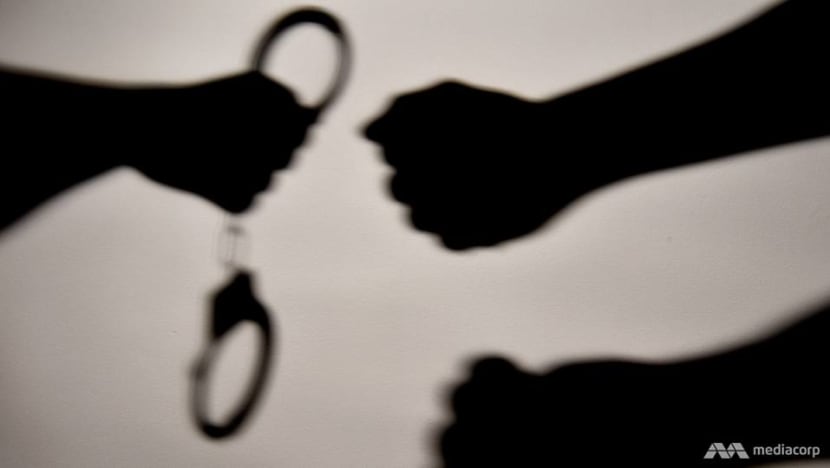 SINGAPORE: A 53-year-old diagnosed paedophile who posed as a Housing and Development Board (HDB) officer and sexually assaulted two sisters at knifepoint pleaded guilty to various charges on Wednesday (Nov 14). 
Hussain Samat - who has been convicted of a series of offences since 1985 - also recorded himself abusing one of the sisters, and made the other sister watch those videos.
The assaults on the sisters - then 12 and 16 - happened in May 2017, lasting several hours.
Hussain, then working as a cleaner, had devised a plan to rob his neighbours by posing as an HDB officer. On the pretext of checking their water supply, Hussain planned to rob them of their valuables if they let him into the flat.
He approached several neighbours before arriving at the home the victims lived in with their mother. Their unit was located one floor below Hussain's.
The younger girl answered the door. Hussain claimed that someone had complained that her family had thrown rubbish near the central rubbish chute area.
The girl's mother overheard the conversation and denied it.
Hussain then identified himself as an HDB officer and told her that he had been sent by HDB to look into this complaint. He said "it was okay" if they had indeed not thrown the rubbish. He then left and returned to his own flat.
ACCUSED LURED OLDER SISTER TO HIS FLAT
Back at his flat, Hussain decided to lure one of the girls to have sex with him, the court heard.
Carrying a file and a pen, Hussain returned to the victims' flat and told the girls' mother that one of her daughters had to follow him to sign an HDB document stating that the family had not thrown any rubbish at the central rubbish chute area.
The older sister volunteered to go. After she signed on a piece of paper, Hussain beckoned her to follow him along the corridor, and paused to speak to one of her neighbours.
Hussain then told her to follow him to another floor, lying to her that he had to ask a resident on that floor to sign on the paper.
When they arrived at his flat - whose doors he had left open - Hussain pretended to talk to someone inside. He then motioned to the girl to enter the flat and pick up a bag he said had fallen from the cupboard.
Thinking there was somebody in the flat, the girl did so. Hussain then immediately followed her into the flat and locked the door behind her.
He shoved her onto a mat in the living room and turned on the television to full volume.
He lied to her that someone had paid him S$3,000 to cut her face. He took a knife from his haversack and grazed it across her face, saying that if she did not have sex with him, she would go home with a face full of blood.
He proceeded to molest her and forcefully remove her clothes.
When the girl asked Hussain to use a condom, he gave her an antibiotic pill, lying that it was a birth control pill.
Trying to distract him, the girl said the pill was too big and asked him to crush it.
GIRL TRIES TO FLEE, BUT IS CAUGHT
When he went to the kitchen to do so, the girl ran to the door, trying to escape. Hussain, however, managed to get to her and pinned her to the floor, shouting: "Do you want me to end you now?"
He then forced her to eat the antibiotic pill, before molesting various parts of her body. He also tried to rape her, but was unsuccessful and went on to perform other sexual acts. He recorded those acts on his mobile phone.
Hussain also made the girl perform a sexual act on him.
After this, Hussain made her phone her younger sister and ask her to go to his flat on the pretext of bringing her handphone.
He pointed the knife at her stomach and warned her: "If you don't say like how I instructed you to, this knife is going to go into you."
When her younger sister arrived, the older girl attempted to warn her, but Hussain locked the door behind her before she could do so.
Hussain pointed the knife at the younger girl and told her that somebody had sent him to cut her sister's face.
He then took out his phone and showed the younger girl the five obscene films he had taken of her older sister.
He brandished the knife again at the younger girl and said that he would cut her sister if she did not follow the sexual acts her older sister had performed in the videos.
He also said he would spare her life if she complied.
OLDER GIRL MANAGES TO ASK HER FRIENDS FOR HELP
Hussain then instructed the older girl to cook noodles in the kitchen and proceeded to molest the younger girl and try to rape her. He recorded parts of the assault and also asked the girl to perform a sexual act on him.
After sexually assaulting the younger girl, Hussain told the older girl to serve the noodles she had cooked.
She did so, and asked to borrow Hussain's phone on the pretext of checking her school work.
She secretly sent a few messages to a WhatsApp group of her secondary school friends, saying she had been kidnapped and pleading for someone to call the police.
The girl provided Hussain's address, and one of her classmates called the police, saying: "My friend need emergency help right now. She suddenly WhatsApp us to say that there is some kidnap thing going on. We are not sure if it is true. She is my secondary school classmate. I think she just move in to this house. We wanted to call her but she ask us to not call her."
Police officers arrived at the flat about half an hour after the call was made. They heard noises from inside the flat and knocked on the door, but no one answered.
Hussain dragged both girls to the toilet and locked the door from the inside, asking the older girl if she had called for police.
The older girl began shouting for help, and he stuffed three fingers into her mouth to keep her quiet.
The older girl then lied to Hussain that she and her sister would tell the police that they were playing a prank if he let them go.
He agreed, and warned the girls not to tell the police the truth.
When Hussain opened the door, he was detained by police officers. The older sister told the police what had happened and he was arrested.
The case will be heard again next month.