Worried China nationals in Singapore queue to send Panadol to relatives back home
One courier service had to limit the number of customers sending medical supplies to China, which is dealing with a surging COVID-19 outbreak.
SINGAPORE: Worried China nationals in Singapore are queuing up to send flu medicines back home to relatives caught up in a surging COVID-19 outbreak and reports of drug shortages.
When CNA visited People's Park Complex on Wednesday morning (Dec 21), a queue of more than 20 people had formed in front of Shun Xing Express, a company specialising in courier services to China.
An employee said that since Tuesday, Shun Xing has had to limit the number of customers sending medical supplies to China to 50 a day. Customers sending non-medical supplies are not subject to this cap.
This was after "too many" people came to send medication on Monday, forming a queue that extended all the way to the bus stop, said the employee, who asked not to be named as he was not authorised to speak to media.
China eased nationwide COVID-19 restrictions on Dec 7, scrapping the need for frequent mass testing, and introducing home quarantine for some patients as well as shorter and more precise lockdowns.
China's top health body has said the true scale of COVID-19 infections in the country is now "impossible" to track, with officials warning cases were rising rapidly in Beijing after the government abandoned its zero-COVID policy.
FAMILY REQUESTED MEDICINE
At 10.30am, there was already a sign outside Shun Xing saying that all 50 places for the day had been claimed, and asking customers not to join the queue without a number.
Another sign dated Dec 19 listed 17 provinces and municipalities experiencing delivery delays due to the pandemic, including Beijing, Shandong and Jiangsu.
Shun Xing has also put in place a limit of eight boxes of the painkiller Panadol or the traditional Chinese medicine Lianhua Qingwen to be couriered to one address.
It costs S$10 to courier a package containing eight boxes of those medicines. Other medicines, such as cough syrup, are charged by weight.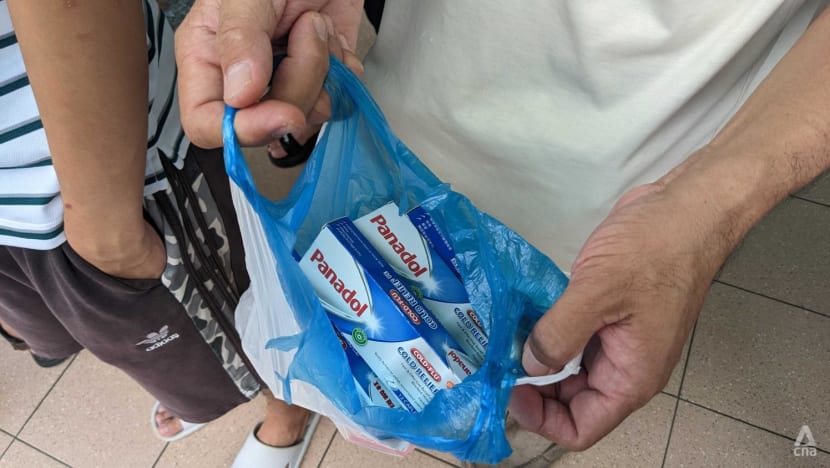 People in the queue were originally from provinces across China, and told CNA they were sending the medicines after family members asked them to do so.
One man, who only wanted to be known as Mr Wu, was sending Panadol and Lianhua Qingwen to four addresses of relatives in Guangdong. He started queuing at 8.20am, and was still in the queue at 11am.
A man who identified himself as Mr Zhen was sending two boxes of Panadol and five boxes of Lianhua Qingwen to his parents-in-law in Zhejiang. He said some older relatives were sick and did not have any medicine.
Another man said he bought eight boxes of Panadol as well as ibuprofen and children's cough and fever medicine for his relatives in Chongqing.
"EXTRAORDINARY TIMES"
Inside People's Park Complex, another queue was forming at a still-shuttered unit occupied by Anjie International Express.
A woman from Jiangsu, who only wanted to be known as Ms Lu, joined the line after failing to secure a queue number at Shun Xing despite arriving at 8am.
Ms Lu intended to send vitamins and children's fever medicine to her relatives, adding that she was focusing on remedies for the kids.
She said it had become almost impossible to find children's fever medicine in China, and that she had heard rumours of exorbitant prices as high as 1,000 yuan (more than S$190) for two boxes.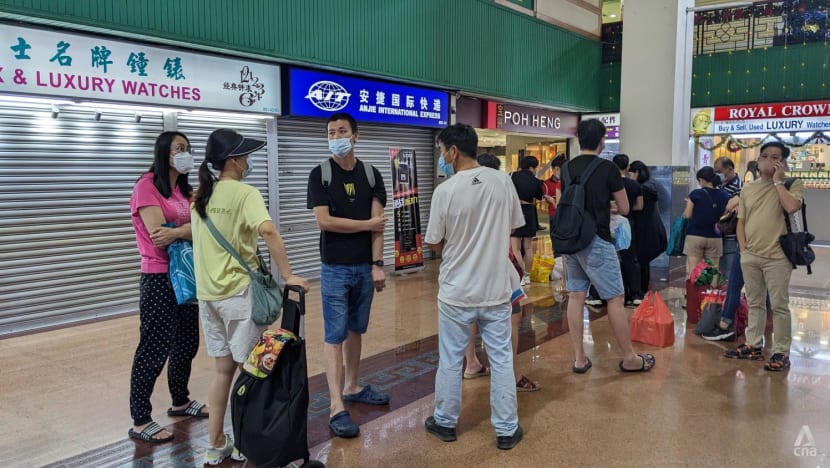 Another woman from Shanghai, who did not want to be named, was shopping at the Watsons pharmacy in People's Park Complex, after making enquiries at Shun Xing and other couriers in the building.
She was considering sending medicine to her relatives in these "extraordinary times", but was worried her packages would be confiscated at Chinese customs.
The woman teared up while recounting that some of her elderly family members in China, who were unvaccinated and in their 80s and 90s, had recently recovered from COVID-19.
Watsons outlets in both People's Park Complex and Chinatown Point were out of Panadol - except for the menstrual as well as muscle and joint varieties - when CNA checked on Wednesday afternoon.
Staff at both outlets said they had observed many Chinese people buying Panadol in recent days. Both outlets have not put in place any purchasing limits.
An employee at the People's Park Complex outlet said that when new stock of Panadol arrived on Tuesday, it sold out within half an hour.
Nurofen, a brand name for ibuprofen, also sold out, she said.
But at the Essentials Pharmacy in nearby People's Park Centre, several boxes of Panadol were still on the shelves, though a staff member said stock was also running low.
The Ministry of Health on Wednesday said it was aware of increased demand for over-the-counter medicines to treat fever, cough and cold.
It advised people to buy medicines - particularly those for children - in quantities sufficient only for their own consumption, and to go for an alternative brand if a preferred one was unavailable.
"We are working with the retailers and retail pharmacies to ensure that these medicines are available to Singaporeans in need," the ministry added.