Singapore and Vietnam explore stronger air connectivity, look to upgrade relationship
Singaporean and Vietnamese carriers might in future be able to deliver goods and ferry passengers to other destinations more seamlessly, by continuing on after transiting in either country.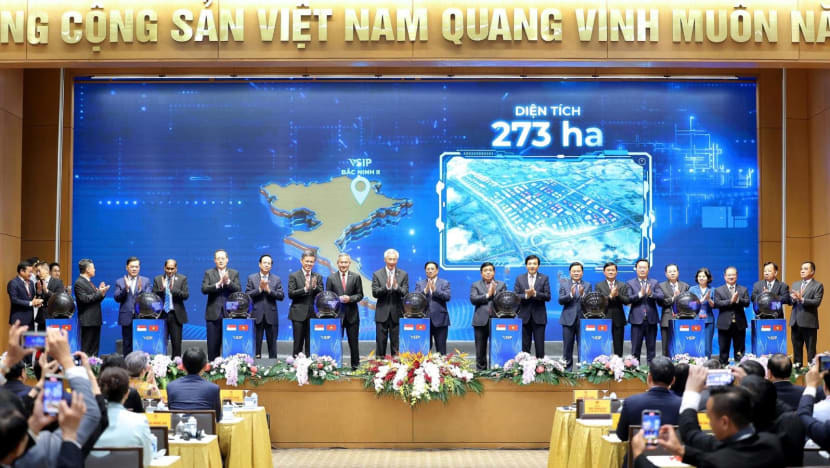 HANOI: Greater air connectivity between Singapore and Vietnam is on the cards, as the two countries look to upgrade their relationship.
Singaporean and Vietnamese carriers might in future be able to deliver goods and ferry passengers to other destinations more seamlessly, by continuing on after transiting in either country.
This is one aspect of collaboration that Singapore is keen to embark on as it explores elevating ties with Vietnam to a comprehensive strategic partnership, Prime Minister Lee Hsien Loong said on Tuesday (Aug 29).
"One of the areas which we are keen on, and which we have suggested to the Vietnamese side, is in the air services agreements," Mr Lee told reporters as he wrapped up his three-day visit to capital Hanoi.
"We need to find a substantive package so that when we go to a comprehensive strategic partnership, there's meaning in that new term."
This year is the 10th anniversary of the Singapore-Vietnam strategic partnership, and also marks 50 years of diplomatic relations between the two nations.
An upgraded partnership is expected to expand aspects of cooperation, such as in areas of trade, defence and education.
VIETNAM-SINGAPORE INDUSTRIAL PARKS
The two Southeast Asian countries already share extensive bilateral ties in various areas of cooperation, such as in the form of Vietnam-Singapore industrial parks.
With the latest addition of four new parks announced on Tuesday by Singapore-listed Sembcorp Industries and Vietnam industrial development firm Becamex, there are now 17 such parks. Ten more industrial parks have been proposed. 
These Singapore-invested parks located in Vietnam offer manufacturers smart energy solutions.
They have already attracted more than US$18 billion in investments and created about 300,000 jobs.
"It's a project which has done well, which is making a significant contribution to the Vietnamese economy and to our bilateral relationship, because it's an icon of what is possible for the two countries to do together," said Mr Lee.  
MUCH POTENTIAL IN VIETNAM'S ECONOMY
While Vietnamese companies have not yet expanded overseas on a big scale compared to Singapore firms, Mr Lee said the opportunities in Vietnam also generate jobs for Singaporeans back home.
"I wouldn't look at it as needing reciprocity, in terms of Vietnamese investments needing to match our investments into Vietnam," he said, adding there is much potential in Vietnam's economy.
"I think in due course that will come as their economy develops and reaches a higher level where companies will want to go overseas."
He added that this is not unlike Chinese companies that have invested overseas "in quite a significant way" following China's economic rise. He cited the presence of Chinese tech firms such as TikTok and Alibaba in Singapore today.
FURTHER COLLABORATIONS
Meanwhile, a framework agreement on connectivity between the two nations has boosted many areas of cooperation, such as in information technology, financial services and transportation, said Mr Lee. The pact was upgraded during the visit to include new areas like digital and green economies.
Other deals were also inked in trade and sustainability, with many more possible collaborations to look forward to in the future. 
Meetings between the prime ministers of both countries are set to become an annual occasion from now on.
Mr Lee said that as fellow Association of Southeast Asian Nations (ASEAN) members, "Singapore and Vietnam share a stake in the stability and prosperity of our region."
"With rising geopolitical tensions, we must work even closer together to maintain ASEAN Centrality and uphold the rules-based multilateral order," he added during a toast speech at an official dinner. 
EDUCATION TIES
Singapore and Vietnam are also looking to foster closer education collaboration between their students and teachers, with a deal signed to boost exchanges.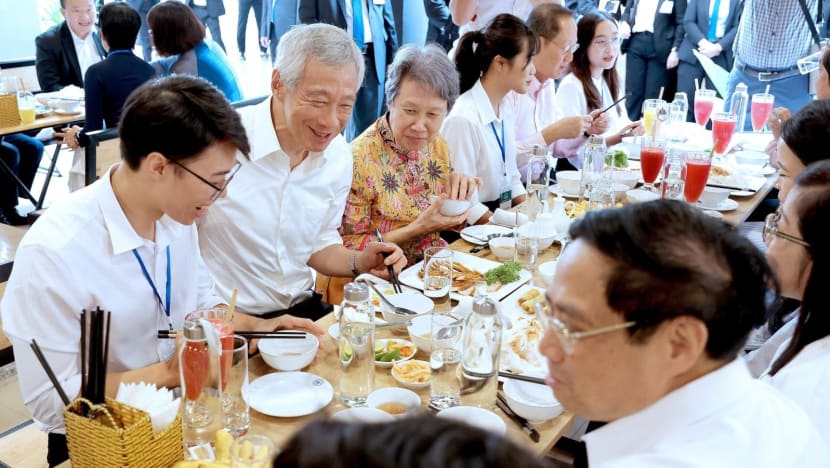 During his visit, Mr Lee joined his Vietnamese counterpart Pham Minh Chinh to meet youth leaders from both countries during an inaugural exchange programme.
The initiative aims to promote greater appreciation for each other's national policies through visits and dialogue sessions.
"There are many opportunities for the youth, both Singaporean and Vietnamese, because we both share the same love, the same thirst for knowledge and exchange," said Mr Nguyen Tien Minh Hoang, a student at Ho Chi Minh University of Technology.
Mr He Ruiming, delegation head of the Singapore-Vietnam Youth Leaders Exchange Programme, said the two countries have a lot in common, and much to learn from each other.
"There's also the ageing population issue that we share, and technology can be one of the tools that make it easier to bridge the gap," said Mr He, who is also the co-founder of online content The Woke Salaryman.