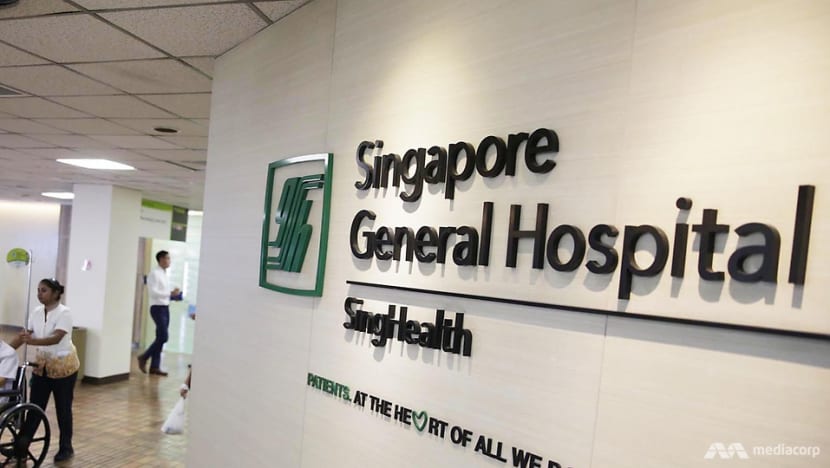 SINGAPORE: A repeat offender who has been in and out of jail since the 1970s was sentenced to jail again on Tuesday (Dec 17), this time for his behaviour towards staff at a hospital and home for the destitute.
Choo Bee Choon, 62, spat at an auxiliary police officer controlling traffic at a pedestrian crossing, spat at a patient care assistant in Singapore General Hospital (SGH) and lay on the hospital floor and refused to leave.
He also spat at a male nurse in SGH and punched him in the cheek, and spat at a doctor and nurses at Angsana Home.
Choo was sentenced to nine weeks' jail and a fine of S$1,400 after pleading guilty to three charges of voluntarily causing hurt, criminal force and using criminal force on a public servant.
Another five charges were taken into consideration.
The offences occurred shortly after he was released from prison from his latest stint in February this year, and continued into March, until he was arrested.
The court heard that Choo approached an auxiliary police officer at a zebra crossing in front of SGH on Feb 28 to ask for directions.
The officer gave him directions and continued his traffic control duty, but Choo was unsatisfied with the way directions had been given.
He went back to the officer and spat saliva on the man's right shoulder. The officer reported the matter to his supervisor and later to the police.
On Mar 1, Choo went to SGH and asked a patient care assistant about the consultation waiting time, and spat saliva on his shoulder as well.
Two days later, he lay on the floor at SGH and refused to leave, despite repeated advice to do so.
On Mar 14, Choo returned to the hospital, heading to the Accident & Emergency department to see a doctor. He was asked to take a seat at the waiting area and an assistant nurse clinician was asked to screen him.
However, when the male nurse approached Choo and explained what he was about to do, Choo was unhappy about the delay.
While the nurse persuaded him to cooperate, Choo spat saliva on his face and head to vent his frustration.
When the nurse asked him why he had spat at him and held onto his arm to prevent him from leaving the scene, Choo swung his left hand towards the victim's jaw and punched him.
After this, Choo stayed at Angsana Home, a home for the destitute. A doctor went to see him on Mar 27 as he had complained of gastric pain.
Choo grew agitated at the doctor, who prescribed to him a different brand of medication than what he had been given.
The doctor tried to dodge the blow when Choo spat at him, but the spittle landed on his hair, said Deputy Public Prosecutor Ho Jiayan.
Before this, Choo had also spat at nurses at the home on two different occasions.
The prosecutor asked for a short custodial jail term for Choo, listing out his string of offences, dating from robbery in 1974.
He was in and out of jail for offences ranging from robbery with hurt to theft, and was sentenced to jail, caning, corrective training and preventive detention over the years.
The prosecutor added that offences were carried out against public healthcare workers.
Choo, who was unrepresented, told the court through a Hokkien interpreter that he wished for a chance.
"I am in the wrong. Please be lenient with me," he said. "I was just released from prison and I did not have a house to stay in. I slept at (the) hospital until the police brought me to Angsana Home."
He added that he had also stayed at the Institute of Mental Health for more than half a year, and was transferred to Banyan Home where he now stays.
At this, the prosecutor said Choo suffers from antisocial personality disorder, but a medical report found no causal link to the offences.
The judge granted Choo some time after the hearing to speak to his case worker from Banyan Home and a pastor from Prison Fellowship Singapore.