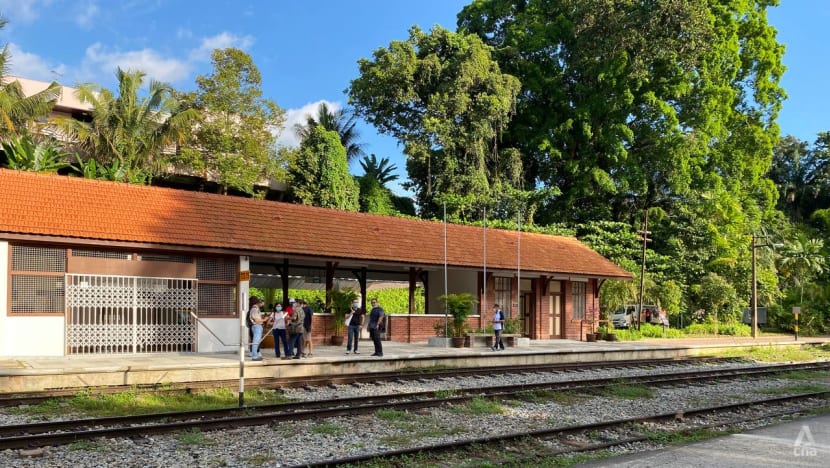 SINGAPORE: Nature lovers, photography enthusiasts, urban sketchers, and even those looking for a good spot for a first date have much to rejoice. 
The iconic Bukit Timah Railway Station reopened on Friday (Jul 1) after being restored, retaining its original platform and tracks. And it is part of a new scenic community space, comprising restored buildings and new amenities like gardens and lawns. 
Located around the halfway mark of the Rail Corridor, it can be accessed by visitors via Bukit Timah Road at the entrance near King Albert Park MRT station's Exit A.  
If you're making a trip there, here are five features you shouldn't miss.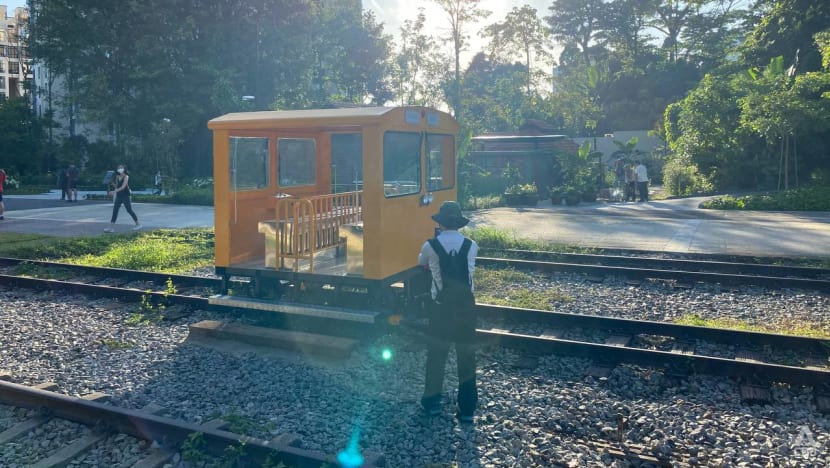 1. THE YELLOW SERVICE WAGONS ON THE TRACKS
It's impossible to miss the bright yellow service wagons sitting on the railway tracks in front of the railway station building. 
They stand out against the backdrop of the restored building, which could soon make them a hotspot for photography lovers, urban sketchers and even wedding couples. 
These service wagons have been replicated to look "just like old railway maintenance vehicles", and are placed on the existing railway tracks "as play features reminiscent of the former railway station", said the Urban Redevelopment Authority (URA) and the National Parks Board (NParks) in its media release on Friday.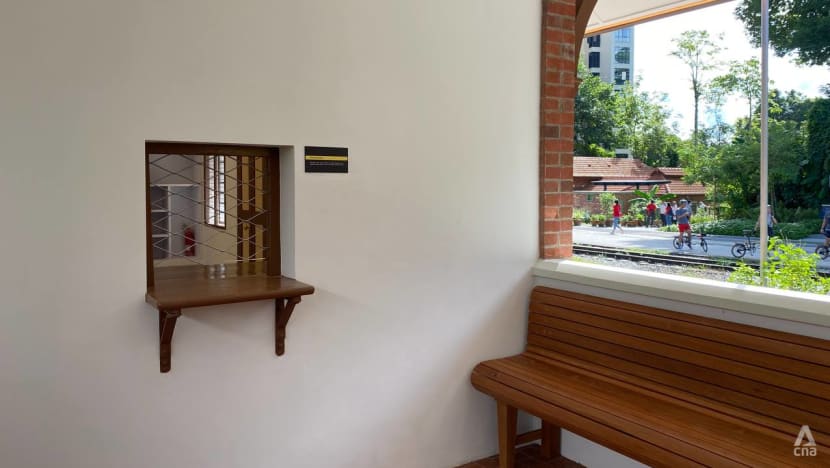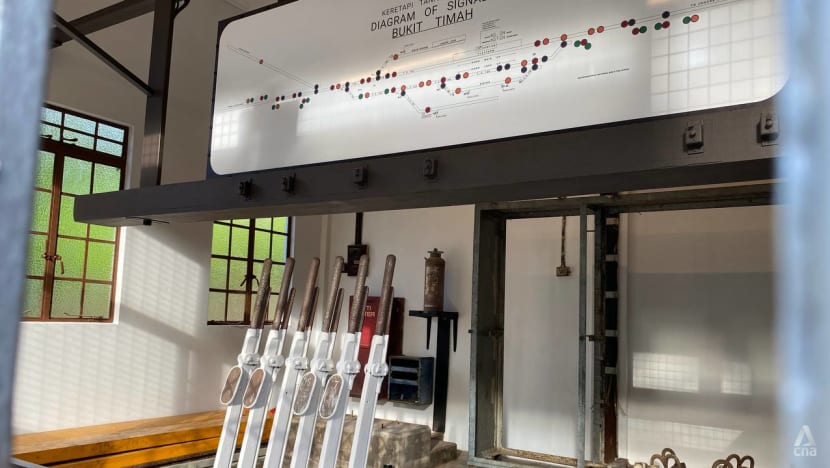 2. THE RAILWAY STATION BUILDING 
The railway station building is a testament to how restoration works have only enhanced the nostalgia and rustic charm, from getting to retain its original ticketing window to replacing termite-infested structural roof timber with "accurately sized and jointed members", and adding insulation, a metal underlayer and ceiling boards. 
Notable heritage features include a "772.75" distance marker indicating the distance in kilometres from Bukit Timah Railway Station to Butterworth Railway Station in Penang, as well as the building's original signal room, said URA and NParks in a fact sheet. 
The signal room includes a signals diagram replica, which allows visitors to "catch a glimpse of the critical equipment which station masters formerly used to control traffic and signalling around the station". 
The signal room used to contain 36 levers, whose functions were differentiated by colours back in the day. For instance, black was for track switching, while yellow was used to indicate distant signals to alert train drivers.
Today, only six of the original levers remain, all of which have been restored.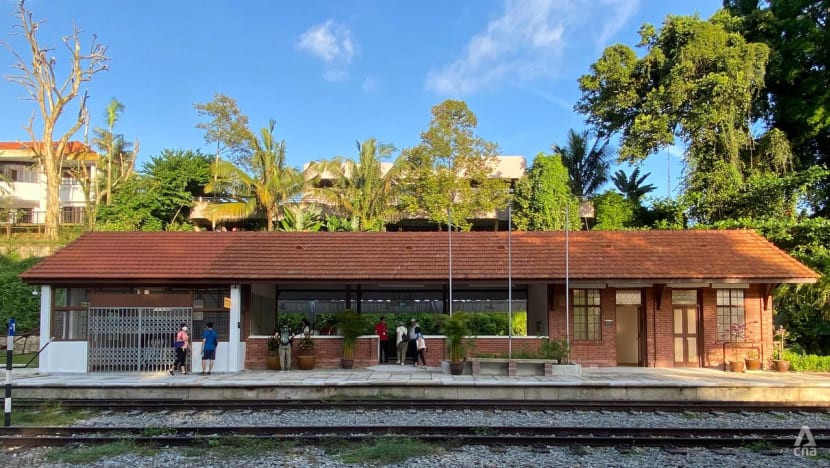 Speaking about how he married old with new, executive architect at URA, John Wan, pointed out that for buildings over 90 years old, his team had to ensure that the buildings "can stand the test of time (and) continue to be relevant and meaningful to future generations of Singaporeans" as well as serve their "new purposes" which include a heritage gallery and a cafe serving the Rail Corridor. 
"When restoring them, we had to follow the principles of restoration, repair and retention. For example, the timber roof, when we found that it was infested with termites, it had to be redone. But we were sure to do it in a historically accurate way. The roof tiles ... we managed to save over 70 per cent of them. (They) were just brought down, washed and put back exactly where they were," he said.
"The good thing is that most of the buildings that you see today are exactly as they were, as they've always been. The brick walls are all original, the floors are original, and (even) down to the colours ... we took paint samples and we found the exact same heritage colours that the building was in the beginning of its life."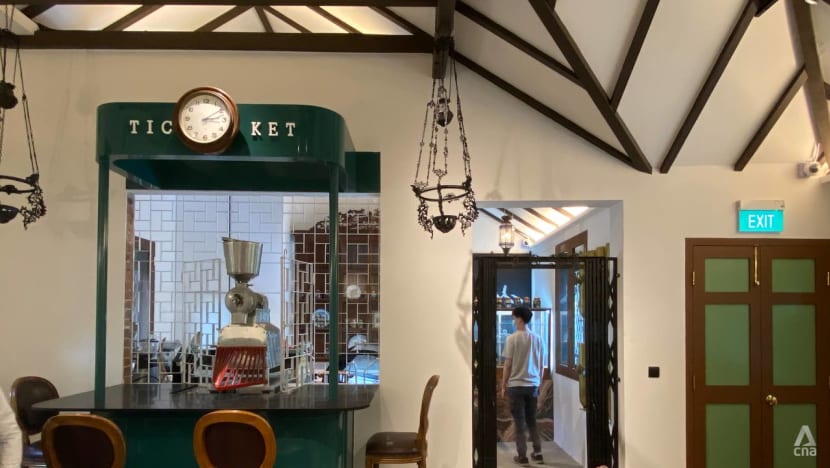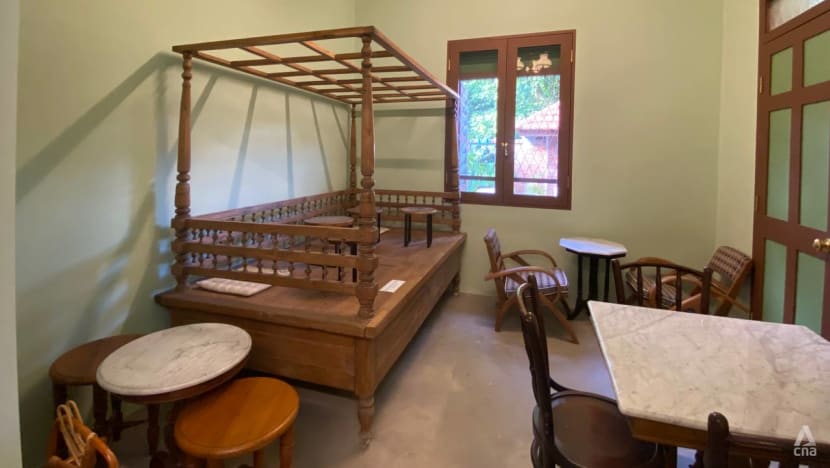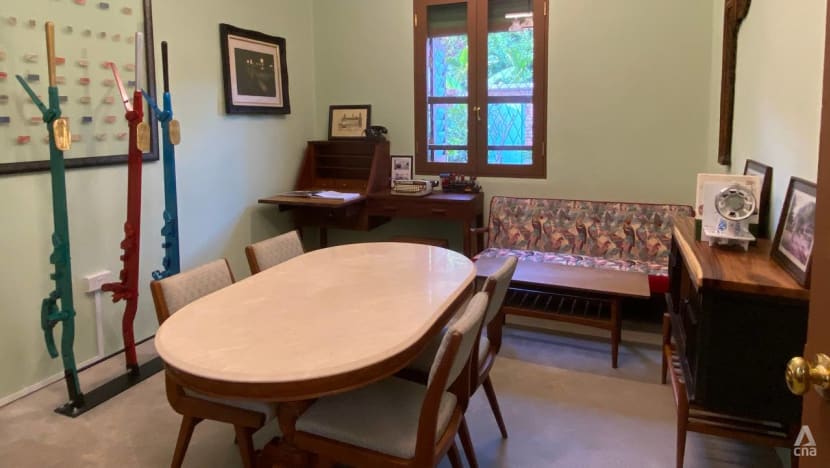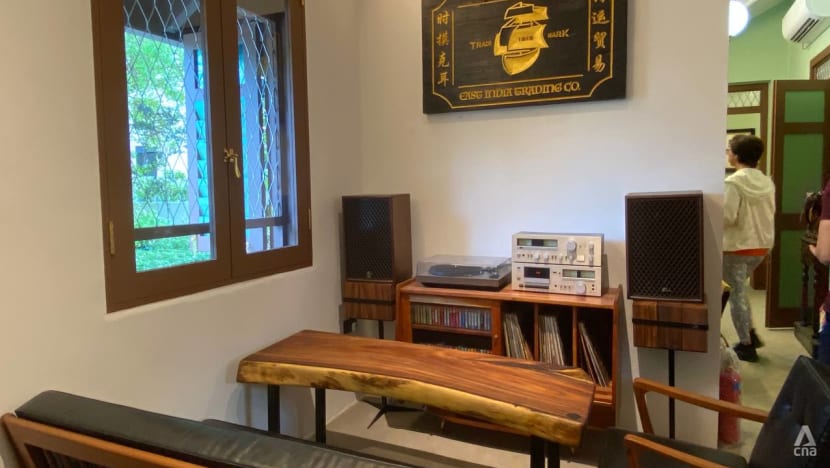 3. THE RAILWAY STAFF QUARTERS 
The single-storey semi-detached house comprises an East unit which has been retained with all its rooms intact, and a West unit which adopts an "open plan" for "ease of operations", said URA and NParks. 
The two kitchens at the rear wing have been combined, while the West boundary wall has been lowered with a gate added, allowing for views into the enclosed service yard. And the toilet in the West unit has been upgraded to provide "barrier-free access". 
If you enjoy the vintage furniture and decor that line its interior, mark your calendars. From early July, a cafe with "a rustic, relaxed ambience" is set to open to the public.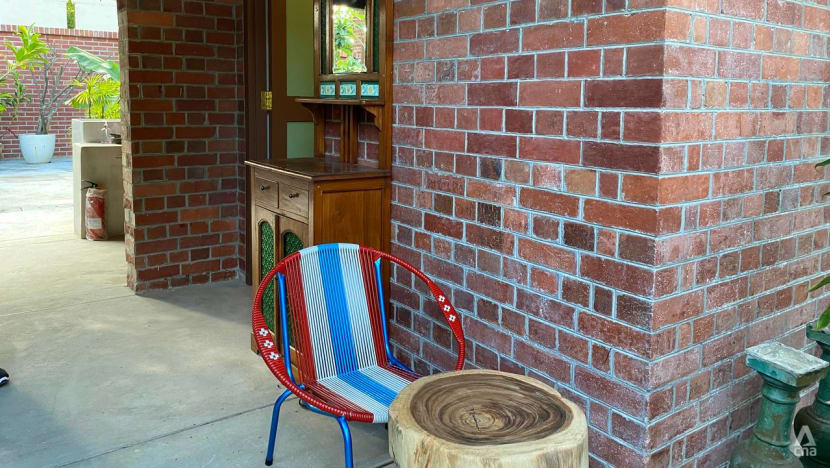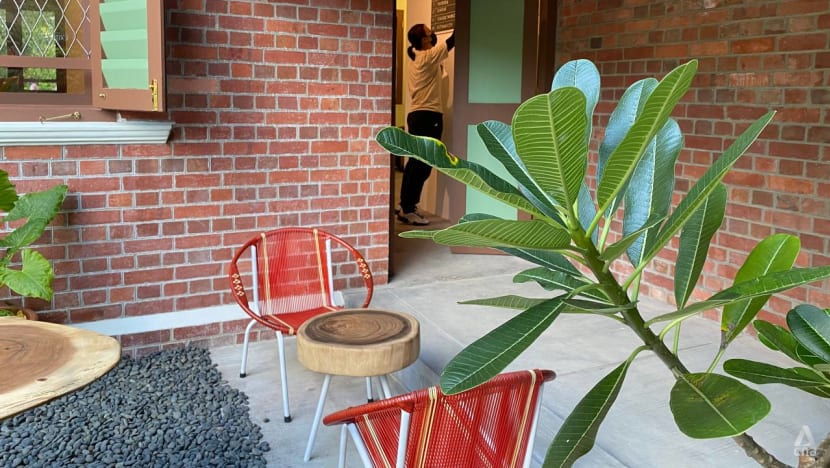 And you just might just end up walking the same grounds where 53-year-old Rama Venkta once studied for his Primary School Leaving Examination (PSLE). 
The director at the Land Transport Authority and his father, V Vijayaragavan, who was a station master at the Bukit Timah Railway Station from about 1979 to 1983, were present at the reopening of the railway station to relive their memories. 
They only saw their old home in its refurbished state for the first time on Friday, even though Mr Rama said he would attempt to peek at the site whenever he visited the Rail Corridor before restoration works were complete on his childhood home. 
Mr Rama, who started living in the staff quarters when he was 10, added that "rail blood" runs in his family as his grandfather also worked on the tracks in Malaysia.  
"Dad used to work on this side (the railway station building), because our house was just across. Can you imagine an office where your house is just across? So dad was always around in a way," he recalled. 
"Today, having looked at the entire thing ... how it was turned into a cafe and a mini museum ... it brings back wonderful memories, because I can go around and say, 'Hey I lived in that bedroom, I stayed in that place, I used that toilet.'"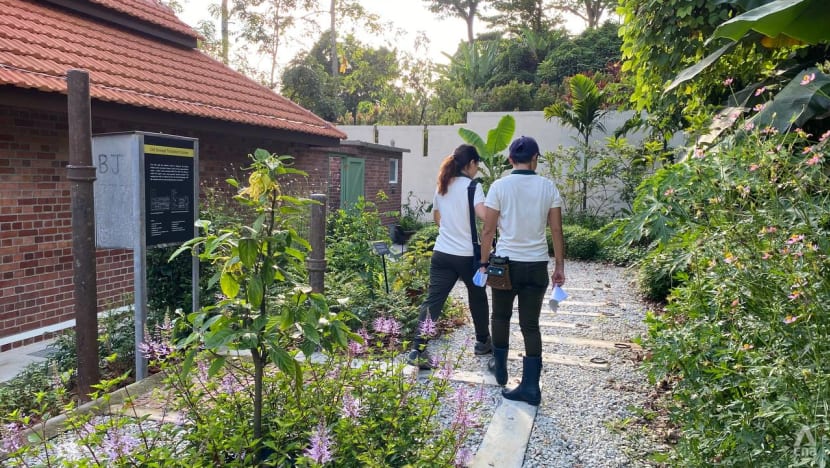 4. THE GARDENS
Just behind the railway staff quarters is the Herb and Spice Garden, comprising herbs and spices that those who lived in the staff quarters used to cook their meals. 
The garden features "commonly used edible plants", such as the curry leaf, common basil, laksa leaf and siamese ginger, stated URA and NParks in its news release.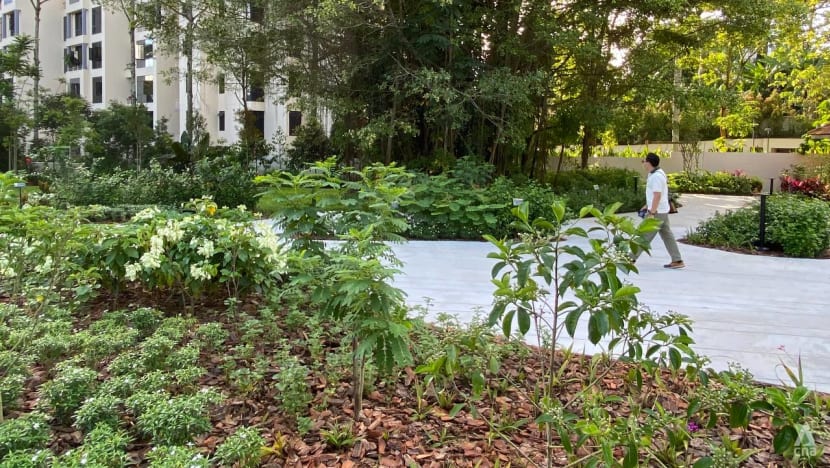 And fronting the railway staff quarters is the Kampung Garden, which features "ornamental shrubs and flowers iconic to Singapore's 1960s landscape", said URA and NParks.
Keep a lookout for some of the more vibrant plants as you stroll through the garden. For example, the pinwheel flower is an evergreen round shrub that has large, glossy dark green leaves and waxy, white flowers, said the agencies. The flowers are five-petaled, "shaped like pinwheels", and fragrant, which attract butterflies. 
There is also a shrub called the Mussaenda "Dona Eva", which has "scrambling growth form". Its yellow tubular flowers are borne in clusters, with each flower being accompanied with a five-lobed calyx, of which one is "conspicuously enlarged and bright red". 
5. THE SEATING TERRACE
If you feel exhausted at the end of the day, take a break on the two-tiered seating terrace located just opposite the railway station building – and keep your eyes peeled for its intricate details.
The armrests on the seats are actual railway track segments that have been recycled. 
Meanwhile, a ramp that doubles up as a footpath winds around the seating terrace, ensuring greater accessibility for wheelchair users and those with prams and making it a more inclusive space for all.