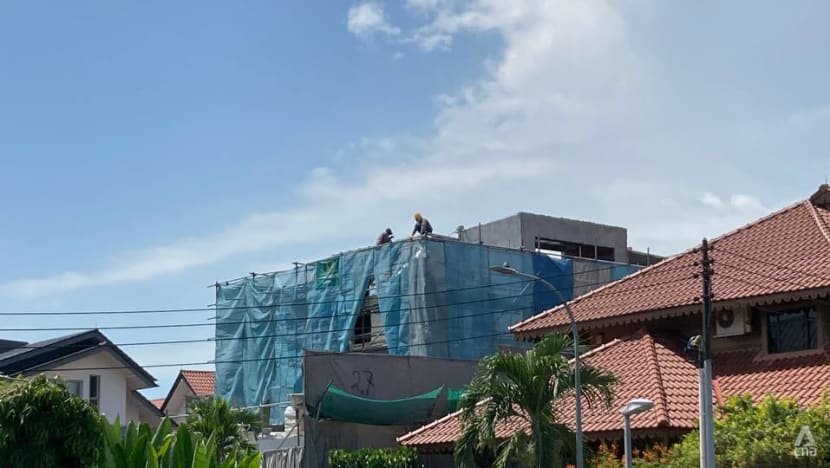 SINGAPORE: While outdoor workers are used to the heat in Singapore, recent days have been particularly awful.
"Even wearing long sleeves, my skin feels painful a few seconds after stepping into the sun," said Mr Aidil, a part-time food delivery rider.
It is especially bad around 1pm: "Like burning," he added. "I try to hide in the mall or in the shade if I can." 
The mercury hit 37 degrees Celsius in Ang Mo Kio on Saturday (May 13), matching the single-day high, last recorded 40 years ago. Temperatures exceeded 36 degrees Celsius in several locations on Saturday.
The National Environment Agency (NEA) had previously said April and May, which are inter-monsoon months, are usually warmer because of strong solar heating, light and variable wind conditions.
In late April, in response to a circulated text message warning of a possible heatwave, NEA said the temperature in Singapore was unlikely to hit 40 degrees Celsius.
For those working outdoors, the official line was cold comfort. "The app says 36 degrees, but it feels like 40," said Mr Yimmon, who goes by one name.
"No shade, no trees," the Myanmar national lamented. He is currently working at the site of a demolished house in Telok Kurau.
Pointing to dark clouds in the distance, he echoed the thoughts of his fellow workers: "We are all happy. We hope for rain."
EMPLOYER ADVISORIES 
Mr Yimmon also showed CNA a message from his company, Peck Brothers Construction, advising workers to avoid drinking cold water or taking a cold shower too soon after intense exertion.
They have been advised to drink warm water or cool down first before consuming colder drinks, he said.
The company also reminds its workers to drink more water and take breaks if needed.
Other construction workers said they have been told to hydrate themselves, including during safety briefings before starting work.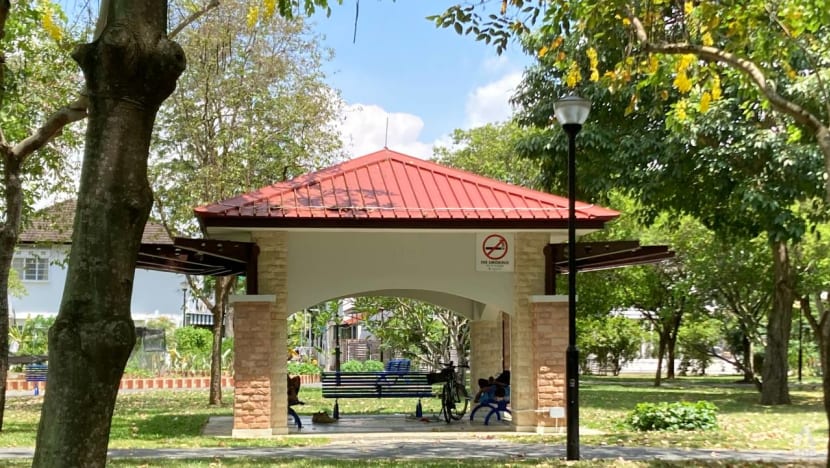 When asked about the recent weather, Mr Wong Tong Ming, 52, pointed to his tanned skin that looked slightly sunburnt.
"I bought a new long-sleeved shirt to protect my skin from the sun," he told CNA. The pavilion near Kembangan that he was resting in provided some respite, aided by the cooling effect of the nearby trees, he explained.
In April, the Workplace Safety and Health Council issued an advisory on protecting workers from heat stress.
It said companies could reduce exposure to heat by scheduling heavy physical work during cooler parts of the day and providing shaded areas for workers.
Some food delivery riders said they had received emails or messages from the platform companies reminding them to drink more water, while others said they had not been given any guidance but are staying hydrated anyway.
"No choice, I have to work even when it's hot," said Mr Alvin Tan, 58. "If I don't drink water, I'll fall sick, then I can't work."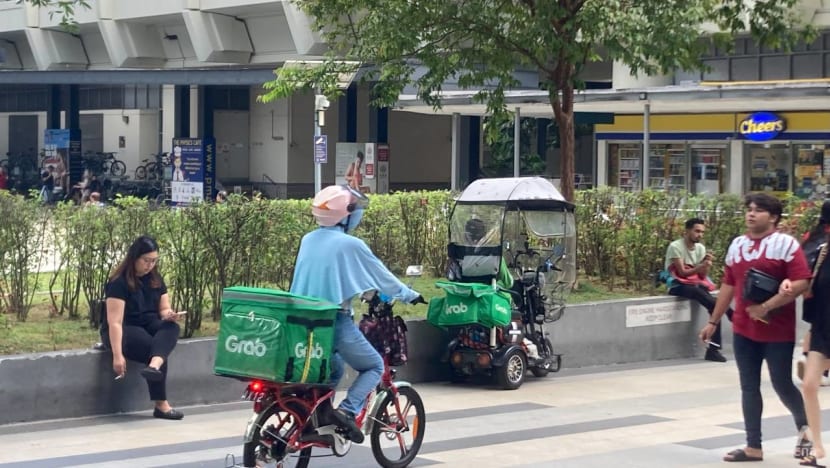 Despite the hot weather, Mr Charlie Sitt, 63, said he avoids seeking shelter in malls.
"It's worse if I go in and out of an air-conditioned area repeatedly," he told CNA in Mandarin. "It's not good for health."
He also avoids drinking cold drinks, unlike the many customers who have ordered bubble tea in recent days, he added.
There was rainfall in some parts of Singapore on Monday, with a temperature of 24.6 degrees Celsius reported in Admiralty. As of 8pm, the highest temperature for the day was 34.8 degrees Celsius in Choa Chu Kang at 12.17pm, according to the Meteorological Service Singapore.
The NEA is forecasting thundery showers on Tuesday afternoon, music to the ears of Mr Salam Abdus, a gardener.
"Sometimes there are dark clouds but no rain," he said. "If it rains, I don't need to water the plants," he said.