Singapore, US express interest in feasibility study to enhance energy connectivity in Southeast Asia
Both countries also underscored the importance of Singapore-US energy cooperation.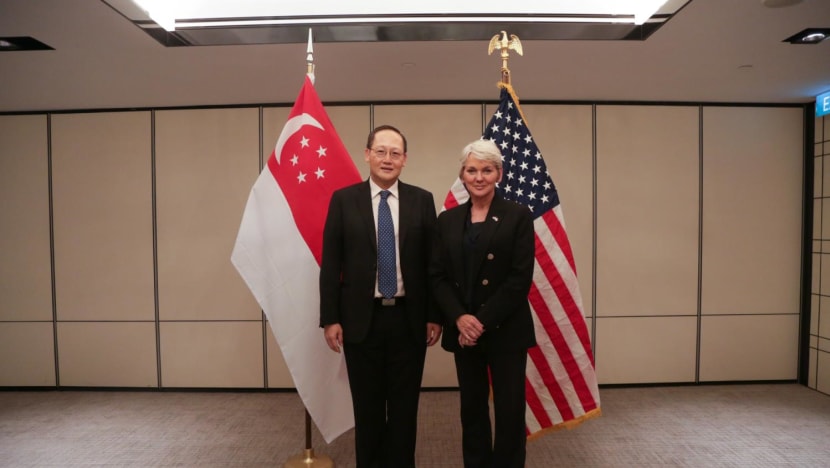 SINGAPORE: Singapore and the United States have expressed interest in conducting a feasibility study to enhance energy connectivity in Southeast Asia.
This comes after Singapore's Second Minister of Trade and Industry Tan See Leng and US Energy Secretary Jennifer Granholm met in Singapore at the sidelines of the US-Southeast Asia Clean Energy Roundtable on Thursday (Jul 14).
In a joint ministerial statement sent on Friday, they underscored the importance of energy cooperation between both countries and affirmed the importance of strengthened cooperation on energy security, clean energy transitions and regional energy interconnectivity.
They acknowledged the urgency to accelerate energy transitions in the region to reach net zero climate goals. At the same time, they also agreed that international cooperation is critical to harness the untapped renewable energy potential in Southeast Asia, stimulate clean energy investment flows, and generate new green jobs.
The ministers welcomed further cooperation on regional energy interconnectivity to enhance energy security and strengthen grid resilience. 
"To this end, the ministers expressed interest in a feasibility study on enhancing energy connectivity in the region," the statement read. 
"Enhancing energy connectivity would enable mutual support for the region's power systems, while facilitating regional power electricity trading."
In his speech at the roundtable on Thursday, Dr Tan said that there is a need to scale up the deployment of low-carbon technologies that are already commercially available and cost-competitive, and added that the key is to make these projects "bankable".
"This can be challenging in Southeast Asia, where most countries have not implemented a carbon tax and some countries continue to subsidise fossil fuels," he said. 
"One way to make renewable energy projects more bankable is to promote the cross-border trade of clean energy, in the form of electricity and new energy carriers such as hydrogen and ammonia."
He added that the Lao PDR-Thailand-Malaysia-Singapore Power Integration Project (LTMS-PIP) is an important pathfinder project to advance regional integration and energy resilience, underpinned by the ASEAN Power Grid vision.
Dr Tan also urged countries to take decisive action to innovate, adding that current technologies will not be enough.