The stress of expressing milk in the toilet: Breastfeeding mums call for more workplace support, facilities
Senior Minister of State for Health Amy Khor on Friday (Jan 12) also encouraged employers to support mothers who want to continue breastfeeding after returning to work.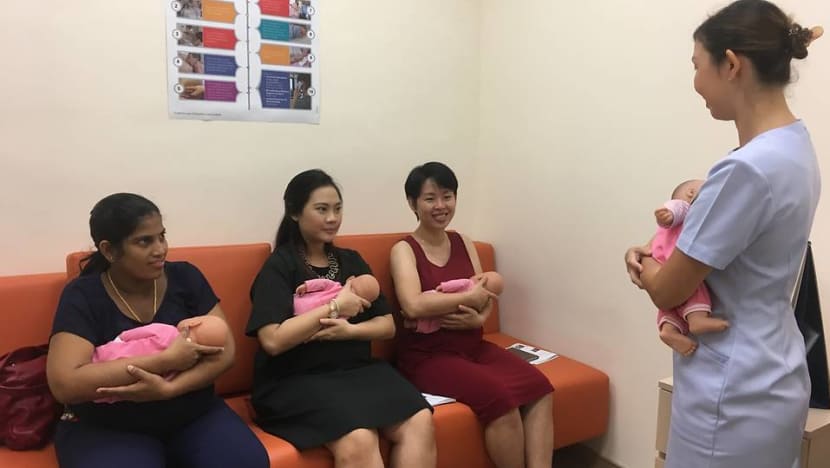 SINGAPORE: When Ms Sharon Toh returned to work after giving birth, she was faced with a dirty reality - if she was going to continue to feed her son breastmilk, she would have to express milk in the toilet.
Ms Toh, 38, who was then working as a frontline officer in a bank, asked to express milk in a hidden area, but she was not given permission to.
"The bank was in a mall, so I just chose a toilet that was most deserted," Ms Toh said. While there were nursing rooms in the mall, she could not afford to wait in the queue for the two cubicles during her one-hour lunch.
But there were times it got too unbearable.
When people came to do their 'big business', the sound and the smell, it'd be too disgusting, so I'd just cut short the session and leave.
That came with its own problems, as the milk that was not expressed resulted in engorgement and infection. It was so stressful that Ms Toh started looking for another job.
Senior Minister of State for Health Amy Khor on Friday (Jan 12) encouraged employers to support mothers like Ms Toh who want to continue breastfeeding after returning to work. 
Dr Khor pointed to figures from the 2011 National Breastfeeding Survey which showed that breastfeeding dropped significantly after mothers returned to work. They gave reasons such as lack of facilities and difficulty working flexible hours, Dr Khor said at an event at CapitaLand's offices where she toured its nursing rooms.
Addressing space or financial constraints that small- and medium-sized enterprises may face in providing lactation facilities, Dr Khor said: "We can encourage building owners and developers to set up common family and nursing rooms that their tenants can access and utilise."
Another mother, 32-year-old Karine Yong who works as a planning officer, told Channel NewsAsia she also had to use the toilet along with other breastfeeding mums.
"We know how people discriminate against people pumping or feeding in the toilet but we have no choice. We maintain high hygiene on our hands and pumping parts," she said.
Other mothers Channel NewsAsia spoke to said they resorted to pumping in stuffy rooms or meeting rooms, under the constant stress of knowing that others might want to use the room at any time. 

BREASTFEEDING ADVOCATES ECHO CALL FOR MORE SUPPORT

President of Breastfeeding Mothers' Support Group (Singapore) Elaine Chow said that employers need to show more support for breastfeeding mothers.
While she said large companies do "fairly well" in providing support, smaller companies report space constraints in providing a suitable area for employees.
For a mother to continue breastfeeding after she returns to work, she will need a clean, private area for her to express her milk and also needs to schedule times to express breast milk during the work day, said Ms Chow.
"This prevents her from having painful engorgement when her breasts become full from milk, causing pain and possibly even infection - and also provides breastmilk for the baby's feeds the next day."
She held up the United States as an example. The country passed a law requiring all employers covered under the Fair Labour Standards Act to provide breastfeeding mothers with the time and space to express breastmilk at work.
Ms Eleanor Foong, a moderator on Singapore-based Facebook group Breastfeeding Mums, which has more than 27,000 members, said that mothers tend to struggle with direct supervisors who are not understanding about the need to express milk, and that some companies may think of expressing milk as a luxury, or an extra break.
She suggested that smaller companies could tap on those that do have dedicated facilities so employees can share them.
In fact, not having the time or the right space to express milk could have negative effects on the mother, said Ms Pamela Lim, a counsellor who is trained to advise on breastfeeding.

"Having to go to the toilet is so unhygienic. If they are uncomfortable and pump less than they need, they would suffer the engorgement, which tells the body to make less milk," she said. 
Not being able to breastfeed as much may also lead to stress and guilt and affect the milk supply in turn, she added. 
GOVERNMENT INITIATIVES TO SUPPORT BREASTFEEDING
Friday's event was the latest in the Government's push towards breastfeeding as the healthier meal option for infants, after the high prices of formula milk came into the spotlight last year. 
The Health Promotion Board (HPB) has shared information on the benefits of giving birth in hospitals certified under the Baby-Friendly Hospital Initiative (BFHI), and is working with organisations such as the National Trades Union Congress (NTUC) and Singapore National Employers Federation (SNEF) to encourage more employers to create breastfeeding-friendly workplaces for mothers.
BFHI-certified hospitals actively encourage and support breastfeeding, and are barred from sponsorship arrangements with formula milk companies.
HPB, SNEF and NTUC also have an employer's guide to breastfeeding at the workplace that provides employers with information on what they can do to support employees to continue breastfeeding after returning to work.
Employers and building owners can also tap on the WorkPro Work-Life Grant introduced by the Ministry of Manpower in 2013. Under the grant, co-funding of up to S$20,000 is also available to build lactation rooms.
A Ministry of Manpower (MOM) spokesperson said that fewer than 10 applicants have sought co-funding for lactation rooms, as many are able to provide, or already have access to, lactation rooms. 
According to an NTUC survey, the percentage of working mothers with access to private lactation rooms increased from 35 per cent in 2013 to 60 per cent in 2016.
COMPANIES THAT HAVE MADE THE EFFORT
At software firm Greenwave Systems, a meeting room was properly converted into a lactation room in 2016 by tapping on MOM's grant. 
Its director of global human resources Josephine Cheng said that when she joined, there were no proper room for mothers to express milk, so she reached out to the management.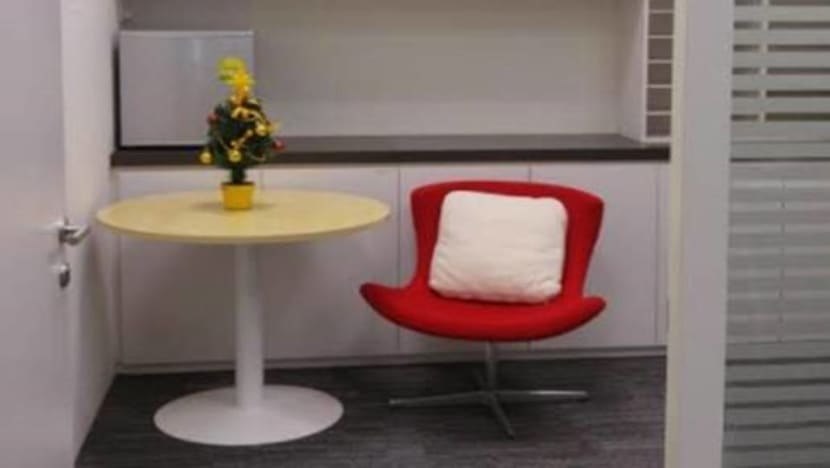 "One of the challenges was availability of space, so we converted one of the small meeting room to lactation room with a fridge to store breastmilk," she said.
Employees also get time off to express milk, and can choose to go home to do so, she said. Managers were also briefed to be flexible if employee exceeded the approved time off as lactation time may differ from individual to individual, she added.
The grant helped defray costs for minor renovation works such as installing a blackout blind to cover the glass door and a fridge to store breastmilk, she said. 
Another company, tech firm Unity Technologies, went further and created a purpose-built lactation facility when shifting offices.
"We were fortunate to have been involved in the office layout and planning during its design stage, and we wanted to ensure that there were appropriate facilities for present and future lactating mothers," said the company's human resources business partner Jocelyn Cai.

Head of business development Joyce Law, 38, who used to express milk in a meeting room in the previous office said that it is wonderful to have a purpose-built space.
"At the previous office, I'd have to use the meeting room and no one could use it at that time, so it was stressful. Having a room to use privately with a fridge is a huge improvement," she said, adding that having it in a corner also helps with the privacy.