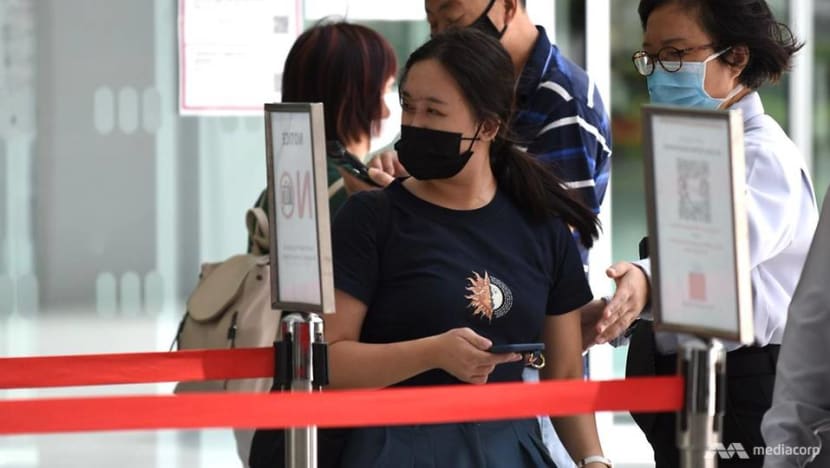 SINGAPORE: A student who exposed others to the risk of COVID-19 by breaching her stay-home notice after returning to Singapore from Britain in March last year was sentenced to 12 weeks imprisonment on Monday (Aug 30).
Esther Tan Ling Ying, 24, who had been taking her bachelor's degree in acting in Britain, returned home last year after an advisory by the Singapore Government following the outbreak of COVID-19. 
Tan had flu-like symptoms while she was overseas, which persisted when she arrived in Singapore on Mar 23 last year. 
Upon arrival at Changi Airport, she was issued a stay-home notice and told to go home immediately by an Immigration and Checkpoints Authority officer.
Instead, she went to a food court at the airport with her parents and then took the MRT to Clementi, where she visited a clinic. 
At the clinic, she lied about her travel history and obtained medicine. 
She was later found to be COVID-19 positive. 
Tan, who contested the charge, said during the trial that the ICA officer who briefed her at the airport had not told her to head home immediately.
She also claimed there was no indication in her stay-home notice that she had to do so, and said she thought the stay-home order began the next day. 
She later said she thought the stay-home order would begin the same day that she returned to Singapore, but only after she reached home.
On Aug 16, Tan was convicted of exposing others to the risk of COVID-19 infection.
On Monday, Deputy Public Prosecutor Nicholas Lim sought the maximum penalty of six months imprisonment for Tan, on the grounds that her conduct was of the most serious and egregious nature. 
Compared to other similar cases, Tan posed the "highest possible level" risk of transmitting the coronavirus, he argued. 
"This accused, unlike others, was a positive COVID-19 case," said Mr Lim, noting Tan had removed her mask to eat at the food court as well as while waiting for consultation at the clinic.
Her culpability was compounded by her lying at the clinic about her travel history, the prosecutor said. 
Had she been truthful, the doctor might have asked for her to be quarantined earlier, thus reducing the risk of transmission, he added. 
Tan's lawyer Tan Cheng Kiong however argued that it was "way off" for the prosecution to suggest his client deserved the harshest penalty. 
"She deserves to be punished, but not at the level recommended by my learned friend," said Mr Tan. 
The accused was not a known case of COVID-19 when she arrived in Singapore, and had been diagnosed with sinus issues at the clinic, he said. 
She had also worn a mask during her flight, despite there being no requirement to do so at the time, and had only removed it briefly while she was eating and at the clinic.
In sentencing Tan, District Judge Ng Peng Hong said that while deterrence was one of his main considerations, he believed her case did not warrant a six-month sentence. 
For exposing others to the risk of infection of COVID-19, Tan could have been jailed up to six months, fined up to S$10,000, or both.