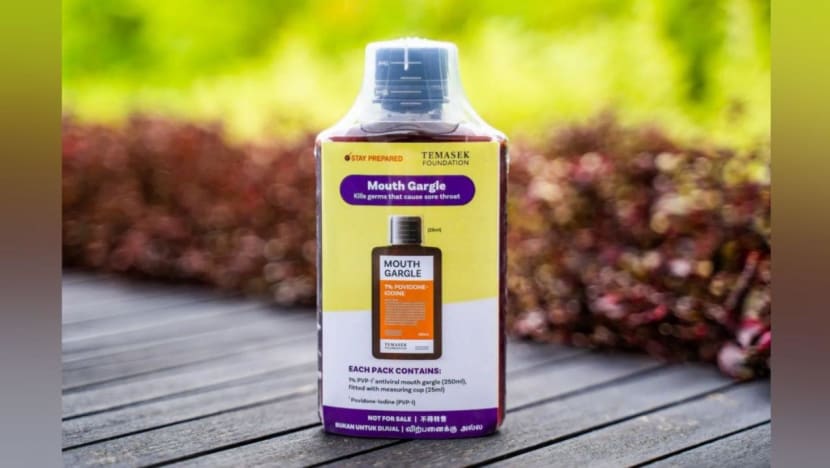 SINGAPORE: Temasek Foundation is giving away bottles of gargle to Singapore households as part of its Stay Prepared initiative to help reduce the spread of illnesses.
The mint flavoured StayWell Mouth Gargle contains povidone-iodine (PVP-I), which kills germs that cause sore throat, said Temasek Foundation in a media release on Thursday (Oct 21).
The distribution is open to all Singapore residential households with an SP residential water bill account number.
Those interested can register online from Nov 15 to Dec 10 to book a slot to collect a 250ml bottle of PVP-I gargle. 
Self-collection will take place between Nov 22 and Dec 12 at the residents' preferred time and collection point. About 40 locations are available across selected shopping centres and Singapore Pools branches, as well as Singapore EXPO. Items are subject to availability.
Should demand exceed expectations, a second round of self collection may take place after  Chinese New Year, said Temasek Foundation.
Residents must provide their SP residential water bill account number, plus their household address and email contact for verification purposes. They can also register and collect on behalf of family members and friends as long as they have their SP residential water bills, and booking confirmation email or WhatsApp message.
Separately, households in one-room to four-room HDB flats will receive an additional 125ml bottle of gargle. This will be delivered via Singapore Post to each letter box between Oct 25 and Nov 19.
No action is required to receive this bottle of gargle. Deliveries can be tracked in the SingPost mobile app, said Temasek Foundation.
"Besides washing hands or using hand sanitiser regularly, oral hygiene is just as important," said Temasek Foundation Cares chief executive Woon Saet Nyoon, adding that she has personally used povidone-iodine gargle for "many years".
"Together with vaccinations and other measures such as mask wearing, we can confidently do our part to help reduce the spread of infectious germs or viruses in our community, and transition safely over the next few months to living with COVID-19."
Temasek Foundation also reminded residents that they must have authorisation to collect the gargle on behalf of another household.
"It is a crime to misuse another household's bill account information or the physical SP bill to falsely represent such authorisation to collect the mouth gargle," said Temasek Foundation. 
"All collection points are equipped with security cameras, and Temasek Foundation will provide information to the police to assist in their investigations into any unauthorised collection of mouth gargle. 
"Those who dishonestly deprive others of collecting their mouth gargle through fraudulent methods of obtaining their personal information to misuse this for personal gain, will be dealt with sternly and in accordance with the law."