Thriving rather than surviving: Teaching students how to spot fake news
As schools around the world ramp up their efforts to teach students how to spot fake news online, here's what Singapore schools have been doing.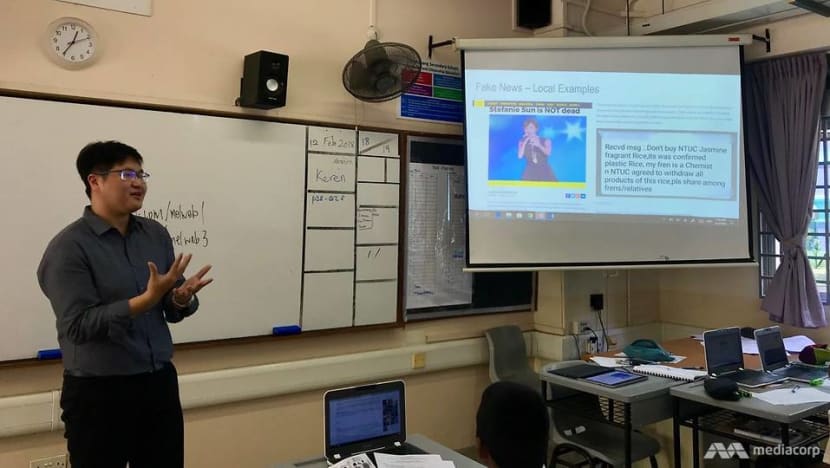 SINGAPORE: It was a history lesson, but one with a difference: These Secondary 1 students from Sembawang Secondary were about to get duped by their teacher, Mr Puah You Kai.
"Go to the website listed on your worksheets, and answer the questions on the Pacific Northwest Tree Octopus," he instructed, as students filed to the back of the classroom to retrieve laptops. Most students did as he was told, quietly and without comment, but several others exchanged knowing looks with each other.
"I've seen this before," piped up a boy sitting in the second row. "It's fake, right?"
And indeed, the website the students were told to go to was a hoax – the endangered Pacific Northwest Tree Octopus, described at great length on the website as an octopus that lives on trees – does not, in fact, actually exist.
Student Avril Chew was immediately able to see through the hoax. "I don't believe there are octopuses living on trees," she said. "Besides, I saw that the website link didn't have a .edu or .org, so I didn't think it was a real website."
But smiling shyly, she said that some of her classmates may have been taken in. "I could tell from their faces," she explained.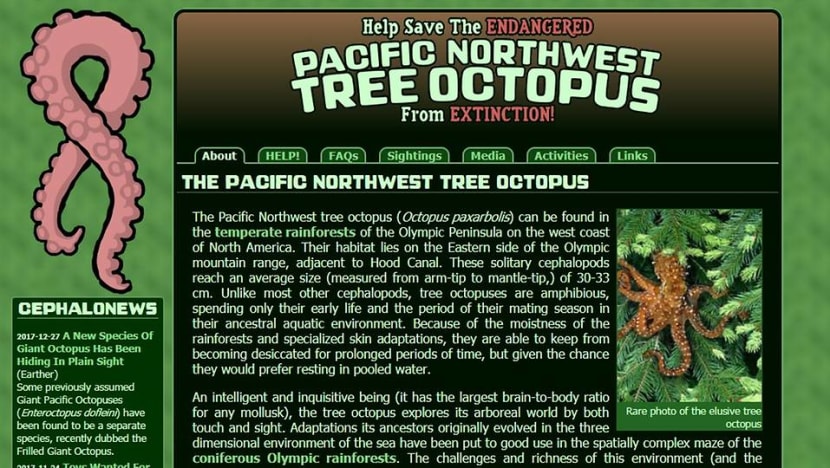 Wrapping up the exercise, Mr Puah asked students again what the instruction he gave was. "To go to the website and answer the questions," he said. "You did the right thing, like good students. But I hope this example helps you understand that sometimes, information that is given to you may not be real."
Programmes and lessons such as this history class are becoming increasingly relevant, with the formation of a Select Committee in Parliament tasked to look into the problem of deliberate online falsehoods. The committee has made an open call to all relevant stakeholders for their views, and the public have until the end of the month to submit their suggestions. Schools around the world have also been making headlines for teaching their students how to spot fake news online.
GOING ABOVE AND BEYOND
Information literacy, which helps students to discern the authenticity of digital information, is "infused into a variety of academic subjects" like English, History and Social Studies, the Education Ministry (MOE) told Channel NewsAsia. It is also taught in the cyber wellness syllabus for primary and secondary schools, as part of the Character and Citizenship Education curriculum.
MOE's cyber wellness framework has been implemented since 2008, it added, and it guides schools in the planning and implementation of their cyber wellness programmes. "The framework, in helping students become responsible digital learners, seeks to develop their instinct to protect themselves and empower them to take responsibility for their well-being in cyberspace."
Lessons cover topics like online identity and expression, handling online content and behaviour, which MOE says will help students learn to respect others online, develop an understanding of the risks of harmful and illegal online behaviours, and take steps to protect themselves.
But some schools, like Sembawang Secondary, have gone above and beyond the existing curriculum and made fake news a priority. The school has an Applied Learning Programme (ALP) in media literacy which was implemented in 2015. 
"Cyber wellness focuses more on the dangers of going online and can be a bit more focused on values, like cyberbullying," said Mr Puah, who was part of the team who piloted the programme in the school.  "But we don't just want our students to be aware of the dangers they face, we also want them to do well and help others."
"In other words, thrive rather than survive."
To that end, the school's ALP covers three main areas: Media reception skills, where students learn to discern fact from fiction, media creation skills like poster-making, video production and infographics, and digital productivity skills like learning how to use Google Docs to collaborate with friends. It spans across all levels and streams.
In a Secondary 2 class, for example, students learning about the Japanese Occupation would be given a list of truths and untruths, Mr Puah explained. "They would then need to go and figure out what's real and what's not, before they are then asked to come up with a digital exhibit on their findings."
It's also evident in their volunteer work. A recent Intergenerational Learning Programme for selected students required them to teach the elderly a particular skill. "In our school, we scoped it so that they taught something they were good in, which is media literacy and learning how to spot fake news," said Mr Puah. "As they think about to teach others, they also think more deeply about what they actually know."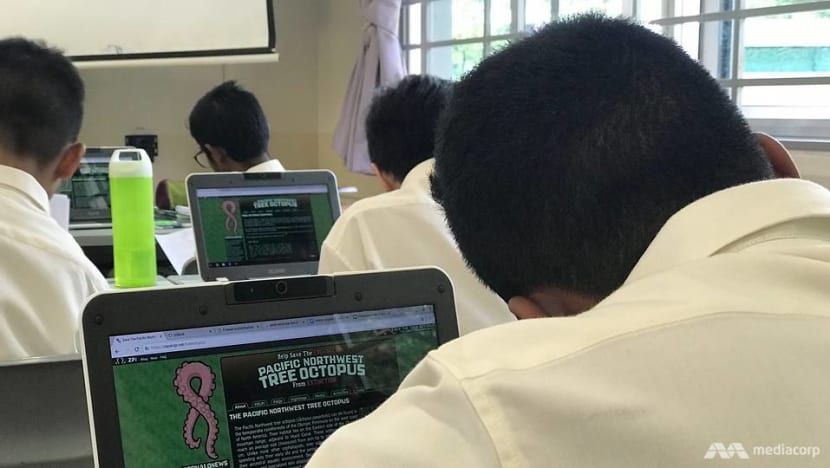 MORE SCHOOLS ASKING FOR PROGRAMMES ON FAKE NEWS
Non-profit agency TOUCH Cyber Wellness has been running cyber wellness programmes for schools since 2001. While the programme already teaches students to be careful in believing everything they see online, the agency's assistant manager Shem Yao noted that more schools have recently begun specifically requesting that they include a component on fake news in their programmes. 

"When we first started, a lot of our emphasis was on managing gaming addiction, and the consequences," he explained. "It has changed over the years to include social media engagement and the responsible use of social media platforms."
"We do touch on fake news sometimes, but we don't specifically focus on it," added Mr Yao. "For example, when we talk about social media and receiving content and updates through social media platforms, we also infuse that processing and verifying of content on social media platforms."
But with increased demand from schools, the agency is now working to develop a module that deals specifically with fake news. "We will finalise the details within the next month or two," said Mr Yao.
Looking forward, Sembawang Secondary is also looking to scale up their programme. "If the Select Committee proposes for more wide-ranging education initiatives, I think one area we can look at is to get more students involved in higher-level critical thinking, like in teaching the elderly," said Mr Puah. "The reality is, media literacy is not an official curriculum subject, so we only have 30 to 40 minutes of touchpoint."
"So we're looking forward to the Select Committee making its recommendations," he added.
And who knows, some of these recommendations could take inspiration from the students' themselves: As the history lesson drew to a close, a slide showing a picture of Law Minister K Shanmugam was flashed on the screen, together with screengrabs of recent news articles on the formation of the Select Committee.
"If you guys have been following the news, you will know that there's a committee in Parliament looking for submissions on how to tackle these online falsehoods," Mr Puah told his students. "So if you have any ideas, come and talk to me, and maybe we can work together and see how we can submit something."