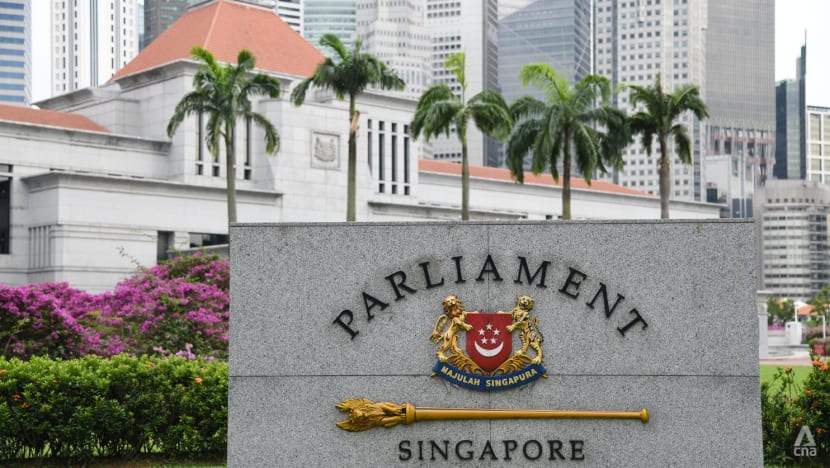 SINGAPORE: Integrity is the 'linchpin' of democracy, and Parliament must be respected and its members trusted for Singapore's system to function properly, said Prime Minister Lee Hsien Loong on Tuesday (Feb 15).
Describing Parliament as sitting at the "apex" of Singapore's system of democracy, Mr Lee said to fulfil its role, Parliament must be respected, and its members, processes and proceedings must be trusted.
He noted that "clear norms and incorruptible values" are essential to protect the dignity and standing of Parliament. 
"The system cannot work if the standing of Parliament is called into question. This is why we need to set the right norms of conduct among Parliamentarians, and guard them carefully. Tell the truth always, and do the right thing by Singapore, even when it is hard or awkward – in fact especially when it is hard or awkward," said Mr Lee.
Mr Lee was speaking in a debate on two motions addressing the final report by the Committee of Privileges (COP).
The two motions were related to the committee's recommendations relating to the fine for Ms Khan's lies in Parliament, and its suggestion to refer Mr Pritam Singh and Mr Faisal Manap to the public prosecutor for possible offences under the Parliament (Privileges, Immunities and Powers) Act. 
"If something goes wrong, or something wrong has been done, own up and take responsibility – do not hide, dodge, or spin further lies, to obfuscate and cover up the original fib," said Mr Lee.
In his speech, Mr Lee also said that integrity is key to democracy.
"The stakes of today's debate might have been lower if the Opposition were a negligible presence, as they were from 1966 until the 1980s. The PAP was overwhelmingly dominant, the public generally had low expectations of opposition parties and politicians, the tone of the country and its governance was set by the PAP, and the high standards that the PAP imposed on itself," Mr Lee said.
"But with Singapore heading towards a more contested landscape, the competence and honesty of the Opposition is no longer an inconsequential matter."
If the system is working properly, the governing party will be re-elected so long as it remains honest, competent, and trusted, noted Mr Lee.
"If the governing party falls short, and Singaporeans come to deem an opposition party more honest and incorruptible, more competent, and more trustworthy, then the governing party should be voted out, and that opposition party should be voted in, to form the next government," he added.
SINGAPORE NEEDS A "STRONG, EFFECTIVE AND GOOD GOVERNMENT"
In focusing on the COP's report, Mr Lee asked if it was possible to pretend that nothing had happened. 
"Or if that is too much to stomach, given the strong evidence laid out by the COP, perhaps we lower our standards just a little, note that untruths were told, but argue that it was after all not so serious a lie, and no harm was done?" he asked.
"If we do either of these things, we too would become complicit in dishonouring and demeaning Parliament. We must take the transgression seriously, and act on it."
While the COP could have recommended to Parliament to administer a "token slap on the wrist", that would show a very serious matter was taken "rather lightly", said Mr Lee.
"Worse, by lowering our norms, we would be telling Singaporeans that it is really not so bad for elected leaders to lie. Alternatively, the COP could have recommended that Parliament itself metes out an appropriately heavy penalty. This is something that Parliament has the power to do," he added.
"But had the COP recommended that, and Parliament decided on the penalty itself, the Opposition would surely have cried foul, and accused the PAP of using its majority to persecute the Opposition.
"In fact, they are already insinuating this, as a smokescreen to obscure the real issue – that the WP had lied while under solemn oath."
Mr Lee said he witnessed first-hand how the founding generation built up Singapore, and handed it over in "good shape".

"For me, this is a sacred trust. And it should be a sacred trust too, for every MP. We must all never fail to serve Singaporeans to the best of our ability, responsibly and honestly, and uphold this institution of Parliament, as the foundation of a robust and healthy democracy," he said.
In his speech, Mr Lee also quoted former British Prime Minister John Major, who spoke recently about the cynicism in the UK towards politics, saying that "lies are just not acceptable" because "if trust in the word of our leaders in Parliament is lost – then trust in government will be lost too".
While his job as party leader is to make sure the PAP governs well to the best of its ability so that it retains the mandate of the people for as many elections as possible, Mr Lee said he also bears a responsibility as leader of Singapore.
He added: "My duty as the leader of the country is also to maximise the chances that whichever party wins future elections, it will uphold and be held to the same high standards of proper conduct and honesty as the PAP, so that our democratic system can continue to operate properly, whichever party is in charge, and won't go down the drain.
"Because a small island city-state like Singapore – the only one in the world like this – needs a strong, effective and good Government, whoever leads it.
"With our lives and future at stake, everyone participating in the system must be held to the same standards," he said. 
Integrity is the 'linchpin' of democracy, and Parliament must be respected and its members trusted for Singapore's system to function properly, said Prime Minister Lee Hsien Loong on Tuesday (Feb 15). Gwyneth Teo with more.