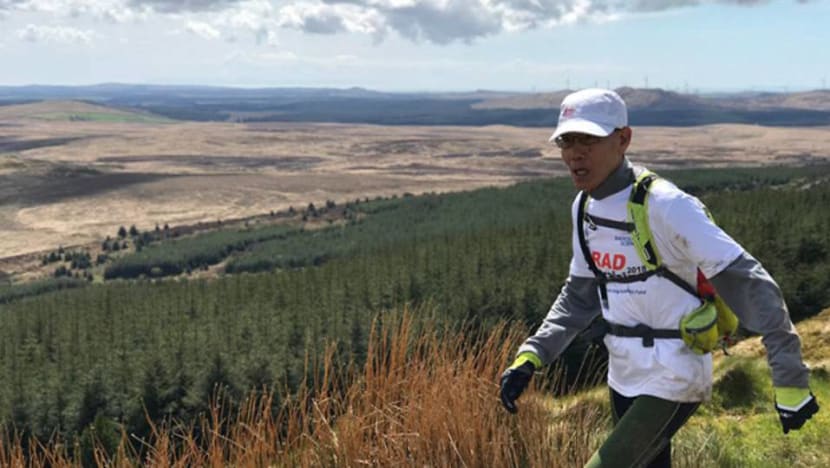 SINGAPORE: Singaporean ultramarathoner Lim Nghee Huat will be traversing Scotland from its west to east coast starting Saturday (Aug 18) - running a total of 345km - as he raises funds for radiological research and education.

The 65-year-old is seeking to raise S$250,000 for the Tan Kim Ping Academic Fund, which is under the SingHealth Duke-NUS Radiological Sciences Academic Clinical Programme, and supports the research and education initiatives by the Radiological Sciences faculty.

"I chose to run for Radiological Sciences because I feel that it is a discipline that does so much, but which many members of the public are not familiar with," Mr Lim told Channel NewsAsia. "For example, many people are familiar with x-rays and scans - but the depth and breadth of this discipline are quite amazing."

Launched this year, the fund is named after Dr Tan Kim Ping, a pioneer of Radiological Sciences in Singapore. 

Lim, who is a Chinese current affairs editor at Mediacorp, has been running to raise funds for charity for 12 years.

This year's race will see participants following Scotland's Southern Upland Way from Portpatrick to Cockburnspath. All runners will have to complete the race within 100 hours. 
Mr Lim, who also participated in Ultra Great Britain in 2016 and 2017, when the race was held in England, hopes to finish it within 90 hours.
"In 2016, I ran 320km in 81 hours, and I hope to beat that for this year's race. However, (if) I can come in within 90 hours, I'll happy too. This is the longest distance I have tackled after all," explained Mr Lim.

"We are extremely privileged to have such a prominent runner race for our cause," said Professor Tan Bien Soo, academic chair of the Radiological Sciences Academic Clinical Programme. "Mr Lim's passion and spirit to selflessly raise funds for charity is a true inspiration."

To cheer Mr Lim on, more than 500 SingHealth and Duke-NUS staff, their family and friends will gather for a non-competitive 3.45km run at Punggol Waterway Park on Sunday. The RAD Race will be held in tandem with the Ultra Great Britain. 
"I have been blessed to be able to run for good causes with much support and encouragement since 2005, I hope to be able to contribute more and also to motivate people to take up exercise as part of their lifestyle," added Mr Lim.