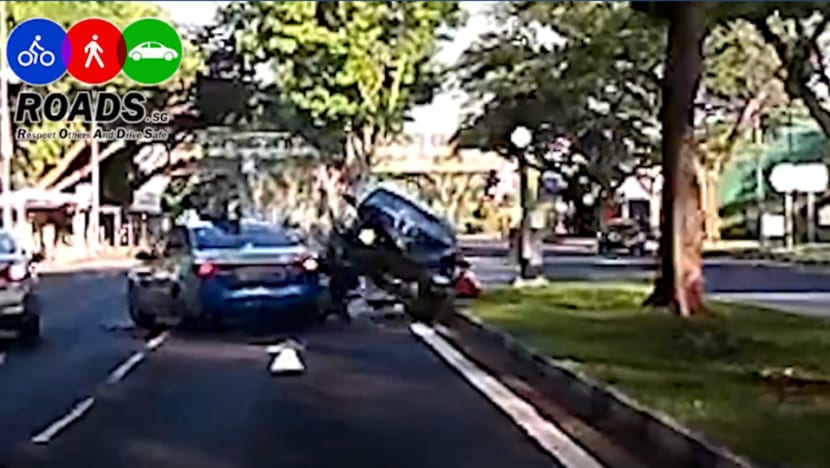 SINGAPORE: An underage driver who dishonestly rented a car and collided with a motorcycle, killing its pillion rider, pleaded guilty on Monday (Aug 13).
Ong Han You, who is now 20, admitted to three charges of negligent driving causing death, failure to render assistance and cheating. Five other charges will be taken into consideration for sentencing.
On May 21, 2016, Ong, then 17, was driving his 15-year-old girlfriend home at about 8am. He had asked a friend, Tan Jun Jie, to rent the car using another person's NRIC.
Ong was driving behind a motorcycle when it came to a stop at a red light at the T-junction of Ang Mo Kio Avenue 5 and Ang Mo Kio Industrial Park 2, court documents said.
Ong lost control of his car when his right hand slipped off the steering wheel. The car collided forcefully into the rear of the motorcycle, flinging both the motorcyclist and his 45-year-old pillion rider off.
After crashing into the motorcycle, Ong's car continued to surge forward into the rightmost lane of Ang Mo Kio Avenue 5, towards Upper Thomson Road and against the flow of traffic.
The vehicle collided with the front of a taxi before stopping.
After the accident, Ong alighted from his car and saw the pillion rider, Madam Lau Lee Kiaw, lying on a grass patch breathing heavily.
He called out to her and observed that she was injured and could not respond to him. After this, he abandoned the rented car and left the scene with his girlfriend, flagging down a taxi and leaving in it "as he was afraid of the consequences of his actions", court documents said.
Madam Lau, the mother of two children, was taken to hospital along with the motorcyclist, who was her fiance. The taxi driver was also taken to hospital.
Madam Lau died later that same day, with an autopsy report certifying her cause of death as blunt force chest injuries.
Later that day, Ong surrendered himself to the police after receiving a call from Tan, who said he had been contacted by the police.
HE PICKED UP A DRIVING LICENCE, NRIC NEAR A CLUB
Investigations revealed that Ong had picked up a wallet containing a driving licence and NRIC near a club in December 2015.
In March 2016, he asked Tan to rent a car on his behalf. Tan, who is now 22, used the NRIC and driving licence to rent a car from a rental company called Rent My Car.

On Monday, Deputy Public Prosecutor Teo Lu Jia asked for a total sentence of 13 to 15 months' jail, and a driving ban of eight years.
She said that the offences committed were very serious, and that Ong had "embarked on a deliberate course of action", choosing to cheat the car rental company, driving a car while unqualified and fleeing when the accident occurred.
She also said that the car was essentially a "lethal weapon" in his hands.
Ong's defence lawyer R.S. Wijaya asked for his client to be sent to a reformative training centre instead, and said that the prosecution's recommended sentence would have "a crushing effect" on Ong, the youngest of three children.
"Being a minor, at 17, I don't think he thought that the car (was an) unstoppable lethal weapon," said Mr Wijaya. "I think he can be rehabilitated."
He added that Ong, who has served a year of National Service, was "an excellent and motivated soldier".
He said in his mitigation plea that "there is no doubt that this tragic episode will haunt the accused forever", and asked the court to "temper justice with mercy".
District Judge Jasvender Kaur adjourned the case to next week for sentencing and called for a reformative training report.