The Big Read: With vaping increasingly rampant among youths despite ban, what more can authorities do?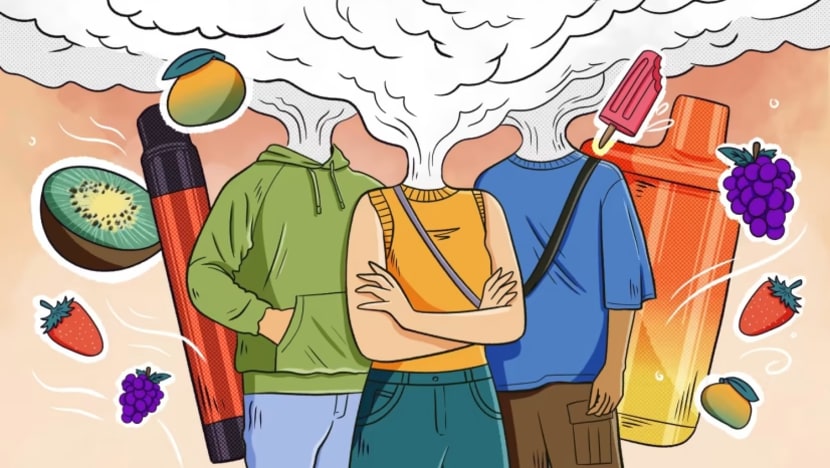 While there are no official statistics on how many people in Singapore currently vape, indications are that the number has gone up over the past few years, particularly among youths
Even though vaping is illegal, youths told TODAY they vape for a variety of reasons, including ease of access, lower cost compared to cigarettes and the impression that "everyone" does it
While some youths believe vaping to be healthier than smoking, experts said that the science on this is still inconclusive and vaping is certainly harmful
Youths interviewed said that even if enforcement is tightened, they will still continue vaping in some capacity, highlighting the mammoth task the authorities have in stamping out the habit
While the youths would prefer that the government legalise and regulate vaping, experts and Members of Parliament say that it will be an irreversible process that could lead to a slippery slope
SINGAPORE: When Henry first started using electronic vapourisers, or vapes, back in 2020, it was because it "seemed easier to hide" and "tasted better" than normal cigarettes. 
While the 28-year-old was already a smoker, the COVID-19 measures imposed then meant that he had to stay at home most of the time, in close proximity with his family.
In those few months, his vaping device — which along with all vaping related-products are banned in Singapore — came in handy. 
"I definitely vaped more during the circuit breaker, because my family doesn't know I smoke, so it's a bit strange to just go out randomly for a smoke break," said Henry, who works in publishing. 
"I could just vape in my room, and no one will know." 
Henry is far from being the only user of vape here, with the illegal practice attracting more and more young people here. 
TODAY spoke to 11 "vapers" between the ages of 20 and 28, all of whom, including Henry, were given pseudonyms, as they are aware that what they are doing is against the law.
The handheld battery powered device, which looks like a highlighter pen or pod, works by inserting a pod of vaping liquid into it, which comes in a variety of different flavours. 
From the liquid, the vape then creates an aerosol that looks like water vapour, but contains nicotine, flavouring, and other chemicals. Users then inhale the aerosol, and the nicotine and chemicals pass into the bloodstream.
They exhale the remnant vapours, which has the appearance of mist, and while this vapour is sweet smelling, the scent does not linger on clothes. 
Vaping became popular around the world in the early 2010s. While there are no official statistics to show how many people in Singapore currently vape, indications are that the practice has been growing in popularity over the past few years, particularly among youths. 
Last year, the Health Sciences Authority (HSA) caught 4,916 people for vaping, an almost fourfold increase compared with 1,266 people in 2020.
The increasing prevalence of vaping is not only confined to those above 21, the legal smoking age, but has also seen children and teenagers pick it up as well. 
The Ministry of Education (MOE) said last year that the number of students caught for smoking and vaping offences was at about seven for every 1,000 students over the past three years. 
The number might well be larger, as there are students who have never been caught vaping. 
This was the case for Sarah, who began vaping in 2020 during her first year of junior college, when she was 17. She had already been smoking at that time, but found it hard to get her hands on cigarettes as she was underage, and noticed that the smoke left a smell on her clothes that was easy for her teachers or parents to detect. 
With vaping, she did not have these issues, as there was virtually no smell left behind by the vapour, and the small device was easy to conceal. 
"I think vaping is way more accessible, when you're purchasing them, the sellers don't really ask for IC," she added. 
Now that she is 20 and in university, Sarah still finds herself vaping "all the time", whenever she has free time alone, or in private social settings. 
Then there is Joseph, 23, who has vaped for about seven years, and in 2020 decided to sell vape products as well.
The university student said that he had observed that vaping was getting more popular in Singapore, with more of his peers doing it and more online channels popping up, such as on Telegram where vape products were being sold. 
Thus, he began to buy products in bulk from a local supplier, and would sell them for a profit to friends or friends of friends through word of mouth. 
Joseph stopped selling the products about a month ago, but not because he was afraid of getting caught. The logistics of arranging the sales became too much of a hassle, he said. 
However, his "side hustle" had earned him an average of about S$500 to S$600 (US$375 to US$450) a month over the past three years. 
"In the black market, vape selling is one of the most profitable businesses around," Joseph said. 
The likes of Henry, Sarah and Joseph show that despite the government's ban on vaping products in 2018,  the vaping "scene" is very much alive and thriving. 
In turn, the government has taken or is considering firmer action against offenders.
Earlier this month, over 85,000 e-vapourisers and components were seized in the authorities' largest haul to date.  
While the Singapore authorities are sticking to their zero-tolerance stance towards vaping, this is not the case around the world. 
For instance, Britain announced this week that up to 1 million smokers will be encouraged to swap cigarettes for vapes in a bid to encourage them to quit smoking. 
Agreeing with this approach, vapers whom TODAY spoke to say that legalising vaping while regulating it is a move worth considering, as it could encourage more responsible vaping through setting a minimum age, as well as allowing only certain "healthier" vape products to be sold. 
However, addictions experts said that the notion that vaping is a "healthier" alternative to smoking is not sufficiently backed up by scientific evidence, since the phenomenon is relatively new. 
There have also been concerns raised that the channels used to distribute of vapes may be part of a wider network that can possibly be tapped by organised crime syndicates for other illegal businesses, as highlighted in this commentary in TODAY.
Members of Parliament (MPs) whom TODAY reached out to also cautioned that if the authorities do not clamp down on vaping now, the act may become "entrenched" in society and affect even more people. 
"Legalising vaping is something I would not advocate as it can lead to greater take up rate of vaping usage," said MP Saktiandi Supaat (PAP-Bishan-Toa Payoh). 
"It is cheaper than tobacco, has higher risk of having higher nicotine amounts, health risks of various chemicals and compounds and (is an) easy access for youths to be addicted and be introduced to other substances going forward," he added. 
IS VAPING HEALTHIER THAN SMOKING? 
With the long-term health effects of vaping still not fully understood, the vapers whom TODAY spoke to all agreed that vaping in general could be detrimental to their health, but were split about whether vaping is a healthier alternative to smoking cigarettes. 
Richard, who works in advertising, claimed that vaping is "very much healthier than smoking". 
"When I smoke cigarettes, I feel a severe reduction in my sports performance, whereas when I vape, I hardly feel any effects," said the 28-year-old. 
Agreeing, another 28-year-old vaper who vapes "every one to two hours" said he feels vaping is "lighter on the lungs" compared to smoking cigarettes. 
However, some other vapers said that they either are not aware if vaping is healthier than smoking, or acknowledged that the ease of access to vaping means that they are more exposed to it compared to smoking. 
"I don't believe it is a healthier outlet," said Henry. "My mindset is that I'm not a heavy vaper, so it can't be that unhealthy." 
Sarah, the vaper since 17, said that she likely takes in more harmful chemicals now due to the frequency in which she vapes, which is  "all the time". 
"To me, if you don't think about it, then it doesn't matter," she said. "I just won't think about whatever is inside (the vapour)." 
According to addiction experts and smoking cessation counsellors, the health benefits that vaping has over smoking is unknown at best. 
A study by researchers from Johns Hopkins University in 2021 found that vaping aerosols contain thousands of unknown chemicals and substances not disclosed by manufacturers, including industrial chemicals and caffeine. 
However, Britain's National Health Service website details how vaping, though not completely harmless, is a viable strategy to help people quit smoking.
It claims that "nicotine itself is not very harmful" and has been used safely for many years in medicine to help people stop smoking. It said that e-cigarettes "do not produce tar or carbon monoxide, two of the most harmful elements in tobacco smoke". 
Local experts cautioned that the science is not conclusive. 
Smoking cessation specialist Sean Ang said that vaping is "definitely not healthy", and that while vaping, harmful chemicals are introduced into the vaper's body, nicotine being one of them. 
"These chemicals can increase a person's risk of getting respiratory and cardiovascular conditions (and) there are even reports of seizures happening."
Mr Ang added that since there is no regulation on vaping products, it is not known what the contents of the vaping pods are.
"The risks probably differ for different vaping products, but we don't know for sure," said Mr Ang, founder of Success Alliance Enrichment, which provides professional healthcare programmes in mental health, peer support and smoking cessation. 
Agreeing, Dr Lambert Low, a consultant at the National Addictions Management Service at the Institute of Mental Health (IMH), said that vapes contain nicotine which may be in a higher concentration than the one found in cigarettes.
"Nicotine is a highly addictive chemical and has been shown to be detrimental to the developing brain of adolescents," he said. 
The chemical predisposes them to cognitive impairments such as "problems with attention and memory as well as behavioural and emotional problems later on such as depression and anxiety disorders", Dr Low added. 
The Singapore government's stance on vaping
In Singapore, the importation and sale of e-cigarettes and vapes is banned under a blanket prohibition on imitation tobacco products.
In 2018, the ban was extended to cover the purchase, use and possession of such products as well. 
Explaining Singapore's stance on vaping, then-Senior Parliamentary Secretary for Health Amrin Amin said in 2019 that the comprehensive ban is intended to protect the public from the harms of emerging tobacco products. 
"We do not want new tobacco products to come into Singapore as they could become entrenched and drive up the overall use of tobacco in our population."  
He said that while there have been reports of vapes being a healthier alternative to smoking, e-cigarettes are "still unhealthy". 
Youths who have used e-cigarettes are more likely to become regular smokers, through a phenomenon called the "gateway effect", where e-cigarette users eventually transitioned to smoking cigarettes, or continue to use both tobacco products interchangeably as dual users, Mr Amrin said.
In response to a parliamentary question in February on the effectiveness of enforcement against vape users and distributors, the Ministry of Health (MOH) said that there has been a "worrying trend" in the increasing use of e-vapourisers both locally and globally, and that MOH is closely monitoring the use of vapes and reviewing the strategy against vaping. 
In March, it was announced in parliament that HSA and the National Environment Agency (NEA) are working on a cross-agency pilot programme to strengthen the current enforcement regime against the use of vapes.
Under the Tobacco (Control of Advertisements and Sale) Act, any person who is convicted of selling, offering for sale, possessing for sale, importing or distributing e-vapourisers, is liable to a fine not exceeding S$10,000 or to imprisonment for up to six months, or to both for the first offence. 
For the second or subsequent offence, a person is liable to a fine not exceeding S$20,000 or to imprisonment for up to 12 months, or to both. 
Those who are caught purchasing, using or owning an electronic vapouriser can be fined up to S$2,000 per offence.
WHY HAS VAPING BECOME MORE PREVALENT AMONG YOUTHS?
While vapers like Henry and Sarah mentioned factors such as ease of access and concealability, many others cited the relatively lower cost of vaping as the main reason for their habit. 
Those interviewed said that vaping costs about half of what they would have spent on traditional cigarettes.
For instance, one 25-year-old vaper said that he spends about S$10 for a box of three pods of vaping liquid, and in an average month, he uses three boxes or nine pods, spending about S$30. 
However, had he smoked traditional cigarettes, he estimated that he would have spent the same amount in about half the time, as he would have used about two cigarette packs in two weeks, spending about S$15 per pack. 
He recalled that when he started vaping seven years ago, vaping products were hard to come by, and one box of three pods could cost as much as S$30. But the price has since gone down threefold. 
"Vaping is honestly cheaper than smoking cigarettes now for sure," he said. 
And the reason vapes are getting cheaper is partly due to the inflow of vape products from overseas.
One 23-year-old vaper said that he will simply buy vape products from his friends who drive across the Causeway to Johor Bahru to purchase and bring them back to Singapore. 
"When you bring it through customs by driving in, it's easier to hide," he claimed, adding that vape products brought in directly from Malaysia are also cheaper than those obtained through a supplier in Singapore. 
The fact that many of the people around them vape has also normalised the entire habit for those interviewed by TODAY.
Most of the vapers estimated that about seven to eight out of 10 of their friends also vape. 
"Right now, I see friends vaping everywhere," said Richard. "I do see friends who have never smoked cigarettes before having their own vapes."
He added that the most common occasion to vape is during drinking sessions, even in public bars and clubs, as well as when they are hanging out at one another's homes. 
Costs aside, the attractive marketing of vaping products also serves to draw youths to the habit. 
"There's a reason why more people are vaping, it's trending, people on TikTok do all those tricks," said Sarah.
She was referring to certain influencers on the social media platform who have gained popularity through performing "tricks" with the vapour they exhale from vaping, such as forming shapes and patterns with them. 
Experts said that vape products are especially popular among young users as the devices and liquids have been designed and packaged specifically with them in mind. 
Addictions therapist Juliana Pang from Promises Healthcare said that vapes are perceived to be less harmful and less addictive than "other habits that a young person can experiment with when approaching adulthood". 
This is because the vapes are marketed with "many enticing flavours and sleek pen designs that present the young user with a cool, trendy image". 
"It is also accessible 24/7, and concealable due to its smokeless, mildly odourless quality, feeding our constant need for a dopamine hit," she added.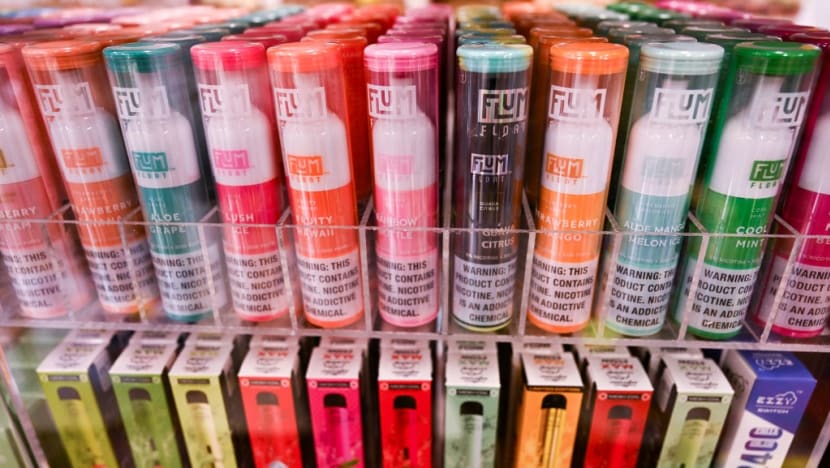 THE DIFFICULTY OF ENFORCEMENT 
While the fact that all vape-related activities are illegal is known to the vapers interviewed, all of them said that they will still continue vaping even if the authorities were to tighten enforcement. 
Henry said that should enforcement be stepped up, his only concern is that he "can't get goods anymore" if suppliers become more wary.
"But I'm not really concerned that I'll get caught, because I'm not like those people who do it so openly," he said. "You'll never catch me walking around and vaping freely." 
Sarah said she will just stop bringing her device out, in case she gets spot checked in public. 
"Whenever I vape, it will just be in my room," she said. 
Another vaper, who is in his 20s and works in the events industry, noted that when the ban was imposed in 2018, he was not even aware of it, as nothing seemed to have changed. 
"People were still able to get hold of vape in Singapore, and hence I don't think it was effective," he said. "So, even with the increase in enforcement, people will still find a way to smuggle or buy." 
Agreeing that clamping down on the vape issue will be challenging, MPs said that the focus should not only be on punitive measures and enforcement, but also on educating the public. 
MP Wan Rizal Wan Zakariah (PAP-Jalan Besar) said that public education on vaping can include raising awareness about the health risks of vaping, implementing stricter regulations on the marketing and sale of e-vapourisers and promoting "positive social norms that discourage vaping".  
"In addition, it is essential to adopt a combination of enforcement measures, education, and support from family and friends for those trying to quit vaping," he said. 
The MPs also added that further efforts to clamp down on vaping have to be a concerted effort between public and private stakeholders. 
While acknowledging that further details of the inter-agency task force have not been released by MOH, Mr Saktiandi, the Bishan-Toa Payoh MP, said he hopes to see some inter-ministry collaboration to tackle the complex issue. 
"It cannot be just MOH, it needs to be a whole-of-government effort."
For example, MOE could be involved in educating youth on the vaping issue, while sterner enforcement could come from the Ministry of Home Affairs, he suggested. 
Also, platforms where online sellers thrive, such as e-commerce sites, could be notified to clamp down on those selling vapes, Mr Saktiandi added.
In a response to a parliamentary question asked by Dr Wan Rizal in February on what measures have been put in place by schools and institutes of higher learning to address the issue of students vaping, MOE said that it works with HSA and the Health Promotion Board (HPB) to educate students on the harmful effects of using imitation tobacco products, including e-cigarettes and vapes. 
Other than educating students on Singapore's laws and regulations on vaping and its consequences, students in MOE schools also "learn to recognise impulsive and addictive behaviour and are equipped with skills to say 'no' to e-cigarettes and e-vaporisers as well as strategies for self-control and to manage negative peer influences", said MOE.
When students are caught using or possessing vapes, the prohibited product will be confiscated, their parents will be informed, and disciplinary action such as suspension, or caning for boys, will be implemented. They may also be placed on vaping cessation programmes by HPB. 
IS SINGAPORE'S POSITION ON VAPING TENABLE? 
Although the authorities are planning further action to curb the rising number of vape users, those interviewed still hope that the government will legalise vaping, even as they recognise the need to regulate it. 
Richard acknowledged that vaping is harmful to health and that the government has good reasons to ban it. But he said that since the current ban does not seem to stop most users from getting their fix, it is better to tackle the issue head on by actively regulating vaping.
"I imagine a scenario where vape prices are regulated, and everyone is as informed about it properly through education as we were with cigarettes when growing up; addressing the matter instead of avoiding it now," he said.
Agreeing, another 28-year-old vaper, who works in the finance industry, said that by regulating vapes and legalising their sale, there could be better due diligence, where identity cards are checked before purchase like with cigarettes, to prevent underage vaping.
He added that lifting the ban on vaping could also help with quality control, since most vapers now do not know the chemical composition of what they are buying. 
"If they legalise vaping, then HSA can actually have more quality control over what we buy, so the stuff that we vape is not unregulated, and we could get our hands on 'healthier' options versus those that are counterfeit," he said.
However, there are also those who are sceptical of government regulations, and prefer that the status quo remains so that they don't need to pay taxes on the product.
"If they regulate, prices could go up, and we may just end up paying exorbitant prices," said Henry.
The suggestions mooted by the vapers point towards the stance that parts of the world, like Britain, have adopted for the product. 
Even then, the legal status of vapes is currently pending in many countries, while some countries such as Thailand, Cambodia, Japan and India have completely banned vaping like Singapore. 
Experts cautioned against the irreversibility of legalising an inherently harmful product.
IMH's Dr Low said: "We need to maintain our stance for the sake of the health of our people due to the harms associated with its use."
Ultimately, he argued that vapes sustain an addiction to nicotine, but do not end it.
He added that rather than follow Britain's direction of using vaping to reduce smoking rates, Singapore is moving "in the right direction of reducing smoking rates through various policies of raising the legal smoking age, ban on point-of sale-display and using standardised plain packaging for tobacco products". 
Agreeing, Mr Ang, the smoking cessation specialist, said that Singapore has to make decisions based on "what is right for us", rather than cave in to what other countries are doing.
"Once you open the can of worms, you can't close it anymore," he said.
Similarly, Mr Saktiandi said that any decision to lift the ban on vaping will have "ramifications for generations even though it may seem trivial to do so at this point". 
He added that the long-term health issues from vaping can affect the current generation as they age, and incur "a cost to taxpayers in the future".
"I am inclined on balance to a decision where we can save more lives going forward, rather than to meet current pressures from vaping businesses and users," Mr Saktiandi said. 
This story was originally published in TODAY.
You may also be interested in: