Badminton: Loh Kean Yew is world No. 5 and Singapore's highest-ranked male player ever
"The job is not done yet, there are still tournaments coming up and I still need to … try my best to maintain or do better in my ranking," says Loh Kean Yew.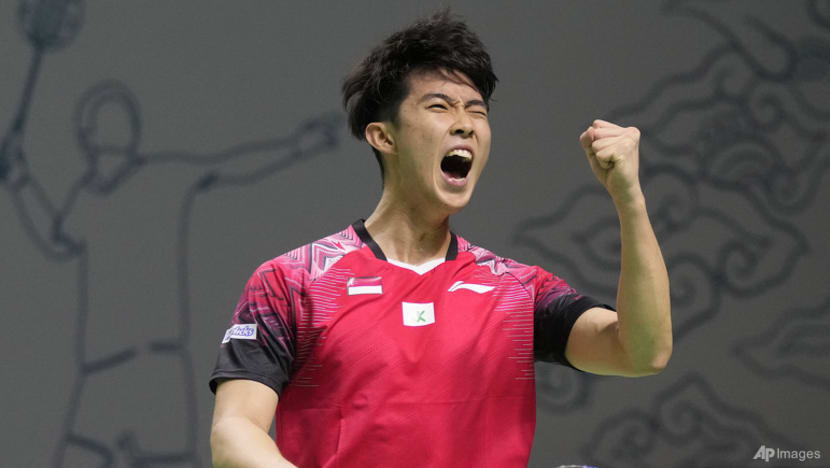 SINGAPORE: Singapore's 2021 badminton world champion Loh Kean Yew has entered the top five of global rankings for the first time in his career, making him Singapore's highest-ranked men's player ever. 
In the latest Badminton World Federation (BWF) rankings released on Tuesday (Oct 4), he rose two spots from seventh to sit in fifth place.
Previously, the highest-ranked men's singles player in Singapore was Ronald Susilo, who was placed sixth in 2004.
"My target was to get into (the) top five by this year-end and I'm happy to achieve it," said Loh.
"I hope to continue being consistent and strive for better results." 
Loh first moved into the top 10 of the world rankings earlier this year, after the Singapore men's team claimed bronze at the Badminton Asia Team Championships (BATC) in Selangor, Malaysia. 
Last year, Loh was ranked 39th before a string of sensational performances at the tail-end of 2021 propelled him up the rankings.
This was capped off in December when he made history as the first Singaporean to win the 2021 BWF World Championships men's singles title.
Loh's fairytale run at the tournament, which saw him beat the likes of Olympic champion Viktor Axelsen, also shot him to worldwide fame.
But Loh could not defend his title this year and was eliminated in the quarterfinals.
At the Southeast Asian Games in May, he settled for silver after losing 13-21, 13-21 to Thailand's Kunlavut Vitidsarn.
Loh's outing at the Singapore Badminton Open in July also came to a halt when he was defeated by Indonesia's Anthony Ginting in the semi-finals. 
He is slated to feature in the Denmark Open later this month, where he will face Thailand's Sitthikom Thammasin in his opening match.
When asked how he is coping with the added pressure amid higher expectations, Loh said: "I'm coping well so far. I am giving my all in every match and I'm trying my best every day even in training. I'm putting in the hard work while enjoying the process."
He added: "The job is not done yet, there are still tournaments coming up and I still need to focus on the upcoming tournaments and try my best to maintain or do better in my ranking."
Loh noted that he has a few back-to-back tournaments coming up - the Denmark Open, French Open and Hylo Open
"I'm preparing myself for one match at a time and (seeing) where it brings me," he said.
The title of Singapore's highest-ranked badminton player went to two-time Olympian Zarinah Abdullah, who reached third place in 1994. 
She is also Singapore's first professional female badminton player.
In the current women's rankings, Loh's compatriot Yeo Jia Min sits in 16th. 
Denmark's Axelsen os atop the men's rankings, with compatriot Anders Antonsen second and Malaysian Lee Zii Jia third.
Read this story in Bahasa Melayu here.