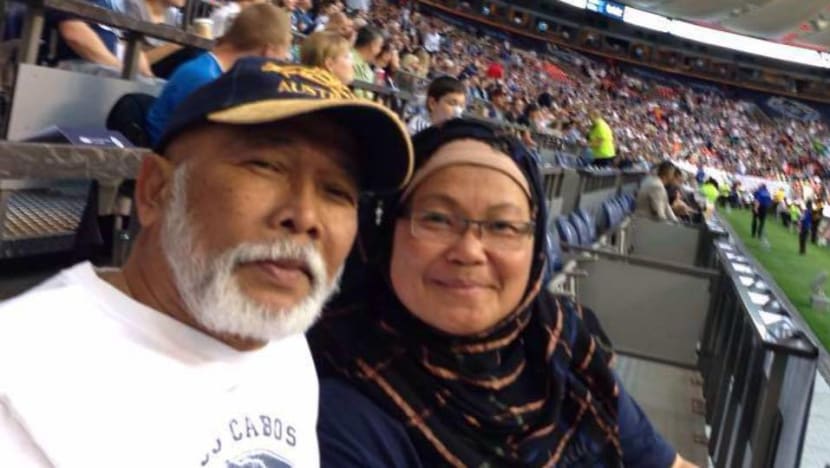 CHILLIWACK, Canada: Singapore football icon Arshad Khamis died on Thursday (Oct 11) at his home in British Columbia, Canada.
A prominent striker in his day, Arshad was a key member of the Singapore side that won the Malaysia Cup in 1977 and 1980, and also played for the Singapore Armed Forces Sports Association and Singapore Malays. 

Arshad's wife, Mil Khamis, told Channel NewsAsia he died peacefully at about 1.45pm on Thursday (5.45am Friday, Singapore time).  
Mil said she was preparing lunch at the time while Arshad was resting on the couch. She noticed that he did not respond when she called, and went to check on him. 
She then called the paramedics, who could not find a pulse. 
The cause of death was likely a heart attack, Mil added. Arshad, whose funeral will be held on Saturday, had just celebrated his 68th birthday on Sep 10.
According to Mil, Arshad last visited Singapore in February this year and they were booked to return to Singapore for another trip on Sunday. 
The trip was arranged to inform family and friends of their daughter's upcoming wedding in December.
Arshad reminisced about Singapore's footballing heyday of the 70s in a rare interview two years ago.  

"We were amateurs, but football then was at a frenzy and footballers worshipped like idols," Arshad told Sports247 in 2016.
"But sometimes when I think of the Kallang Roar, the magical cries from football fans of the 1970s, there's a glimmer of wonder in my eyes and I look back to the best Singapore memories more passionately."

Arshad migrated to Canada in 1992, aged 42, where he worked as a technician.

MINUTE'S SILENCE BEFORE SINGAPORE'S FRIENDLY WITH MONGOLIA: FAS 
In a statement issued on Thursday, the Football Association Of Singapore (FAS) said it was saddened by Arshad's death.
"Arshad represented Singapore in the 1970s and 80s, playing for the late Uncle Choo Seng Quee and Jita Singh. He was a prolific striker in his heyday, playing alongside the late Dollah Kassim and Samad Allapitchay, and inspired generations of footballers," said FAS.
"Featuring in the Malaysia Cup, Thailand's King Cup and the Southeast Asian Games (then known as the South East Asian Peninsula Games), among other international tournaments, he was known for his powerful shooting capabilities from long range.

"Our thoughts are with Arshad's family in this difficult time."
A one-minute silence will be observed before the international friendly between Singapore and Mongolia at Bishan Stadium on Friday.

Arshad is survived by his wife, three children and seven grandchildren.