2024 White House bid: Former US president Trump's 'toxic politics' unpopular, say analysts
Many Republican leaders and voters seem to have "Trump fatigue", and are tired of the constant chaos surrounding the former US leader, said one analyst of Mr Trump's 2024 White House bid.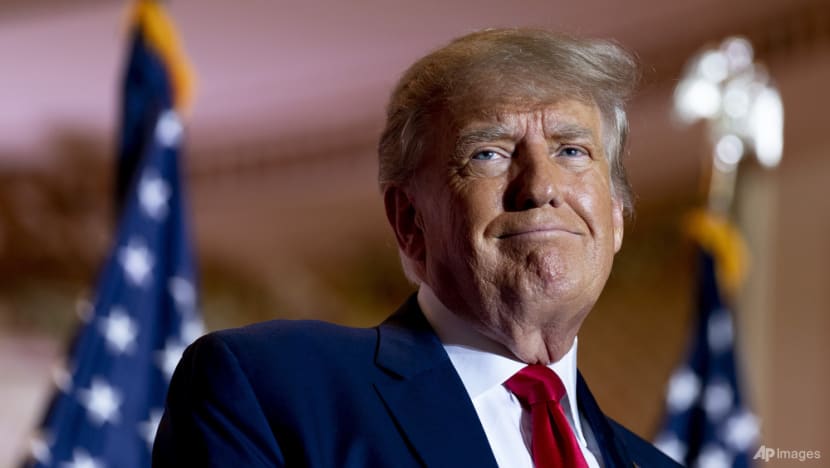 SINGAPORE: Former United States president Donald Trump will likely face a tougher battle in his latest White House bid, with some Republican leaders and voters already weary of his "toxic politics", said observers.
His popularity is sliding and it will be much harder for him to run this time, analysts told CNA on Wednesday (Nov 16). 
Mr Trump, who faces scrutiny from within his own party, announced on Tuesday – just a week after the midterm elections – that he is entering the 2024 US presidential race. He is seeking a potential rematch with Democratic President Joe Biden. 
"It's going to be harder for him to mount a successful campaign this time, especially when you have quite a number of donors, GOP leaders, and voters saying that they do not want the toxic politics," said Ms Angela Mancini, partner and head of Asia-Pacific Markets at strategic consulting firm Control Risks. 
"They want the platform and the policies, (but) they don't want the toxic politics that we saw with Donald Trump."
Exit polls have shown that some Republican voters like his record and policies, but are turned off by his personality, she added. "It's too narcissistic."
Mr Robert Daly, director of the Wilson Center's Kissinger Institute on China and the United States, said: "Clearly, a lot of people seem to have 'Trump fatigue'. They're simply tired of the constant chaos."
TRUMP-ENDORSED CANDIDATES STRUGGLED IN MIDTERMS
In the recent midterms, Trump-backed candidates in competitive races have underperformed. 
"The Republican voters did not come out for his handpicked candidates," said Ms Mancini, adding that these candidates, instead, got the negativity of being associated with Mr Trump. "So it's a real question, I think, as to how big is his base really?"
Mr Daly, who has served as a US diplomat in Beijing, added that there is "a consensus within the Republican Party that Trump this time backed a lot of very poor candidates …"
"He backed people who were going to claim that the previous election was stolen. There's no evidence of that. And he backed people with little political experience and those people have now been rejected," he said. 
"Does that indicate that they would reject Trump as well? We don't know. But he clearly doesn't have quite the purchase that he had with the Republicans several years ago."
WHY ANNOUNCE PRESIDENTIAL RUN NOW? 
Ms Mancini believes Mr Trump is trying to fire up his support base and preempt potential Republican rivals with his announcement to run again for the White House. 
"I also think he's looking at his legal cases. I think he is, I would assume, quite disturbed by the press coverage that has been coming out about him following the midterms, including from supporters," she said. "Indeed, he is seeing that his popularity is sliding." 
Instead of holding off from announcing his third run for presidency, the former US leader, very much wanting to stay relevant, "stepped right back into the limelight, albeit with a bit more lacklustre energy and support from the crowd that we've seen in the past", she added.
However, some GOP megadonors are backing a "more promising" crop of Republican presidential candidates for the White House in 2024. These likely contenders include Florida governor Ron DeSantis and Virginia governor Glenn Youngkin. 
In particular, Mr Trump faces a formidable rival in likely candidate Mr DeSantis, said Mr Daly. 
There are many senators and governors who might throw their hats in the ring, but most probably do not want to run against Mr Trump, he added.
"So they may see how things go between Trump and DeSantis now, and hold on to see whether Trump is going to be the favourite candidate. If he isn't, if DeSantis does well, you can expect to see more Republicans also getting into the competition."
Pointing out that 2024 is "a long ways away", Mr Daly said: "I think what we'll see initially is a battle within the Republican Party to decide what direction it wants to take."
WILL REPUBLICANS' UNDERWHELMING MIDTERM SHOWING HURT WHITE HOUSE BID?
The US midterm elections, where an expected "red wave" failed to materialise, is not a great predictor of where the country will be two years from now, said Mr Daly. "That's a long time in politics."
While President Biden has a strong track record to run on, the US is heading into the unknown with plenty of dark clouds, including high inflation and a looming global recession. Many Americans are also concerned about crime and immigration issues. 
"America faces continued deep divisions politically across the country," added Mr Daly. "And we face real problems both domestically and internationally. 
"So it's really much too soon for any meaningful prediction."