What is the new COVID-19 variant XBB1.5 and should we be concerned?
The latest Omicron subvariant XBB1.5 is more contagious due to mutation that allows the virus to adhere to human cells and replicate easily.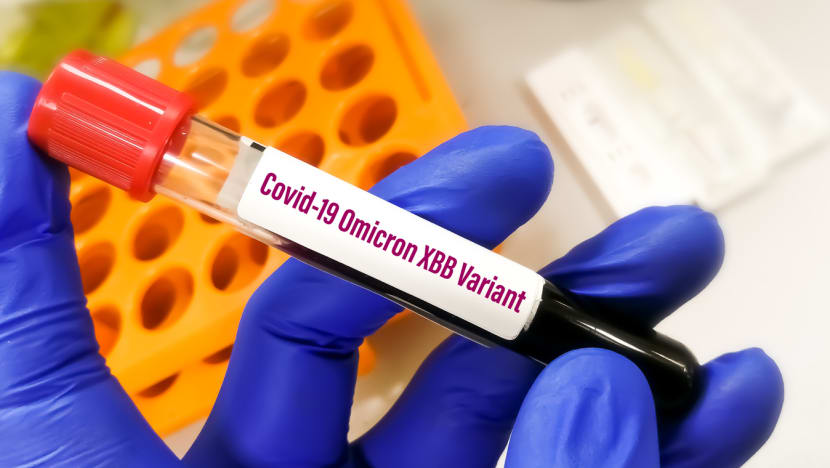 A new COVID-19 variant spreading fast in the United States and parts of Europe is leading to concerns about a surge in infections but experts say the strain, while highly contagious, does not appear to make people sicker.
The latest Omicron sublineage XBB1.5 is the "most transmissible subvariant that has been detected yet," said a World Health Organization (WHO) official on Wednesday (Jan 4).
However, there is no indication that it is more severe than previous versions of Omicron, said infectious disease epidemiologist Dr Maria Van Kerkhove, the WHO's COVID-19 technical lead.
Scientists are continuing to gather data and analyse XBB1.5, but major concerns will only arise if the subvariant changes in behaviour and leads to widespread and more serious symptoms, experts said.
"I don't think we should be overly concerned at the moment because we don't have any evidence that this variant is more severe," said Professor Ravindra Gupta from the University of Cambridge.
 
The number of infections in the US has been doubling every two weeks, and XBB1.5 is now the most common variant in the country, said US media.
The WHO said the subvariant has been detected in at least 29 countries so far, and warned about its growth advantage due to its highly transmissible nature.
WHY IS XBB1.5 MORE TRANSMISSIBLE?
XBB1.5 is more contagious due to mutation that allows the virus to adhere to human cells and replicate easily.
Mutation in the building blocks within XBB1.5 increases the ability of the virus to latch on tighter to human cells and attack them, Prof Gupta told CNA938 on Thursday.
The mutation also helps the virus evade antibodies – proteins from vaccination or produced by the body after a previous infection – that protects human cells by identifying and neutralising foreign invaders like bacteria and viruses.
Usually, mutations which enable viruses to avoid antibodies, such as that of parent variant XBB, renders the virus unable to bind itself to human cells as effectively, the clinical microbiology professor said.
XBB1.5 has managed to do both. 
"XBB1.5 has managed to find a resolution by achieving both goals to (simultaneously) evade immunity and increase infectiousness," Prof Gupta explained.
WHAT ARE THE SYMPTOMS?
The WHO does not have any solid data yet on the severity of XBB1.5. Experts believe symptoms are very similar to other Omicron variants.
Those infected can expect to experience symptoms including runny nose, sore throat, cough, headaches and fever, said Prof Gupta.
Standard testing kits such as the Antigen Rapid Test (ART) are expected to be able to detect the XBB1.5 as part of the COVID-19 family and results should return positive, he said.
WILL VACCINES PROTECT AGAINST XBB1.5?
Prof Gupta believes that vaccination continues to be the key to protect against the latest strain.
"The evidence suggests that the bivalent boosters elicit really nice, strong antibody responses against Omicron subvariants including BA.4 and BA.5," he said.
"The XBB is kind of an offshoot of the BA.2 lineage, which is slightly older but we believe that there should be good protection offered by booster vaccination."
Increased levels of antibodies in the blood and respiratory tract brought about by vaccines can tackle the virus more effectively, leading to milder symptoms even if infected, Prof Gupta said.
"Even if the coronavirus is immune evasive, these very high levels of antibodies will have some effect in limiting the chance of festival infection and also the chance of severe disease," he said.
WHO IS AT RISK OF XBB1.5?
While most of the population do not need to be alarmed by the latest strain, the subvariant's increased transmissibility should be of concern to vulnerable groups, said Prof Gupta.
These include the elderly, those with underlying conditions, and those medically ineligible for vaccination.
Individuals undergoing treatment or medication that dampen their immune system, such as chemotherapy, are also at higher risk.  
Being infected could implicate their conditions or cause more severe symptoms, he said.
CAN XBB1.5 CAUSE ANOTHER VARIANT?
Unfortunately, XBB1.5, which is expected to spread worldwide, will provide opportunities for the virus to mutate, said Prof Gupta.
There is also a higher chance of new variants arising from individuals with chronic infection, who may be immunosuppressed and take longer or are unable to recover.  
"During that chronic long term infection, the virus is basically evolving within the person to escape antibodies and to make itself as infectious as possible," said Prof Gupta.
"And so the more infections there are globally, the more chances of these rare chronic infections happening. So that's the main issue we face at the moment," he said.