What's in the unsealed Trump indictment and what next in the secret documents case?
Former US president Donald Trump faces 37 separate counts, including 31 counts of "willful retention of national defence information" relating to specific documents.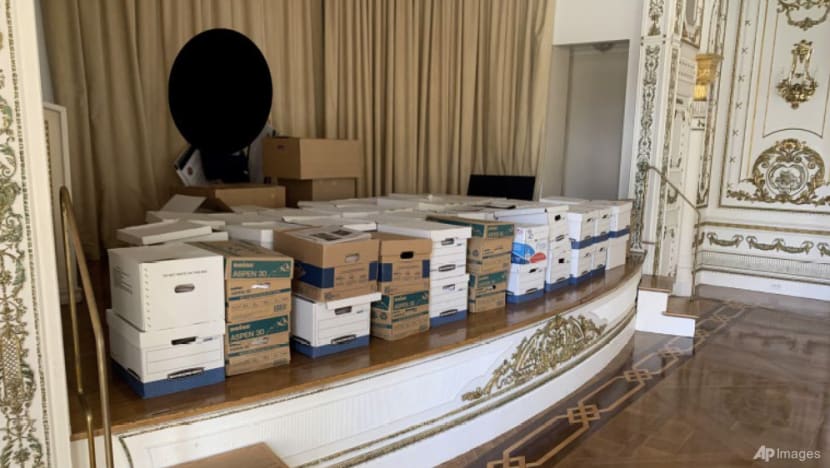 Donald Trump's indictment on charges of mishandling classified documents at his Florida estate has brought renewed attention to one of the most notable cases in Justice Department history.
The federal charges represent the biggest legal jeopardy so far for Trump, coming less than three months after he was charged in New York with 34 felony counts of falsifying business records.
Here's a look at the charges, the special counsel's investigation and how Trump's case differs from those of other politicians known to be in possession of classified documents:
WHAT ARE THE CHARGES?
Trump faces 37 separate counts in the indictment, including 31 counts of "willful retention of national defence information" relating to specific documents. A conviction on each count carries up to 10 years in prison.
Trump announced on his social media site Truth Social on Thursday night that DOJ lawyers had informed his legal team that he had been indicted. He said he is due in court in Miami on Tuesday afternoon.
HOW DID THIS CASE COME ABOUT?
Officials with the National Archives and Records Administration reached out to representatives for Trump in the spring of 2021 when they realised that important material from his time in office was missing from their collection.
According to the Presidential Records Act, White House documents are considered property of the US government and must be preserved.
A Trump representative told the National Archives in December 2021 that presidential records had been found at Mar-a-Lago. In January 2022, the National Archives retrieved 15 boxes of documents from Trump's Florida home, later telling Justice Department officials that they contained "a lot" of classified material.
That May, the FBI and Justice Department issued a subpoena for remaining classified documents in Trump's possession. Investigators who went to visit the property weeks later to collect the records were given roughly three dozen documents and a sworn statement from Trump's lawyers attesting that the requested information had been returned.
But that assertion turned out to be false. With a search warrant, federal officials returned to Mar-a-Lago in August 2022 and seized more than 33 boxes and containers totalling 11,000 documents from a storage room and an office, including 100 classified documents.
In all, roughly 300 documents with classification markings - including some at the top secret level - have been recovered from Trump since he left office in January 2021.
One photo included in the indictment shows boxes allegedly containing classified documents being stored in a bathroom at Mar-a-Lago, where events and gatherings took place. Some documents were stored in a ballroom, another photograph showed.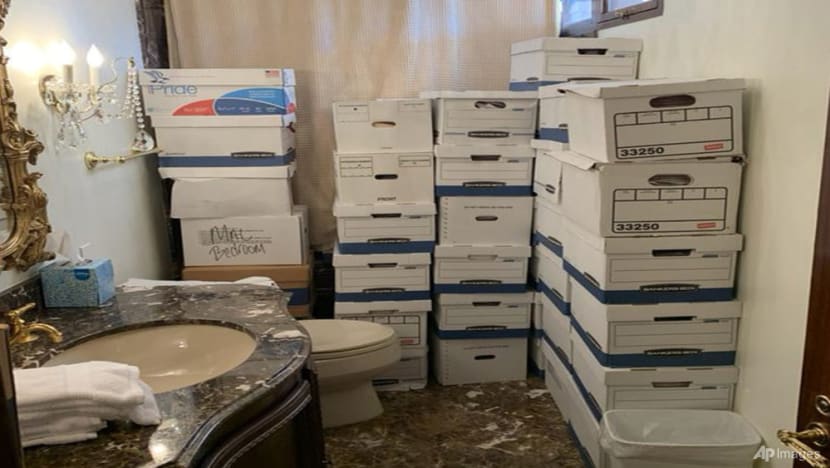 HOW SECRET WERE THE DOCUMENTS?
The documents, according to the indictment, included details about US nuclear weapons, spy satellites and the US military. They were produced by the Pentagon and arms of the US intelligence community, including the CIA, the National Security Agency, the National Reconnaissance Office and other agencies.
"The unauthorised disclosure of these classified documents could put at risk the national security of the United States, foreign relations, the safety of the United States military, and human sources and the continued viability of sensitive collection methods," the indictment said.
A document marked TOP SECRET/////ORCON/NOFORN concerned "nuclear capabilities of a foreign country", the indictment said.
ORCON means that the material in the document cannot be disseminated outside the US government department that originated it without prior approval.
Another document marked TOP SECRET//SI//NOFORN//FISA concerned "military capabilities of a foreign country and the United States, with handwritten annotation in black marker", according to the indictment.
NOFORN means the document cannot be shared with a foreign government. FISA refers to the Foreign Intelligence Surveillance Act and means the material is from intercepted communications.
There were six top-secret documents marked TK, standing for Talent Keyhole, a classification for materials related to US spy satellites.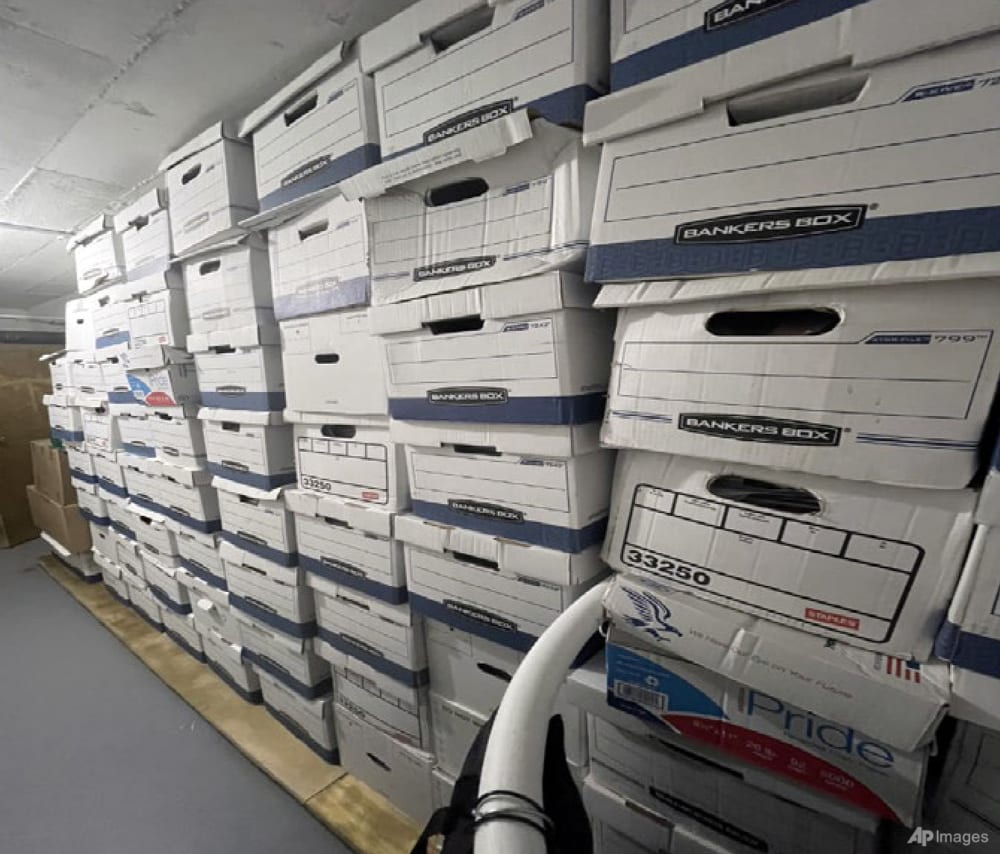 WERE THE DOCUMENTS SHARED WITH OTHERS?
During a July 2021 interview with a writer at his Bedminster Club in New Jersey, Trump allegedly described a "plan of attack" against another country that a military official had drawn up. Trump said the information "is like, highly confidential" and that he could have declassified it as president, but no longer could. The exchange was recorded, the indictment says.
In a meeting later that year at Bedminster, Trump allegedly showed a representative of his political action committee a classified map of another country in discussing an ongoing military operation there.
After receiving a grand jury subpoena in May 2022 requiring him to produce all documents with classified markings in his possession, Trump allegedly directed his aide Walt Nauta to remove 64 boxes of documents from a storage room at Mar-a-Lago to Trump's residence.
Before Trump's lawyer arrived at the club to conduct a search of the storage room in response to the subpoena on Jun 2, Nauta spoke with Trump on the phone and then moved 30 of those boxes from Trump's residence to the storage room, according to the indictment.
HOW DID A SPECIAL COUNSEL GET INVOLVED?
Last year, US Attorney General Merrick Garland picked Jack Smith, a veteran war crimes prosecutor with a background in public corruption probes, to lead investigations into the presence of classified documents at Trump's Florida estate, as well as key aspects of a separate probe involving the Jan 6, 2021, insurrection and efforts to undo the 2020 election.
Smith's appointment was a recognition by Garland of the politics involved in an investigation into a former president and current White House candidate. Garland himself was selected by Democratic President Joe Biden, whom Trump is seeking to challenge for the White House in 2024.
Special counsels are appointed in cases in which the Justice Department perceives itself as having a conflict or where it's deemed to be in the public interest to have someone outside the government come in and take responsibility for a matter.
According to the Code of Federal Regulations, a special counsel must have "a reputation for integrity and impartial decisionmaking," as well as "an informed understanding of the criminal law and Department of Justice policies".
DIDN'T BIDEN AND FORMER VP MIKE PENCE HAVE CLASSIFIED DOCUMENTS, TOO?
Yes, but the circumstances of their cases are vastly different from the situation involving Trump.
After classified documents were found at Biden's think tank and Pence's Indiana home, their lawyers notified authorities and quickly arranged for them to be handed over. They also authorised other searches by federal authorities to search for additional documents.
There is no indication that either was aware of the existence of the records before they were found, and no evidence has so far emerged that Biden or Pence sought to conceal the discoveries. That's important because the Justice Department historically looks for willfulness in deciding whether to bring criminal charges.
A special counsel was appointed earlier this year to probe how classified materials ended up at Biden's Delaware home and former office. But even if the Justice Department were to find Biden's case prosecutable on the evidence, its Office of Legal Counsel has concluded that a president is immune from prosecution during his time in office.
As for Pence, the Justice Department informed his legal team earlier this month that it would not be pursuing criminal charges against him over his handling of the documents.
WHAT HAPPENS NEXT?
Jim Trusty, Trump's lawyer, said the logistics of the former president's appearance in court were being worked out with the US Marshals Service and the Secret Service to "make this as smooth as possible".
"He's going to show up," Trusty said. "He knows he's innocent. He knows this is garbage."
Trump is likely to enter a plea of not guilty at Tuesday's hearing before a federal judge.
The judge would then come up with a schedule for pretrial hearings and the process known as discovery, in which prosecutors turn over evidence to the defence.
The discovery process could be particularly complicated in the case, legal analysts said, because it involves documents which allegedly involve some of the country's most tightly held secrets.
An actual trial is not expected to begin for several months and there is nothing to prevent Trump from pursuing a second term in the White House while under indictment.