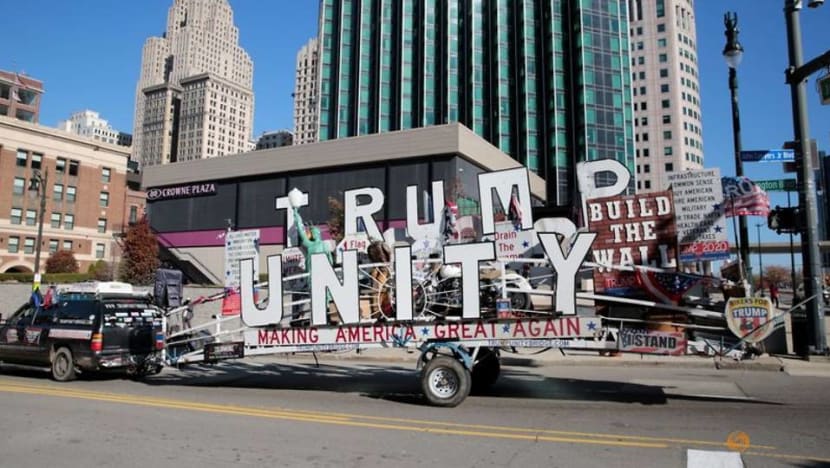 WASHINGTON: In another setback for Donald Trump, judges in Philadelphia, Michigan and Georgia have dismissed lawsuits by the president's campaign in the battleground states.
In Michigan, Court of Claims Judge Cynthia Stephens made the ruling during a court hearing on Thursday. She said she planned to issue a written ruling on Friday.
"I have no basis to find that there is a substantial likelihood of success on the merits," Stephens said.
Campaign officials for Trump have said they filed the suit to stop the counting in Michigan and gain greater access to the tabulation process.
The lawsuit was a "messaging exercise", said Bob Bauer, senior adviser on Biden's campaign.
"It has no other purpose than to confuse the public about what's taking place and to support their baseless claims of irregularity," Bauer said in a call with reporters.
The Georgia case dealt with concerns about 53 absentee ballots in Chatham County. It was dismissed by a judge after elections officials in the Savannah-area county testified that all of those ballots had been received on time. 
Trump's campaign also sued Philadelphia County's Board of Elections to seek an emergency injunction. The lawsuit was filed with the federal court in Philadelphia.

The campaign said election officials were "intentionally refusing to allow any representatives and poll watchers for President Trump and the Republican Party".
"As stated during today's emergency injunction hearing, in light of the parties' agreement, plaintiff's motion is denied without prejudice," US District Judge Paul Diamond said in a one-sentence order.
A state appellate court ruled earlier in the day that more Republican observers could enter the building in Philadelphia where poll workers were counting ballots.

SIMILAR CHALLENGES IN OTHER STATES
Campaign officials said earlier they were considering similar challenges in a dozen other counties around the state.

A Trump campaign spokeswoman did not immediately respond to requests for comment on the Georgia and Michigan rulings. 

Trump's campaign has launched a flurry of lawsuits across the country, including one alleging voting fraud in Nevada, one of the pivotal states where Trump narrowly trails Biden.
In Pennsylvania, the Trump campaign won an appellate ruling to get party and campaign observers closer to election workers who are processing mail-in ballots in Philadelphia.
But the order did not affect the counting of ballots that is proceeding in Pennsylvania.

Trump campaign spokesman Jason Miller said additional legal action was expected and would be focused on giving campaign officials access to where ballots were being counted.
"We will literally be going through every single ballot," he said of the count in hotly contested Nevada.

Legal experts have called the challenges a long shot unlikely to affect the eventual outcome of the election.
Some fellow Republicans have also voiced unease over Trump's claims of voting fraud.
"The problem with throwing up unsubstantiated charges is it undermines faith in democracy," Adam Kinzinger, a Republican US congressman from Michigan who was re-elected on Tuesday, told CNN.