Britain presses on with bid to lead space industry despite recent Virgin Orbit rocket launch failure
As the world's second largest manufacturer of satellites, Britain wants to take the final step of deploying them, rather than outsourcing that lucrative business to other countries.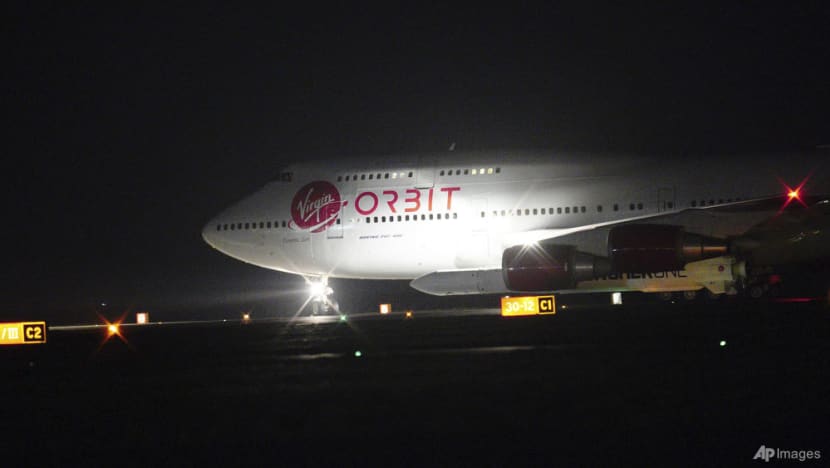 LONDON: Authorities in Britain have vowed to press on with efforts to become a leading global player in the space industry, following last week's unsuccessful attempt to become the first western European nation to launch satellites into orbit.
A modified Boeing 747 jumbo jet named Cosmic Girl had carried the LauncherOne rocket under a wing from Cornwall Airport in Newquay, southwest England, and released it 35,000ft above the Atlantic Ocean.
However, the rocket, which was carrying nine satellites, suffered a premature shutdown, said Virgin Orbit. It failed to reach the required orbit and could not deploy the satellites.
Thousands in Cornwall who watched the plane take off, as well as those viewing the livestream online, were left disappointed as the mission was aborted.
"It appears the LauncherOne rocket has suffered an anomaly, which will prevent us from making orbit this mission," Virgin Orbit said.
ADVANCING SPACE CAPABILITIES
The LauncherOne rocket launch was meant to be a game-changer and herald a new era for Britain's space industry.
As the world's second largest manufacturer of satellites, Britain wants to take the final step of deploying them, rather than outsourcing that lucrative business to other countries.
The United Kingdom Space Agency has pledged to press on with its space programme and continue with its plans to launch satellites into orbit from British soil.
"Whilst the financial loss can be compensated, obviously, time and effort is one that people feel more emotionally than otherwise," said Matt Archer, the agency's launch programme director.
"We will go again. The industry is resilient and there is still excitement for creating a launch capability here in the UK and we are looking forward to doing launches in Cornwall and likewise in Scotland."
LAUNCHING SATELLITES FROM UK
Globally, Britain is second only to the United States in the number of satellites it produces.
The country's space sector employs almost 50,000 people, and specialises in smaller and nano-satellites.
Deploying them from British soil is meant to be the final piece of the jigsaw.
It would create income and jobs, and drive costs down for small local companies seeking a presence in orbit.
Aerospace manufacturing firm Space Forge, which had a satellite on the failed LauncherOne rocket, said the price of getting to space is becoming cheaper, making it easier for more players to come onboard.
"We founded Space Forge in 2018. At that time the average kilogramme to get to space was about US$35,000. Today, it is about US$5,000. That has been in (about) 4 years," said the Welsh company's chief executive officer Josh Western.
"So each time, even by a few hundred dollars per kilogramme, (the price) comes down, and it opens up more and more market opportunities."
CAN UK SPACE SECTOR ADVANCE?
However, industry players are questioning if the British space scene can get much larger than the US$20 billion worth of income it generated between 2019 and 2020.
Despite launching the LauncherOne from England, Virgin Orbit is an American company and the rocket was designed and built in California.
Critics said the target of 150 jobs that Spaceport Cornwall aims to create by 2030 seems optimistic, without other horizontal launch companies committing to using the facility.
Some industry players are looking at launching rockets in the more conventional manner.
One such company, Aerospace firm Orbex, wants to launch small rockets using a launchpad in Scotland, one of seven possible spaceport venues across the country.
"We are currently a team of 120 people working to build a rocket to reliably take our customers' payloads into lower earth orbit, launching from Scotland," said its chief executive officer Chris Larmour.
"We are well down the track now, we have matured a lot of the systems, we are really refining everything and getting ready for launch in the very near future."
In 2002, just under 100 satellites, probes and other objects were launched into space, according to online publication Our World in Data. Two decades later in 2022, that figure had jumped to above 2,000.
The vast majority were smaller satellites for observation, communication or the Internet, and carried by commercial suppliers.
The British government aims to take over 30 per cent of these launches, in a market currently estimated to be worth about US$13 billion a year.
In 2021, former British Prime Minister Boris Johnson vowed to turn "Global Britain", a term he coined during his term as foreign secretary, into "Galactic Britain", as the nation tries to cement itself as a leading player in the space industry,
However, with other countries launching their own space programmes and fighting for limited lucrative opportunities, Britain can ill afford many more high-profile failures.