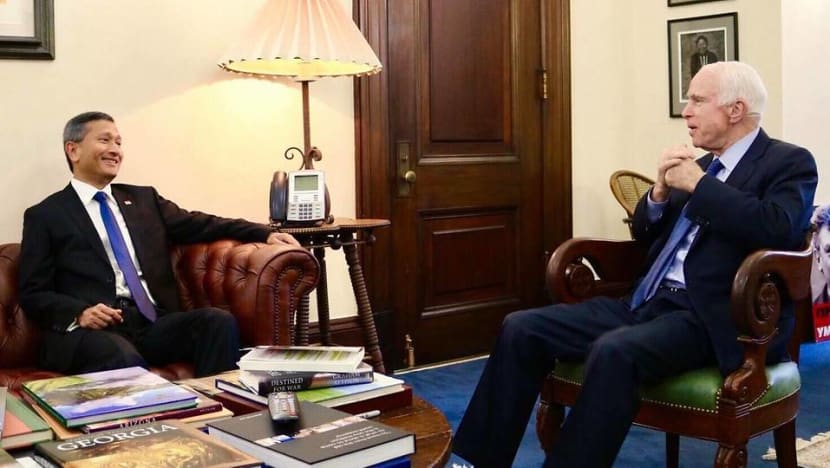 SINGAPORE: Foreign Affairs Minister Vivian Balakrishnan said on Sunday (Aug 26) he was "deeply saddened" to learn about the death of US senator John McCain.
Dr Balakrishnan paid tribute to the late senator in a Facebook post on Sunday, calling him an "old friend of Singapore" and a staunch advocate of US engagement in the Asia-Pacific.

"I was privileged to meet him on many occasions and hear his insights, always expressed with his characteristic sharpness, humour, warmth and energy," Dr Balakrishnan said.
McCain, who died at the age of 81 after losing a battle to brain cancer, was a former prisoner of war in Vietnam who ran unsuccessfully for president in 2008 against Barack Obama.
News of McCain's death came shortly after it was announced that he would be discontinuing medical treatment for an aggressive form of brain cancer.

Dr Balakrishnan described the late McCain as a "real hero".
"He faced his illness with characteristic bravery and deep sense of mission," Dr Balakrishnan said.
"He shared with me the gravity of his condition but expressed his determination to always do the right thing, no matter what. 
"He was a man of deep convictions, and a real hero.

"Senator McCain will be dearly missed. My thoughts and prayers are with his family."