The future of the digital economy is here – and it aims to do good
Lazada's inaugural ESG Impact report highlights the platform's commitment to shaping a sustainable digital ecosystem and creating positive impact.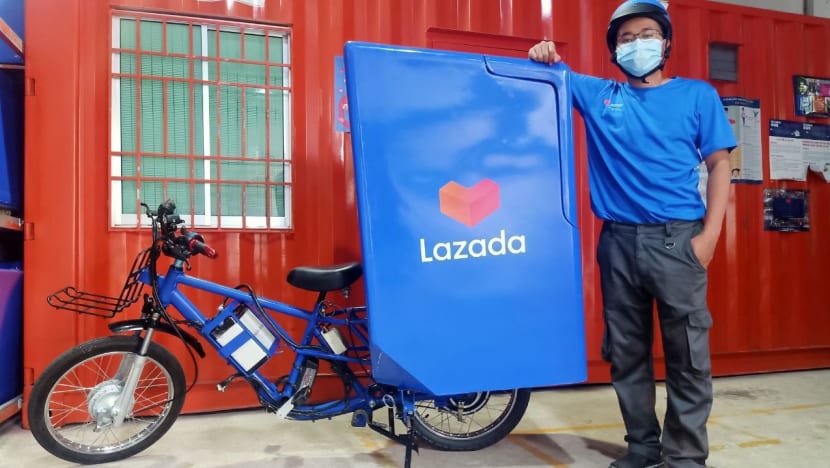 E-commerce is many things. For some, it's a fun side hustle, or an affordable way to explore new business ideas. Others thrive on building a community based on shared interests. But for Mr Sugeng Wibowo from Indonesia, e-commerce was a life-changer. 
Mr Sugeng had difficulty getting a job after suffering an eye injury from a motorbike accident. His friend introduced him to e-commerce platform Lazada, and Mr Sugeng set up a store, Toko Alona, to sell home décor and bedding. With the help of Lazada's seller tools, including data insights into buyers' preferences, Mr Sugeng was able to expand his business into both online and offline stores, and even employ people from his local community.
Mr Sugeng is just one of several sellers whose stories were featured in Lazada's inaugural Environment, Social and Governance (ESG) Impact report, titled Shaping the Future of the Digital Economy 2022. His story highlights the company's effort to uplift communities and create a future-ready workforce while practising responsible stewardship and effective governance – the four core pillars of Lazada's ESG commitment.
According to Lazada Group's chief financial officer Frank Luo, the platform's progress in the last few years has laid the foundation for sustained success and momentum as Lazada pushes on with its ESG agenda.
"We are committed to enabling a sustainable and healthy ecosystem that connects buyers and sellers," he said. "Our approach is to adopt an ecosystem mindset by increasing collaboration with our partners and stakeholders along our value chain to create a positive impact."
EMPOWERING COMMUNITIES
You might be more familiar with 11.11 – but what about 1.1? 1.1 million, that is.
That's the number of economic opportunities created by Lazada across its six markets of Indonesia, Malaysia, the Philippines, Thailand, Vietnam and Singapore, as of Mar 31 this year.
These opportunities take place across Lazada's thriving ecosystem of sellers, digital commerce enablers, third-party logistics partners and employees. By providing the infrastructure, services, jobs and capability-building, Lazada aims to empower communities and build up resilience.
This has taken the form of COVID-19 and disaster relief responses, as well as working alongside local stakeholders to support and celebrate female entrepreneurs on Lazada. To mark International Women's Day on Mar 8 this year, Lazada recognised the achievements of 18 women entrepreneurs with the Lazada Forward Women Awards 2022.
FUTURE-READY WORKFORCE
Investing in its talent pool goes beyond offering upskilling opportunities and creating a safe, diverse and stimulating work environment. It also involves building a future talent pipeline through a host of initiatives, including the Lazada Insider podcast, online education programmes and the annual Lazada Learning Festival, which is the largest free public virtual learning festival in Southeast Asia.
The results are evident: In the last two years, Lazada's workforce has grown by 18 per cent – and women make up 43 per cent of its total workforce.
Lazada's sellers are not left out. Lazada University is an education programme that offers sellers useful tools and techniques to help them grow their business, including skills in data analytics, marketing, sales and product sourcing.
RESPONSIBLE STEWARDSHIP
Intent on reducing energy use at every key touchpoint, Lazada continues to examine the energy efficiency of its operations and value chain, as well as manage greenhouse gas emissions from operations, materials and packaging.
The results of these carbon inventory exercises will drive Lazada's decarbonisation roadmap, and help the platform to better align its goals with global ambitions to minimise carbon emissions.
When it comes to packaging, Lazada aims to reduce material usage and engage itself more deeply in the circular economy. Its Singapore-based grocery arm RedMart saves 30 tons of virgin plastic a year by switching its water bottles to 100 per cent recycled PET materials.
Just last month, Lazada Logistics in Indonesia was named the winner in the category of Responsible Consumption and Production (Plastic) at the B20 Sustainability 4.0 Awards, which recognises businesses and people who have embedded sustainability into their strategies and operations. 
EFFECTIVE GOVERNANCE
If you've ever wondered how your credit card information remains protected on Lazada, you'll be glad to know that the platform is certified according to ISO 27001:2013 standards, a stringent international benchmark for information security and confidentiality.
Shopping online has also gotten safer with Lazada's dedicated Intellectual Property Rights Protection Team, the first among Southeast Asia e-commerce platforms. In March 2020, it carried out a search and takedown of counterfeit goods that resulted in 98 per cent of removals taking place before a transaction occurred, allowing buyers to shop with greater peace of mind.
Looking back from the vantage point of Lazada's 10th year anniversary, Mr James Dong, Lazada Group's CEO, said that this is only the start of the platform's ESG journey. "I am looking forward to stronger collaborations with our partners and stakeholders around how we can leverage our position as a leading e-commerce platform to shape the future of a sustainable digital ecosystem."
Read Lazada's full ESG Impact report: Shaping the Future of the Digital Economy 2022.