Harsh winter adds to hardship in Afghanistan against backdrop of humanitarian crisis
At least 150 people have died in two weeks from the freezing weather and other winter-related causes.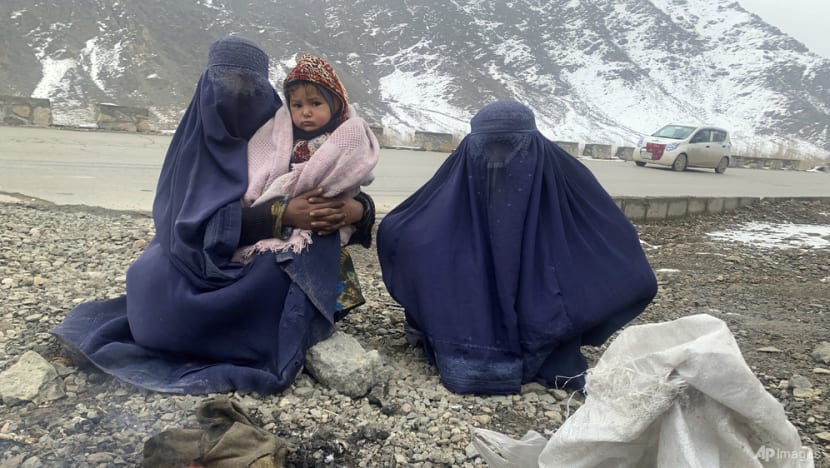 Many people in Afghanistan are suffering through sub-zero temperatures, which is adding to the hardship in a country already in a "deep" humanitarian crisis, experts familiar with the situation on the ground said on Friday (Jan 27).
The situation is "quite dire", said Mr Necephor Mghendi, Afghanistan head for the International Federation of Red Cross and Red Crescent Societies.
"People have no money to buy essentials for heating and that's affecting that people across the country," said Mr Mghendi, who spoke to CNA's Asia First from the capital Kabul.
The temperature was -11 degrees Celsius when he spoke, but it has dipped to as low as -34 degrees Celsius in some parts.
"The impact is that children, who are most vulnerable, will die if they don't get warming - same for vulnerable populations, including women, people who are frail, older," he said.
Afghanistan is experiencing its worst cold snap in more than a decade. At least 150 people have died in two weeks from the freezing weather and other winter-related causes.
The priority is to ensure that further deaths are prevented and to keep people warm, Mr Mghendi said.
"We are providing heating materials and providing cash for people to buy what they need. We are also providing warm clothing, boots, jackets, shawls whatever can get people through this very harsh moment," he said.
Even when winter ends, the people will continue to face a drought that is entering its fourth year. Spring may also bring with it flooding, he said.
"It's not just the winter, but it's also what comes after the winter," he said.
HUMANITARIAN CRISIS
The winter comes against the backdrop of "one of the worst humanitarian crises in the world" over the past two years, Mr Mghendi said.
He noted that more than half the people in the country are relying on humanitarian assistance. He added that the country was also relying on development assistance to run its healthcare system.
"Now, add to that to the economic hardship which came after the collapse of the banking system and we cannot get jobs to the people," he said.
Dr Ramiz Alakbarov, United Nations resident coordinator in Afghanistan painted a similar picture of the situation in the country.
"The weather and the humanitarian crisis which are experiencing is deep," he told CNA's Asia Now.
Of the 28 million people who need assistance, 6 million are in "extreme levels of food insecurity", he said.
"We have a deep crisis related to electricity supplies. Fuel is short and the hospitals, of course, are full of children, malnourished and suffering from diseases such as measles," he said.
"It's an overall very difficult situation. We are facing the crisis as it we haven't seen in a long time and I'm afraid that until the weather improves, we will continue to witness quite a difficult situation on the grounds."
BAN ON FEMALE NGO WORKERS
A recent ban on female non-governmental organisation (NGO) workers "could not have come at a worse time", Dr Alakbarov said.
"We're in the middle of this difficult winter and as you know, our principal independent humanitarian response requires presence of women," he said.
"Excluding women out of humanitarian response is not a viable way to sustain response at scale."
"This was very untimely and unfortunately, very counterproductive," he added. He however noted that some ministries like the health and education ministries are exempted from the ban.
Exemptions in other areas have not taken place yet, he said.
While international solidarity with the Afghan people stayed strong, with nearly US$4 billion worth of support for the country, donors' enthusiasm may drop if female workers are not able to return to work, he added.
"It's particularly important that it (exemption) comes soon. Otherwise, response will stop," he cautioned.
The exemptions are a "step in the right direction", said Mr Mghendi, who added that the restrictions have impacted his organisation.
"What we need now are the exemptions. What we need now are the authorisations and what we need now is the lifting of this ban, which unfortunately comes at the wrong time and which is absolutely deplorable," said Dr Alakbarov.
"We have asked the de facto forces of Afghanistan to retreat and take away this limitation so that we can assist the people of Afghanistan and that's our position. We have put this forward that we have asked for this to happen as soon as possible."